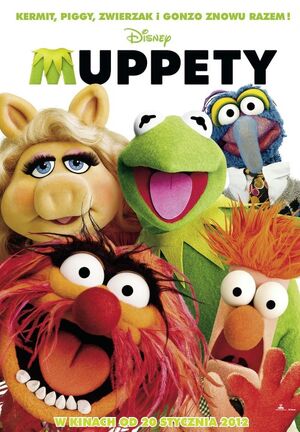 Muppety is the Polish dub of The Muppets.
Voices
Additional Voices:

Bożena Furczyk, Beata Łuczak, Julia Kołakowska, Janusz Wituch, Jacek Król, Cezary Kwieciński, Andrzej Chudy, Anna Frankowska, Olha Doligalska, Maria Matosek, Ludwika Schweren, Jan Marczewski, Joshua Szpilarski
Chorus:

Katarzyna Owczarz, Anna Sochacka (including Tex Richman's Girl), Olga Szomańska (Tex's Girl), Agnieszka Tomicka (Tex's Girl), Adam Krylik, Marcin Mroziński, Krzysztof Pietrzak, Jakub Szydłowski, Łukasz Talik, Daniel Wojsa
Additional Crew
Producers: Beata Jankowska, Marcin Kopiec
Sound direction/sound editing: Jarosław Wójcik, Maria Kantorowicz
Sound mixed at Shepperton International
Videos
See also
External links
Ad blocker interference detected!
Wikia is a free-to-use site that makes money from advertising. We have a modified experience for viewers using ad blockers

Wikia is not accessible if you've made further modifications. Remove the custom ad blocker rule(s) and the page will load as expected.