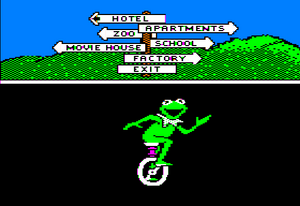 Muppetville is an educational software program for the Apple IIe computer released in 1986 by Sunburst Communications. It was intended for preschoolers, and was compatible with the Muppet Learning Keys keyboard.
It was designed by Christopher Cerf, Mike Fish, Joni Jablonsky, and Anders McCarthy.[1]
The game featured Kermit the Frog, Miss Piggy, Fozzie Bear, Statler and Waldorf, Animal, Gonzo, Camilla the Chicken, Beaker, Dr. Bunsen Honeydew, and Sam the Eagle.
References
External links
Ad blocker interference detected!
Wikia is a free-to-use site that makes money from advertising. We have a modified experience for viewers using ad blockers

Wikia is not accessible if you've made further modifications. Remove the custom ad blocker rule(s) and the page will load as expected.