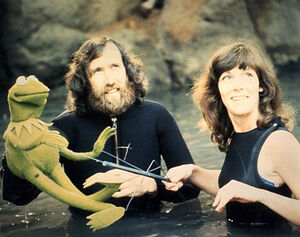 Instances of Muppets appearing in water or doused with a water supply, which typically could prove harmful to the puppets.

In water
Picture
Description

Sam and Friends

A Muppet woman performing "Singin' in the Rain" ends up drowning in a flood of real water.

IBM Meeting Film

Rowlf the Dog, having joined IBM's Hundred Percent (quota) Club, is shown enjoying some time in a hotel swimming pool, and then swimming at the beach.

The Frog Prince

Kermit and other frogs are shown swimming in the pond in a number of scenes.

Emmet Otter's Jug-Band Christmas

Catfish swims in a water-filled tank during the Riverbottom Nightmare Band's performance at the talent show.

The Muppet Movie

Kermit swims during Miss Piggy's fantasy.

The Great Muppet Caper

"Piggy's Fantasy" sees Miss Piggy in an underwater musical number.

Rocky Mountain Holiday

In a flashback sequence, Gonzo punctures a hole in Rowlf's innertube, getting him all wet in the river.

Fraggle Rock

Fraggles are commonly seen swimming. Instances include the opening, where Gobo and Wembly fall in, "The Minstrels" where Red dives into the pond at the beginning, and "The River of Life" where several Fraggles swim in the pond.

Sesame Street episode 1708

Big Bird goes swimming in the Camp Echo Rock lake.

Miss Piggy's Hollywood

After she's pushed into the pool by Justine Bateman, Miss Piggy karate chops Gonzo into the water for masquerading Piggy as Barbara Walters intending to interview Bateman.

The Muppet Christmas Carol

When Rizzo's tail is accidentally set aflame, Charles Dickens puts him out by pushing him into a bucket of water.

Sesame Street

A Muppet fish is shown swimming in a small pool of real water in the songs "We Are All Earthlings" and "Let's Lay an Egg."

Kermit's Swamp Years
Doused with water
See also
Ad blocker interference detected!
Wikia is a free-to-use site that makes money from advertising. We have a modified experience for viewers using ad blockers

Wikia is not accessible if you've made further modifications. Remove the custom ad blocker rule(s) and the page will load as expected.