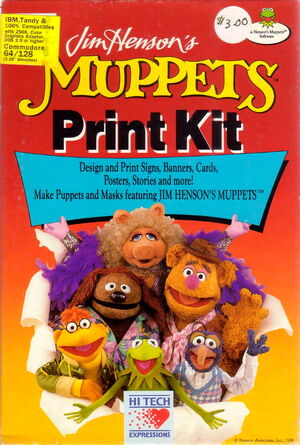 Muppets Print Kit is a 1989 crafts kit made by software company Hi Tech Expressions. The software, made for IBM compatible computers with a 5 1/4" disc drive, offered the opportunity to print signs, banners, greeting cards, posters and masks with Muppet clip art. The kit included 60 illustrations, 20 borders and 7 fonts.
Hi Tech published a similar kit, Sesame Street Print Kit, in 1988.
Ad blocker interference detected!
Wikia is a free-to-use site that makes money from advertising. We have a modified experience for viewers using ad blockers

Wikia is not accessible if you've made further modifications. Remove the custom ad blocker rule(s) and the page will load as expected.