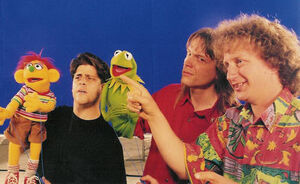 Muppets on Wheels is a 30-minute sing-along special released direct-to-video by Jim Henson Video in 1995. In the special, Kermit the Frog and Lindy, a young boy who wants to learn about things that go, explore different varieties of vehicles, including a race car, a tractor, a rollercoaster, a bicycle, and several types of trucks. The video is a companion to Things That Fly.
Cast
Kids included:
Songs
Crew
See also
Ad blocker interference detected!
Wikia is a free-to-use site that makes money from advertising. We have a modified experience for viewers using ad blockers

Wikia is not accessible if you've made further modifications. Remove the custom ad blocker rule(s) and the page will load as expected.