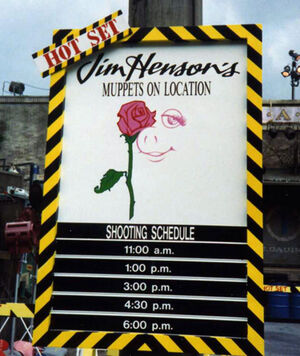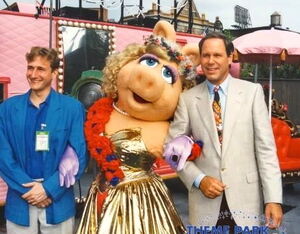 Muppets On Location: Days of Swine and Roses was a live show at the Disney-MGM Studios (now known as Disney's Hollywood Studios) in Walt Disney World, Florida. The plot revolved around the Muppets filming a movie. The Muppets characters also interacted with the audience, too, making the show more interactive.
The show opened on September 16, 1991, two weeks after the Here Come the Muppets attraction closed. It played for nearly three years in an outdoor location near Muppet*Vision 3D. The show closed in 1994.
Summary
The Electric Mayhem open the show, introducing themselves and performing "Hey a Movie!," as all the other characters appear and join in the song. The movie begins filming, with Miss Piggy portraying a down-on-her-luck flower shop clerk (who is, incidentally, allergic to flowers). She sings "Can't Help Lovin' Dat Man," with the assistance of appropriate props.
The show breaks for autograph signing, and the Electric Mayhem play through the interval. Dr. Teeth sings "Great Balls of Fire," Floyd sings "On the Road Again," Zoot performs Boots Randolph's "Yakety Sax," and Animal emotes during "Feelings." As the last autographs are signed, Janice sings "Ob-La-Di, Ob-La-Da," and the cast returns to the stage to complete the filming.
The cast perform a medley of show tunes, which include "42nd Street," "Lullaby of Broadway," "Happy Feet," and the grand finale: Miss Piggy singing "Everything's Coming Up Roses," with more props.
Characters
Voices
External links
Ad blocker interference detected!
Wikia is a free-to-use site that makes money from advertising. We have a modified experience for viewers using ad blockers

Wikia is not accessible if you've made further modifications. Remove the custom ad blocker rule(s) and the page will load as expected.