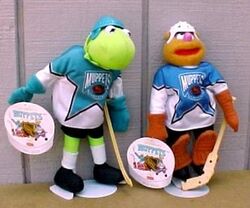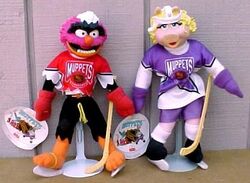 In 1995, Canadian McDonald's restaurants offered a series of 4 Muppet hockey-player plush figures for sale with any food purchase. Characters include Kermit, Fozzie, Miss Piggy, and Animal. These NHL theme toys are about 10-11 inches tall; two have plastic heads, the other two had stuffed heads. Each wears a hockey uniform with skates, a helmet and a plastic hockey stick. Their t-shirts say "Muppet Conference NHL" on the front and have their names are on the backs. Fozzie is dressed as the goalie. Animal's skates are strapped onto his bare feet rather than being attached to boots.
For other Hockey Merchandise, see also NHL trading cards, NHL plush, and NHL Shirts
Ad blocker interference detected!
Wikia is a free-to-use site that makes money from advertising. We have a modified experience for viewers using ad blockers

Wikia is not accessible if you've made further modifications. Remove the custom ad blocker rule(s) and the page will load as expected.