Muppets Most Wanted Wedding Seating Chart
Talk

0
Share
Ad blocker interference detected!
Wikia is a free-to-use site that makes money from advertising. We have a modified experience for viewers using ad blockers

Wikia is not accessible if you've made further modifications. Remove the custom ad blocker rule(s) and the page will load as expected.
Muppets Most Wanted featuring Miss Piggy's wedding at the Tower of London.
The following is the list of characters who are seated in the pews to witness this event.
One noticeable goof in this seating chart is the absence of Lew Zealand and Beauregard, who both appear during the helicopter scene shorty after.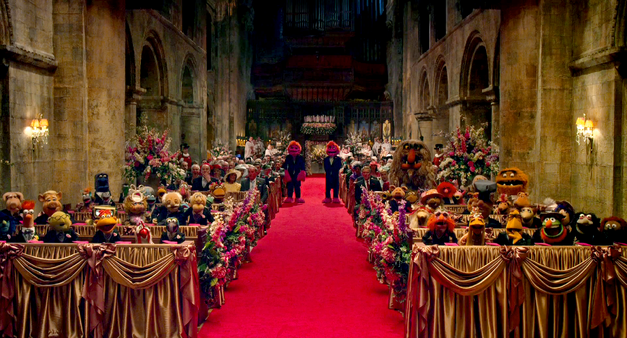 | Row | Groom's Side | Aisle | Bride's Side |
| --- | --- | --- | --- |
| 7 | Human, Human, Human, Human | Mutations | Human, Human, Human, Human |
| 6 | Human, Human, Human, Human | | Human, Human, Human, Human |
| 5 | Human, Human, Human, Human | | Human, Sweetums |
| 4 | Beautiful Day Monster, Droop, Old Lady, Nigel, Pokey, Gorilla | | Blustering Bellowpane Monster, Quongo, Snowth, Mahna Mahna, Snowth, Carter, Behemoth |
| 3 | Bill, Frog, Gil, Croaker, Frog, Robin the Frog | | Pig, Spamela Hamderson, Howard Tubman, Pig, Captain Pighead |
| 2 | Dr. Julius Strangepork, Link Hogthrob, '80s Robot, Annie Sue, Waldorf, Statler | | Afghan Hound, Pepe the King Prawn, The Swedish Chef, Wayne, Wanda |
| 1 | Zoot, Beaker, Dr. Bunsen Honeydew, Scooter, Camilla the Chicken, Gonzo | | Floyd Pepper, Janice, The Newsman, Dr. Teeth, Crazy Harry, Rowlf the Dog |
See Also