Ad blocker interference detected!
Wikia is a free-to-use site that makes money from advertising. We have a modified experience for viewers using ad blockers

Wikia is not accessible if you've made further modifications. Remove the custom ad blocker rule(s) and the page will load as expected.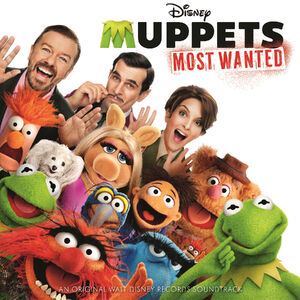 The Muppets Most Wanted soundtrack was released on a "deluxe edition" CD and digital download by Walt Disney Records on March 18, 2014 to coincide with the film's theatrical release on March 21. Not included in the soundtrack is the gulag prisoners' rendition of "I Hope I Get It" from A Chorus Line.
The album peaked at #68 on the Billboard Top 200 Albums chart.
Track listing
We're Doing a Sequel – The Muppets, Lady Gaga, & Tony Bennett
My Name First_ _ _ Your Name* – Constantine & Dominic Badguy
I'm Number One – Constantine & Dominic Badguy
The Casa Grande* – Kermit, Nadya, Jemaine Clement, Danny Trejo & Ray Liotta
The Big House – Nadya & Josh Groban
Stick With Me* – Constantine & Miss Piggy
I'll Get You What You Want (Cockatoo in Malibu) – Constantine
The Muppet Show Theme – Los Muppets
Answer Some Questions* – Jean Pierre Napoleon
Interrogation Song – Jean Pierre Napoleon, Sam Eagle, and The Muppets
Oh Foo Foo, It's Always Been a Fight* – Miss Piggy & Foo Foo
Something So Right – Miss Piggy, Kermit, Celine Dion, & The Muppets
We're Goin' Underground* – Kermit
Working in the Coal Mine – Jemaine Clement
The Gulag Finale* – Kermit
Together Again – The Muppets & Josh Groban
Moves Like Jagger – Scooter & The Penguins featuring Pepe the King Prawn
Macarena (Bayside Boys Remix) – The Flamingos & Miss Piggy
Muppets Most Wanted Score Suite – Christophe Beck
We're Doing a Sequel (demo) – Bret McKenzie
The Big House (demo) – Bret McKenzie
What You Want (outtake) – Bret McKenzie
I'll Get You What You Want (Cockatoo in Malibu) (demo) – Bret McKenzie
Something So Right (demo) – Bret McKenzie
My Heart Will Go On – Miss Piggy (iTunes Europe exclusive)
The Muppet Show Theme – Die Muppets (iTunes Europe exclusive)
* indicates a dialog track
See also