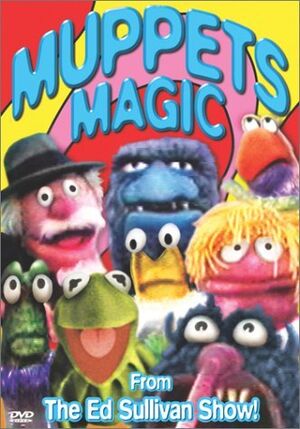 Produced by:
SOFA Home Entertainment
Release Date:
2003 (region 1)
2006 (region 0)
Discs:
1
Region:
1 & 0
Muppets Magic from the Ed Sullivan Show was released on VHS and DVD in 2003 by SOFA Entertainment, Inc. The DVD contains 20 of the classic Muppet appearances from The Ed Sullivan Show.
The DVD is a single-layer disc. Audio has been re-mastered in 5.1 digital surround sound, and the video was mastered from the original 2-inch tapes
Eighteen sketches are featured in the main program, while two additional skits are listed as bonus features, available on the DVD version only. The DVD features an animated menu depicting the Southern Colonel, Kermit, Big Bird and a television screen playing highlights from the disc.
Disc Features
Skits
A Change of Face
The Computer Dinner
Christmas Reindeers (edited)
Big Bird's Dance
Santa Claus Routine with Arthur Godfrey
The Monster Trash Can Dance
"Java"
Ringo Starr's "Octopus' Garden" (edited)
Bonus Skits
Monster Family
The Wild String Quartet