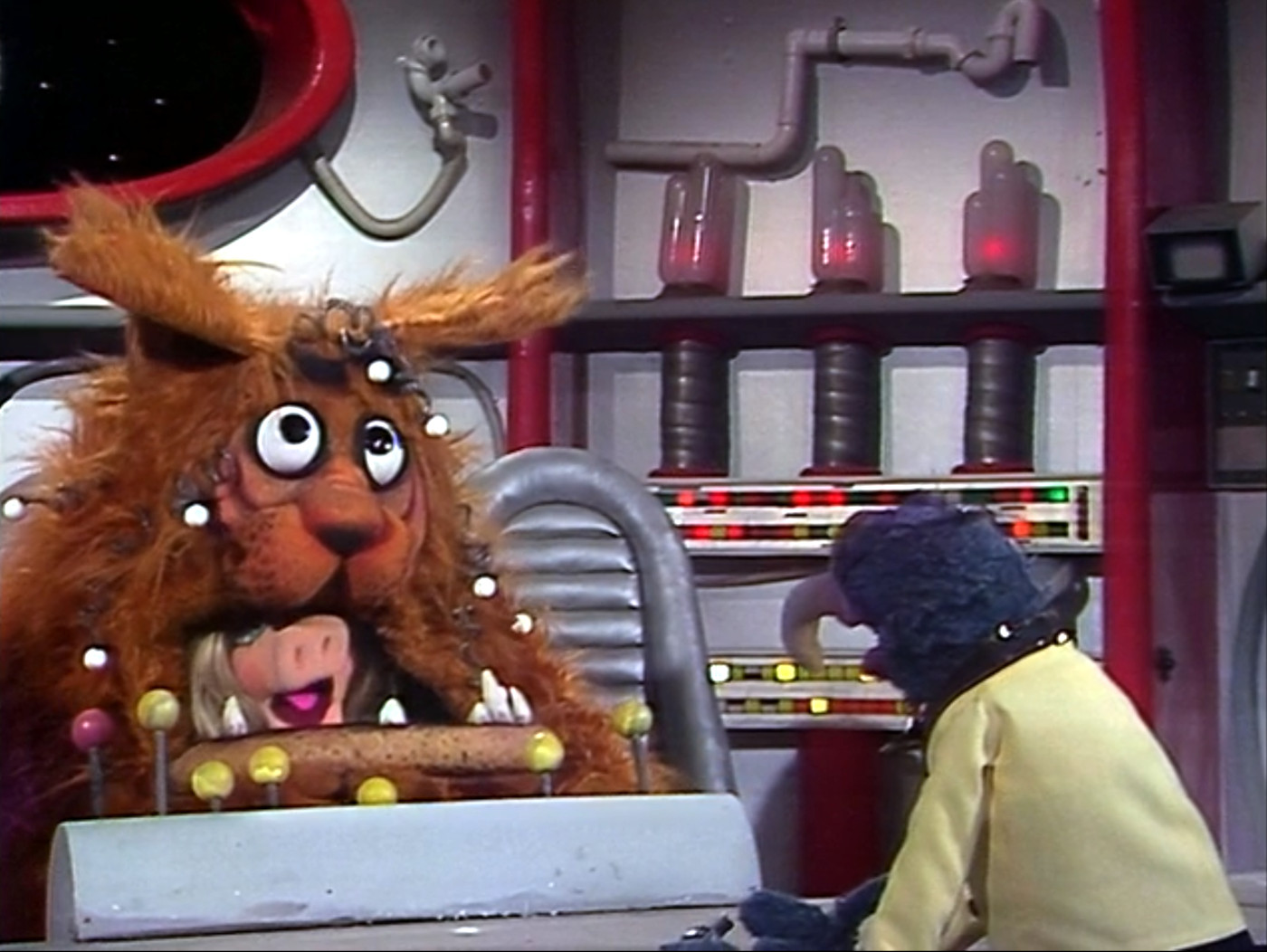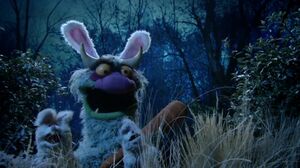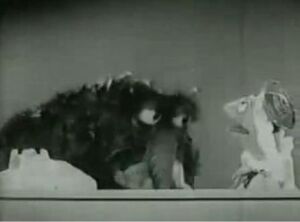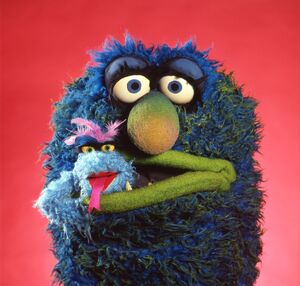 Ever since the early days of Sam and Friends and Muppet commercials, there has been a long tradition of Muppet characters eating each other.
In "The Glow-Worm" sketch, which Jim Henson performed on many variety shows in the 1960s, Kermit the Frog would sit on a wall, eating passing worms. A Muppet monster would drag Kermit off the wall and then re-appear making a chewing motion, creating the illusion that Kermit was eaten whole.
For later sketches, a "slit" in the second Muppet's mouth was made so the eaten Muppet could be pulled through and, if necessary, performed from inside the second Muppet after being "eaten".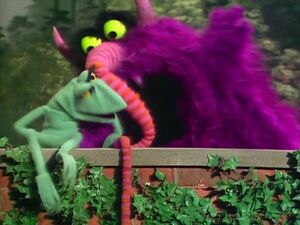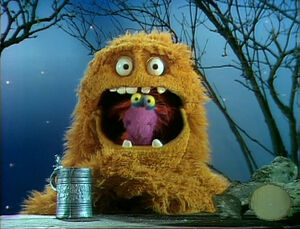 Episode 419: A Crocodile eats the Newsman when he says the name of the Egyptian Crocodile-God, Rezal-evad-gib. Does so a second time in the next scene when the Newsman does it again (after Beauregard tries to warn Lynda Carter not to say the word, but can't remember it).
Episode 515: Mean Mama swallows First Mate Piggy during "Pigs in Space". (When Gonzo declares that Piggy will be disqualified for not dancing - due to the dance marathon - she starts doing so again, from inside Mean Mama's stomach.)
Mentions
Episode 115: During the talk spot, Kermit tells Candice Bergen that last week, Sweetums ate the guest. (Although the audience was never shown the incident in the preceding episode.)
Episode 116: In the "Battle of Insults", Sweetums reveals that he ate his dog.
Mentions
Food: A lizard eats a bumblebee, then a snake eats a lizard, a hawk eats a snake, the hawk crashes into a tree and falls and gets eaten by a crocodile, who gets eaten by Luncheon Counter Monster, who gets eaten by Doglion.
Leo and the Monster: Luncheon Counter Monster threatens to eat Leo if he doesn't shorten his speech.
Online videos
In the DXD "Do Not Touch" video, Kermit gets eaten by an alligator.
"Fran Live": Robbie eats a live creature but spits it out.
"Into the Woods": The Predator monster eats a baby dinosaur in the "Your Solo Wilderness Ritual" video.
Mentions
"I Never Ate for My Father": A small creature in the woods says that he tried to get his son to be a carnivore, and ate him when he refused.
"A New Leaf": B.P. Richfield says that he ate a little boy for breakfast and was planning to eat the boy's sister for lunch.
In "Swamp Music", during an awkward dinner between the Sinclairs and mammals, Mudbelly asks "What's the matter? You've never had mammals for dinner before?" Baby responds, "All the time. They're yummy!"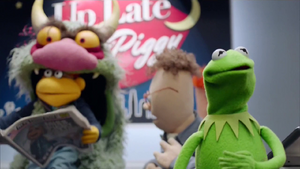 Miscellaneous
In The Frog Prince, Sweetums tries to eat Robin the Frog.
Sweetums eats Lew Zealand's fish Tommy during the end credits of The Muppet Movie.In 
In The Muppet Christmas Carol, a cat tries to eat Rizzo
In Muppet Classic Theater, The Big Bad Wolf tries to eat Andy and Randy Pig
In Muppet Classic Theater, The Big Bad Wolf tries to eat  the shepherd's sheeps
In The Adventures of Elmo in Grouchland, the Humongous Chicken tries to eat Elmo.
In Kermit's Swamp Years, Kermit almost eats Horace D'Fly, before spitting him out.
In From the Balcony Episode 24, The Blimp eats The Defroster.
In the Kokomo Music Video, a shark tries to eat an Inkspot.
In one of several group shots seen in TV spots for The Muppets, Pepe is shown in Behemoth's mouth.
During the credits of the "All I Need Is Love" music video, Big Mean Carl eats a rabbit.
In Lady Gaga & the Muppets' Holiday Spectacular, Big Mean Carl eats Albert and later tries to eat Kermit.
Every episode of Disney Drive-On has Big Mean Carl eating an office bunny.
In Episode 102 of The Furchester Hotel, Cookie Monster tries to eat Mr. Crumb.
Mentions
Muppet/Human Consumption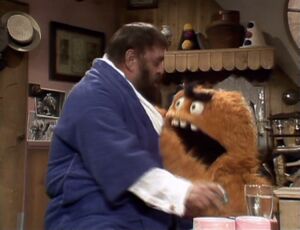 Episode 207: Edgar Bergen: Charlie McCarthy tells Kermit that although he doesn't talk to frogs much, he has had dinner with frogs: "They're delicious."
Ad blocker interference detected!
Wikia is a free-to-use site that makes money from advertising. We have a modified experience for viewers using ad blockers

Wikia is not accessible if you've made further modifications. Remove the custom ad blocker rule(s) and the page will load as expected.