Ad blocker interference detected!
Wikia is a free-to-use site that makes money from advertising. We have a modified experience for viewers using ad blockers

Wikia is not accessible if you've made further modifications. Remove the custom ad blocker rule(s) and the page will load as expected.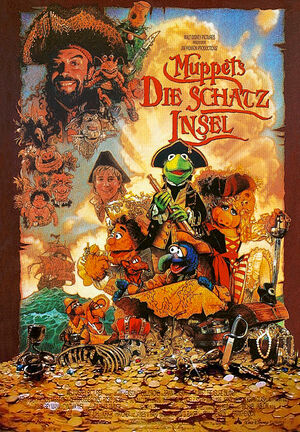 Country (Language)
Germany
(German)
Released
July 11, 1996
Running time
95 minutes
Dubbing Studio/
Localization
FFS Film- & Fernseh-Synchron GmbH
Script Translator/Editor
Eberhard Storeck
Voice Director
Hartmut Neugebauer
Musical Adaptation
Quirin Amper
Local Rating
FSK 0 (all audiences)
Muppets Die Schatzinsel is the German dub of Muppet Treasure Island. It was released theatrically on July 11, 1996 (146 days after the film's US-release date).
Voices
Additional (Choir) Voices: Uwe Adams, P. Bischof, Ulli Essmann, Fritz Graas, Willy Koppenberger, Renate Mauerer, Claudia Schwarz, Bernd Simon, Albert Templer, Bernd Wippich, Jenifer Wippich
Crew
Dubbing Studio/German Adaptation: FFS Film- & Fernseh-Synchron München-Berlin
Editor and Voice Director: Hartmut Neugebauer
Script Translator: Eberhard Storeck
Song Recording Studio: Arco-Studios
Musical Adaptation: Quirin Amper
German Lyrics: Eberhard Storeck
Creative Director: Nikki Rabanus
Lobby cards
Releases