Muppets Courtyard is a Muppet-themed area of Disney's Hollywood Studios in Florida. The primary feature is Muppet*Vision 3D.
Attractions
History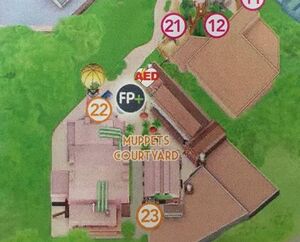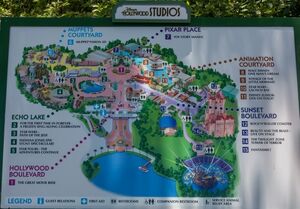 Early plans for Disney MGM Studios included a themed area known as the "Muppets Studios." In addition to Muppet*Vision 3D, the proposed area was to feature another attraction, The Great Muppet Movie Ride, and two restaurants: The Swedish Chef's Video Cooking School and The Great Gonzo's Pandemonium Pizza Parlor. However only Muppet*Vision 3D was completed before the plans were cancelled following the death of Jim Henson and the fallout of the sale of the Muppets to Disney.
The concept for a Muppet-themed nook within the park was re-explored in 2016 with the re-branding of the area around Muppet*Vision 3D as the "Muppets Courtyard". The area was added to park maps in the spring of 2016, with other updates (including the opening of PizzaRizzo and the addition of other Muppet-themed decor) arriving throughout the summer and fall of 2016.
See also