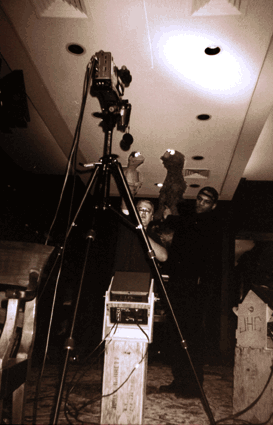 Muppeteer workshops have been held every few years since the late 1960's. In these intensive workshops, new up-and-coming puppeteers are invited to this master-class to improve their craft. These workshops also are held to find new talent for the Jim Henson Company. The workshops are heavy in improv, singing, and character development. Jim Henson originally held these workshops and taught at them, as did Richard Hunt and Jane Henson. In recent years, Muppet captain Kevin Clash has held them. Muppeteers who have been discovered through workshops include John Tartaglia, Fran Brill, Matt Vogel, Eric Jacobson, Richard Hunt, Pam Arciero, Martin P. Robinson, and several others. However, most puppeteers who attend these workshops do not have full careers working with the Henson company.[citation needed]
Notes
Sources
↑ Sesamestreet.org Episode 4192 Guide
Ad blocker interference detected!
Wikia is a free-to-use site that makes money from advertising. We have a modified experience for viewers using ad blockers

Wikia is not accessible if you've made further modifications. Remove the custom ad blocker rule(s) and the page will load as expected.