Oral-B created a line of Muppet toothbrushes and toothpaste in 1986. Oral-B had launched the concept of "character toothbrushes" aimed at children in 1984 with a line of Star Wars toothbrushes; the Muppet line was the first time Oral-B branched out into characters for their toothpaste as well.[1]
The artwork on the 1986 toothbrushes and packaging was provided by illustrator Daryl Cagle, who worked on a variety of Muppet products in the 1980s.[2]
The toothbrushes had pictures and signatures of the Muppet characters on the packaging, and printed on the toothbrush itself. Six toothbrushes were made, in six different colors -- Kermit the Frog's toothbrush was green, Miss Piggy's in pink, Fozzie Bear's in yellow, Gonzo's in purple, Animal's in blue, and Scooter's in orange.
The toothpaste made in 1986 came in two packages, one with Kermit the Frog and the other with Miss Piggy. A pump version of the Bubble Gum Gel toothpaste was produced in 1988, featuring both Kermit and Piggy on the package.
References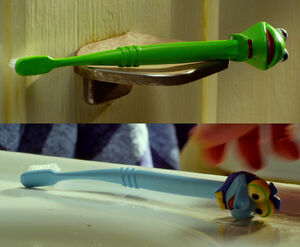 In The Muppets, Walter and Gary have custom Kermit the Frog and Gonzo toothbrushes made from PEZ dispenser heads.
Sources
↑ "Oral-B Toothpaste and Company History", Oral-B official website.
↑ Daryl Cagle's resume, Cagle.com.
Ad blocker interference detected!
Wikia is a free-to-use site that makes money from advertising. We have a modified experience for viewers using ad blockers

Wikia is not accessible if you've made further modifications. Remove the custom ad blocker rule(s) and the page will load as expected.