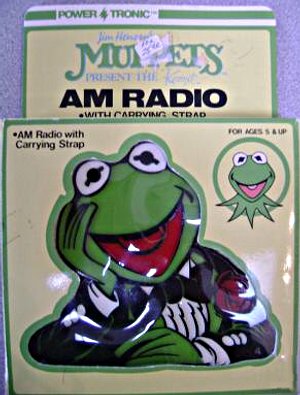 In 1984, Power-Tronic released a line of Muppet radios.
The Kermit AM Radio is shaped like Kermit the Frog's head and upper body. Kermit is wearing a tuxedo, leaning his face on his hand and smiling. The radio includes a carrying strap, and is made for ages 5 and up.
The Miss Piggy AM Radio & Headset includes a belt clip so that it can be worn while exercising. The image of Piggy echoes the theme of her 1982 album, Miss Piggy's Aerobique Exercise Workout Album.