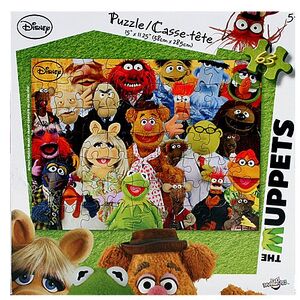 Disney produced a 63-piece puzzle in 2011 as a tie-in to the film The Muppets.
The puzzle features Kermit the Frog, Miss Piggy, Fozzie Bear, Gonzo, Scooter, Rowlf the Dog, Dr. Bunsen Honeydew, Beaker, Sam the Eagle, Camilla the Chicken, Animal, Dr. Teeth, Floyd Pepper, The Swedish Chef, Pepe the King Prawn, Walter, Statler and Waldorf, Rizzo the Rat, Bubba the Rat, Yolanda Rat and two additional rats.
See also
Ad blocker interference detected!
Wikia is a free-to-use site that makes money from advertising. We have a modified experience for viewers using ad blockers

Wikia is not accessible if you've made further modifications. Remove the custom ad blocker rule(s) and the page will load as expected.