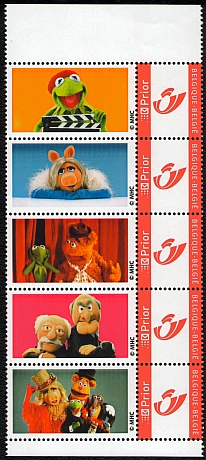 These stamps were issued in 2005 under the official Duostamp line of the Belgian Post and feature Kermit, Miss Piggy, Statler and Waldorf, Gonzo, Fozzie and Pepe the King Prawn.
The set of five stamps cost €4.99, considerably more than the prevailing letter rate of ca. €0.50 per stamp.[1] Each stamp comprised two parts separated by perforations—the official stamp (right portion, red and white) and a tag that served a purely decorative purpose. Thus customers incurred higher costs to adorn their mail with Muppet images that were otherwise unavailable on official Belgian stamps.
Footnotes
↑ Catalogue Officiel de Timbres-Poste 2008 (Bruxelles, Belge: Chambre Professionnelle Belge des Negociants en Timbres Poste, 2008)
See also
Ad blocker interference detected!
Wikia is a free-to-use site that makes money from advertising. We have a modified experience for viewers using ad blockers

Wikia is not accessible if you've made further modifications. Remove the custom ad blocker rule(s) and the page will load as expected.