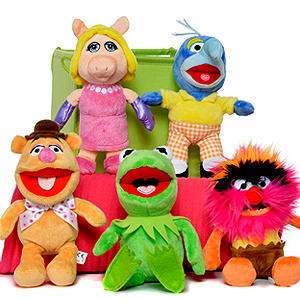 Posh Paws International, a subsidiary of the UK toy company Whitehouse Leisure Ventures, made a set of Muppet plush toys in 2012 and 2013. These were sold in Europe as a tie-in with the international release of The Muppets. The 2012 set included 10" plush dolls, 8" beanbag toys and 5" plush bag clips of Kermit the Frog, Miss Piggy, Fozzie Bear, Gonzo and Animal. In 2013, Posh Paws added a set of large plush to the line, and a new set called "Muppets Flopsies".
The set was distributed internationally through various import companies.
In Belgium, the toys were imported by Nicotoy; in Canada by Danawares; in Denmark by Top-Toy, in Greece by Gialamas, and in Poland by TM Toys.
In Italy, the set was marketed by Joy Toy, who also distributed the bag clip plush as part of the Muppets-Menü promotion in Germany.
Medium-sized plush
Beanbag plush
Bag clips
Large plush
Muppets Flopsies
Posh Paws' "Flopsies" are chubbier and more youthful-looking than their other plush toys.
See also
Ad blocker interference detected!
Wikia is a free-to-use site that makes money from advertising. We have a modified experience for viewers using ad blockers

Wikia is not accessible if you've made further modifications. Remove the custom ad blocker rule(s) and the page will load as expected.