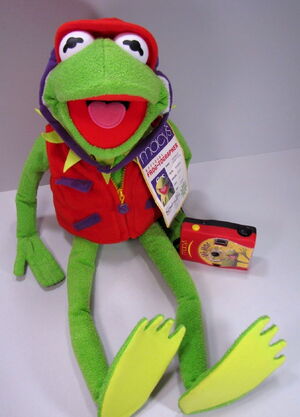 Macy's produced an exclusive Kermit the Frogtographer plush doll for the Holiday season in 2002. The toy was released to promote the debut of a new Kermit balloon in the Macy's Thanksgiving Day Parade after the previous Kermit balloon had been left out of the parade since 1991.
The collectible talking doll featured Kermit the Frog as photographer (dressed in a winter hat with ear flaps and red photographer's vest), and it came with a working camera and a roll of film. The doll was available for purchase at Macy's store across the United States and on Macys.com.
The doll said four recorded phrases:
"Smile and say ribbit"
"Has anyone seen Miss Piggy?"
"Hi-ho, Kermit the Frog here."
"Yaaaaaay!"
Along with an ornament depicting Kermit peeking out of a Macy's shopping bag, Macy's also produced a Frogtographer Christmas ornament picturing Kermit holding a star-shaped frame with Miss Piggy's photograph.
See also