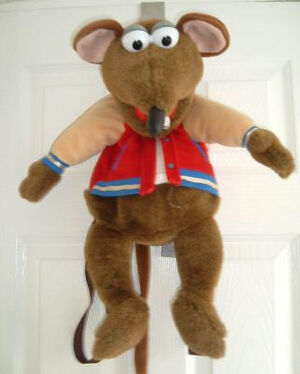 Giftware International produced a series of plush Muppet backpacks, clipons, magnets and purses in 1998. The five characters featured were Kermit, Fozzie, Gonzo, Animal, and Rizzo. They were sold mainly at Disney theme parks.
The backpacks were full-body for Kermit, Fozzie, and Rizzo. They showed only the head of Gonzo and Animal. The Rizzo backpack was the first Rizzo plush ever produced. The backpacks were very detailed, but not very functional since there was not very much space inside.
The magnets all showed the heads of the characters only.
The purses were 6" to 8" big. Kermit was full bodied, but the other characters were head only.
The clipons were approximately 6" tall and were sold only in the UK.
Ad blocker interference detected!
Wikia is a free-to-use site that makes money from advertising. We have a modified experience for viewers using ad blockers

Wikia is not accessible if you've made further modifications. Remove the custom ad blocker rule(s) and the page will load as expected.