Fèves are tiny, 1-inch ceramic figures produced in France for the Epiphany holiday. The fèves (French for "beans") are hidden in the King's Cake for lucky celebrants to discover. Fèves are produced in themed sets, depicting animals, athletes, historical figures and popular TV and cartoon characters. Several sets of Muppet figures have been produced.
Late 90s, Muppets Tonight
2002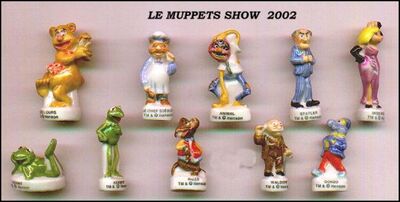 2008
See also
Ad blocker interference detected!
Wikia is a free-to-use site that makes money from advertising. We have a modified experience for viewers using ad blockers

Wikia is not accessible if you've made further modifications. Remove the custom ad blocker rule(s) and the page will load as expected.