Funko is a toy company that specializes in stylized vinyl figures and bobble heads, some in partnership with Disney.
Muppet vinyl figures were released in April 2012 as part of the Funko POP line sold at the Disney Store and at Disney theme parks. Metallic painted figures of Mahna Mahna and the Snowths were sold in a 3-pack box set exclusively at the 2012 San Diego Comic-Con.
Funko's 2012 Toy Fair display first showed designs for a set of Muppet bobble-head "Wacky Wobblers," including Kermit the Frog, Miss Piggy, Fozzie Bear, Animal and Dr. Teeth. The figures were released in 2013. Artwork for Gonzo, Beaker and Sweetums "Wacky Wobblers" were also shown, although they were never produced.
At American International Toy Fair in 2013, it was revealed that Funko would be releasing other Muppet toys, including Kermit and Miss Piggy with cupcake-shaped heads and plush of Kermit, Miss Piggy, and Animal based on the design of the vinyl figures;[1] however these products were never released.[2]
In 2014, Funko announced a partnership with Sesame Workshop to create Sesame Street vinyl figures, beginning with an exclusive Super Grover figure that was released at New York Comic Con. A complete line of figures will be released in 2015, including Big Bird, Bert, Ernie, Elmo, Oscar the Grouch, Cookie Monster, Grover, and Count von Count.[3][4]
Pop! Vinyl
The Muppets
Sesame Street
Wacky Wobblers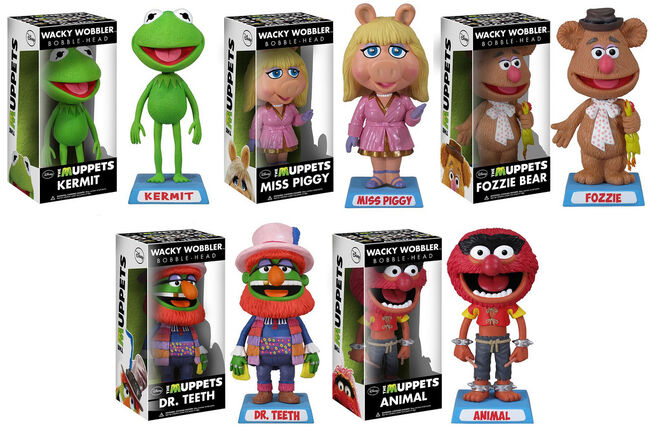 Concept art
Sources
See also
External links