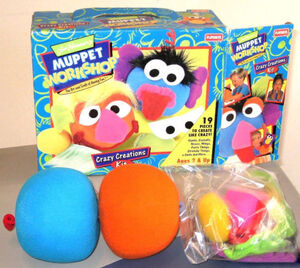 Playskool produced a Muppet Workshop Crazy Creations Kit c. 1993. The kit comes with two big starter shapes, three furry pieces of fabric, one smile, three pairs of eyes, two noses, and five floppy things to use as ears and tongues.
External links
Ad blocker interference detected!
Wikia is a free-to-use site that makes money from advertising. We have a modified experience for viewers using ad blockers

Wikia is not accessible if you've made further modifications. Remove the custom ad blocker rule(s) and the page will load as expected.