Archive of Today on Muppet Wiki, January - February 2008.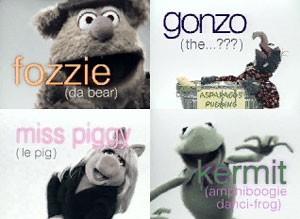 February 2008
February 29 • Kermit's Birthday: In his book Sesame Street Unpaved, David Borgenicht gave Kermit's birthday as February 29th, Leap Year Day. Since this is the only mention of this date, some people have interpreted the reference to Leap Year Day as a joke about frogs and not as Kermit's official birthday.
February 28 • The Muppets will make fun of almost anything, including themselves. Thus, they've made plenty of references to being puppets throughout their long, illustrious careers.
February 26 • Clean up your act with some of Hallmark's Muppet Soap ... if you can find some, that is.
February 25 • Want to be a member of the Poconoko club? Learn how in Sesame Street Episode 3664.
February 23 • Your friends will think you're a cut-up if they see you with the Muppet Mates Cutlery!
February 22 • World Wide Studios is a fictitious movie studio located in Hollywood. According to The Muppet Movie, this is where the Kermit the Frog and the Muppets were given their big break from studio executive Lew Lord. The portions of The Muppet Movie shot within the movie (during "The Magic Store" number) are also supposed to have been shot at World Wide Studios. As a final nod to metatheatricality, the premiere of The Muppet Movie that serves as the film's framing sequences was also held at the studios.
February 21 • "The Sesame Street Mix or Match Storybook": With a cover boasting "Over 200,000 funny combinations," this spiral-bound book consists of forty-eight flaps which, as the title implies, can be mixed and/or matched up with others in order to tell a variety of stories. The first flap features one of eight characters who are in the process of some action as shown in the second flap. The third depicts a location, with Cookie Monster in several roles on the fourth. Any one of eight different things happens to an object in the fifth, which results in the outcome on the last flap.
February 18 • Here at Muppet Wiki, we're so organized that we've created a page of Miscellaneous Cameos in Muppet productions. These cameos include Muppet performers, cameramen, writers, songwriters, and other significant contributors to the Muppet (and/or Creature Shop) world.
February 16 • Big Bird Bubble Face is a bubble toy produced by Little Kids Inc. in 2001. To play with the toy, the user dips the toy's face into a tray of bubble fluid, and then blows through the mouthpiece in the back to blow bubbles through Big Bird's mouth.
February 15 • Elmo Live is the 2008 Christmas season release from Mattel, meant to top the Tickle Me Elmo (1996) and TMX Elmo (2006) toys. The toy is scheduled for an October 14th release. Unveiled at the International Toy Fair in New York City, the doll talks, tells jokes, moves around, and senses its environment. Sensor points are located in the toy's foot, tummy, back and nose.
February 14 • "Elmo's Valentine" is the story of the valentine which Elmo makes and puts into the Sesame Street Valentine box. When everybody picks their Valentines out, Grover chooses Elmo's. But Cookie Monster doesn't have one, so Grover gives it to him. The valentine continues to travel around Sesame Street until Zoe finds it and gives it to her good friend Elmo. This chunky board book comes with a cardboard heart valentine which can be moved from page to page as the story is read.
February 13 • "Rowlf's Polka" was performed by Rowlf at the piano in episode 223 of The Muppet Show. It's a very brief, but lively number which is finished when a chicken clucks and leaves the stage. Rowlf is surprised; normally the chicken is a great performer, but this time she laid an egg.
February 11 • The Muppaphone is a musical instrument made up of pink and orange balls of fluff. These creatures, members of an as yet unnamed species, are played by Marvin Suggs, who strikes them with mallets in order to elicit the cries of pain that form the Muppaphone's music. Each creature is tuned to make a single note, like a xylophone. Marvin Suggs and the Muppaphone first appear in The Muppet Show episode 105, playing "Lady of Spain."
February 10 • The Cosby Show was a family sitcom that aired on NBC from 1984 until 1992. The series was created by and starred Bill Cosby as obstetrician Dr. Heathcliff Huxtable, and centered around his large family. Several Muppets from The Jim Henson Hour made a guest appearance on the episode "Cliff's Nightmare," including Leon trying to con Cliff into buying a hall pass at his own hospital, and Digit trying to operate on him. The episode ends with Cliff encountering a sardonic group of Muppet foodstuffs in his refrigerator. In addition to The Jim Henson Hour characters, Gonzo, Sweetums and Statler appear in the episode, and several obscure Muppet monsters make cameo appearances, including Doglion and Luncheon Counter Monster.
February 9 • Crazy Recipes Card Game: In 1988, a Crazy Recipes card game was featured as an in-box promotion on the Swedish Chef's cereal, Cröonchy Stars. As was typical for cereal box promotions of the time, it was a cardboard punch out game similar to Concentration and Go Fish, where the players had to find pairs in the pool of cards. The twist on this two player game was that the player with the most cards, as well as the player with the least cards, both win.
February 8 • Miami Mice is a Sesame Street parody of the 1980s cop drama Miami Vice, featuring two fashion-conscious mouse detectives, Tito and J.P. In one sketch, Kermit tries to interview the mice about adventure, but finds it difficult to continue the interview when he's interrupted by a jet plane, an animal stampede, and a giant monster all making their way through the office.
February 7 • Bob McGrath Discography: Ever wonder what Bob McGrath did outside of Sesame Street? Well, he released a whole bunch of albums, some presented by Mitch Miller, some in Japan, and at least two where he took fashion advice from Perry Como. Even when he landed on the street, he was crooning the likes of "Muskrat Love." You gotta love that Bob.
February 5 • "Sharing" is a quiet song sung by Grover to Prairie Dawn in the park after she reveals that some kids would not let her play with them. To cheer her up, Grover offers to share a box of raisins. Prairie offers some of her cheese sandwich in return.
February 4 • Officer Fuzzy is a canine policeman in Dog City. He investigated the case of Bruno's chewed slipper in "The Dog Pound," and temporarily placed Eliot Shag under "doghouse arrest." The officer returned, with a different performer, in "Rocketship K-9," when Bruno called him to investigate an alleged alien invasion.
February 3 • Muppets at Sea is a 32-page graphic novel published in 1980. The book was illustrated by Graham Thompson, who also illustrated another full-length comic book, The Comic Muppet Book, in 1979. In the book, Kermit decides that the Muppets have been working so hard on their show that they deserve to have a vacation on a sea cruise. Unfortunately, the only ship they can afford to travel on is the Queen Mabel, a broken-down old tub that the Muppets have to renovate themselves.
February 2 • In the Plaza Sésamo video Suma y Resta con Montoya, it's Bodoque's birthday, and Montoya wants to give him a surprise party. Human friend Marcela helps with the preparations, but needs to know how old Bodoque will be. Montoya knows how many birthdays he's had but can't combine them, so Marcela teaches Montoya addition and subtraction with the aid of spoons, oranges, plates, and other items. Bodoque shows up, and Montoya has to hide the party plans from him, but they eventually have to tell him. Marcela burns the cake, but Bodoque prefers it that way.
February 1 • "Don't Know Y" is a Sesame Street parody of Norah Jones's song "Don't Know Why." This song is about her having planned a playdate with the letter Y, who didn't show up. As she sings, Elmo sees the letter Y showing up late. Elmo tries to tell Norah, but she is too upset to notice. However, she eventually realizes that the Y did come after all.
January
January 31 • Scram-I-Am is a Grouch and the star of the Grouchy Stories tale "Rotten Eggs and Jam." He's a parody of the Dr. Seuss character Sam-I-Am from Green Eggs and Ham. Scram-I-Am speaks in rhyme, explaining his willingness to eat rotten eggs and Jam anywhere, even next to "this big guy" (Gordon in Cat in the Hat style headgear). When the big guy spouts off the sponsors, however, he loses his appetite and tosses his meal aside.
January 30 • Isaac Asimov was a noted Russian-born author, considered a pioneer in the science fiction field, and a biochemistry professor, earning his Ph.D. at Columbia University. Some of his more notable works include Fantastic Voyage, The Foundation trilogy, and a wide-range of non-fiction writings, covering chemistry, astronomy, and guides to The Bible and Shakespeare. Asimov was interviewed by Dr. Julius Strangepork aboard The Swinetrek in Muppet Magazine issue 3, in keeping with the overall space theme of the issue.
January 29 • Fraggle Rock Earth Day dirt dessert kit: To promote the DVD release of Fraggle Rock: Complete Second Season to the media, HIT Entertainment sent gift packages to a number of outlets. A small tin bucket decorated with a Fraggle Rock sticker includes an Earth Day "dirt dessert" kit. It contains a box of chocolate pudding, Oreo cookies, a bag of gummy worms, and some small, plastic Fraggle Rock figures. The food items are meant to be used for a recipe dubbed as an "Earth Day tip." "Fraggle Rockin' Dirt Dessert" is made by mixing the pudding, crushed cookies, and frozen gummy worms in the pail.
January 28 • Snerf was a monster created during Jim Henson's early years on television variety shows. It is essentially a little fuzzy tube with eyes and hair, who pops up and down. When Ideal Toys created the first licensed Muppet dolls, the three characters they chose were Kermit, Rowlf and Snerf. However, there's no evidence that the Snerf puppet was actually manufactured and sold. After a while, multiple copies of the monster appeared at the same time, and they became "The Snerfs".
January 27 • Purk is a piglet from Sesamstraat, the Dutch co-production of Sesame Street. Purk wears a diaper and a little bow in her ear. She is clumsy and messy and loves to get herself dirty. She can't walk yet and only knows a few words. Everybody on Sesamstraat takes care of her. Introduced in 2003, Purk is the newest of the Muppet characters, and she's very popular. She was created in order to introduce the subject of "a younger child in the family".
January 26 • The Muppets: On with the Show! is a video game produced for Nintendo's handheld gaming system Game Boy Advance and Microsoft's Windows operating system. The game includes a variety of mini-games, which could be played individually (in activity mode) or all mini-games could be played in a certain order. There are also two mini games that have to be unlocked in order to play. A short backstage scene is usually shown before each game begins, and Statler and Waldorf give their comments after each game is over.
January 25 • The Terminator is a 1984 science fiction film that has spawned a franchise of movies, comic books, video games, theme park attractions and, most recently, a television series. The stories involve a future from which robots are sent back in time to avert a World War. There have been several Muppet references to, and parodies of The Terminator. These include a Movie Mania interstitial which stars Kermit the Frog as "The Kerminator," and a Muppet motorcyle jacket in Elmo's World: Jackets who quotes one of the title character's famous lines from the original film: "I'll be back."
January 24 • The Three Stooges were a classic comedy team, whose best known incarnation consisted of Moe Howard, Curly Howard, and Larry Fine, and who had their roots in vaudeville as "stooges" to Ted Healy. They accompanied Healy to Hollywood but soon broke out on their own, appearing in countless Columbia film shorts emphasizing slapstick, physical violence, and pie-throwing. The classic trio of Moe, Larry, and Curly was frequently referenced on Muppet Babies, usually through stock footage.
January 23 • "Cuanto Le Gusta" was performed by Miss Piggy and a chorus of Spanish-themed pigs in episode 210 of The Muppet Show. Miss Piggy is upstaged midsong by a trumpeter who performs upside down. At the end of the number, she is lifted into the air by the other pigs, who promptly drop her as they take their bows.
January 20 • Peter Schickele is a composer and pianist, perhaps best known for his satirical alter-ego P.D.Q. Bach. In the early seasons of Sesame Street, Schickele scored several live action films produced by Mark Sadan and Kirk Smallwood, including three riddle films and "Where the Garbage Goes."
January 19 • Muppets on Wheels is a 30-minute sing-along special released direct-to-video by Jim Henson Video in 1995. In the special, Kermit the Frog and Lindy, a young boy who wants to learn about things that go, explore different varieties of vehicles, including a race car, a tractor, a rollercoaster, a bicycle, and several types of trucks. The video is similar to Things That Fly.
January 17 • Don Music is an agonized composer who made recurring appearances on Sesame Street, starting in Season 5 (1974). A typical sketch involved Kermit visiting Don in his studio while he tried to write a new song. Don would write a strange version of a nursery rhyme, such as "Mary Had a Bicycle" instead of "Mary Had a Little Lamb," and then perform the song with backup singers. Don always kept a picture of Sesame Street songwriter and composer Joe Raposo on the wall, while on his piano he often kept a bust of either Ludwig van Beethoven or William Shakespeare.
January 16 • The Happiness Hotel is a dilapidated residential hotel in London, as seen in The Great Muppet Caper. Kermit the Frog, Fozzie Bear, and Gonzo are directed there when seeking free lodgings in London. The hotel is run by Pops, who does ask about payment methods, but offers option c: "Sneak out in the middle of the night... Very popular choice." Residents of the hotel include Dr. Teeth and The Electric Mayhem (who live there between gigs, and have now stayed for five years), Scooter, Beauregard, Lew Zealand, Gaffer, chickens, and Sam the Eagle, amongst others. Staff, apart from Pops, seems to be limited to Rizzo the Rat and other rat bellhops, and The Swedish Chef.
January 14 • Energizer Batteries is a long-established brand of batteries whose familiar spokescharacter is the Energizer Bunny. In 1993, Energizer launched an ad campaign with a continuing storyline, in which a rival battery company hires several classic movie villains to steal the rabbit's battery. Several of the spots in the campaign were directed by Frank Oz, one of which features King Kong from the 1933 film, supplemented by an animatronic gorilla courtesy of Jim Henson's Creature Shop.
January 11 • Busy City is a children's storybook written and illustrated by Joe Mathieu. One spread in the book looks at the busy location of a television studio, clearly depicting the filming stage of Sesame Street, complete with Muppet characters and behind-the-scenes cameos such as Jim Henson, Frank Oz, director Jon Stone and puppet builder Kermit Love.
January 9 • Episode 3699: Telly welcomes the viewer to Sesame Street, and invites the viewer to read signs with him. He loves to read signs because they tell you important things. He encounters signs such as SUBWAY, FINDERS KEEPERS, CELINA'S DANCE STUDIO, and Big Bird's mailbox which says "B. BIRD." However, Telly has an even more special sign in mind: his favorite sign, the Sesame Street sign. But wait - the sign appears to be missing! Telly remembers reading it yesterday, and calls for help.
January 8 • Luna is the name of the moon on Bear in the Big Blue House. At the end of every episode, Bear climbs to the attic to talk to the moon about the day's events. Together they sing "The Goodbye Song" to close the show. Bear and Luna are old friends. Luna often knows just what Bear is thinking and sometimes speaks in unison with him. Because she is very old, Luna is full of wise advice.
January 7 • In 1957, Jim Henson was approached by a Washington, D.C. coffee company to produce ads for Wilkins Coffee. The local stations only had ten seconds for station identification, so the commercials had to be lightning-fast -- essentially, eight seconds for the commercial pitch and a two-second shot of the product. From 1957 to 1961, Henson made 179 commercials for Wilkins Coffee and other Wilkins products, including Community Coffee and Wilkins Tea. The ads were so successful and well-liked that they sparked a series of remakes for companies in other local markets throughout the 1960s.
January 5 • Most Muppets have wide open eyes and small or non-existent eyelids. However, sometimes it is necessary for them to be shown with their eyes closed. At this point they appear to grow eyelids. This is usually done to create the appearance of sleep, when the simpler method of turning the character's eyes from the camera won't work for the scene.
January 4 • Scouting is a worldwide youth movement of multiple organizations for both boys and girls whose aims are to develop young people physically, spiritually and mentally so that they may take a constructive place in society. Jim Henson was a Cub Scout. As a child, the den meetings were held at his house, with his parents serving as Den leaders. In addition, several Muppet characters belong to fictional Scouting groups - including the Frog Scouts and the Worm Scouts.
Ad blocker interference detected!
Wikia is a free-to-use site that makes money from advertising. We have a modified experience for viewers using ad blockers

Wikia is not accessible if you've made further modifications. Remove the custom ad blocker rule(s) and the page will load as expected.