Archive of Today on Muppet Wiki, November - December 2007.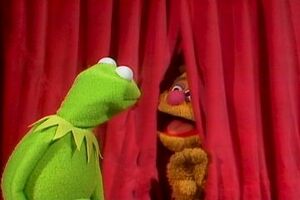 December 2007
December 30 • A significant amount of Fraggle Rock History predates the events recounted in Fraggle Rock. These historical periods are often only mentioned in passing, but are occasionally seen through flashbacks or (in one case) time travel. Absolute dates are available for Gorg history only, as ages and anniversaries are sometimes given. Events in Fraggle and Doozer history can only be dated relative to one another.
December 29 • The Shambala Wild Animal Protection Act of 2000 was a proposed amendment to the United States Animal Welfare Act. Celebrities Tippi Hedren, Melanie Griffith, and Kermit the Frog appeared on Capitol Hill in support when the bill was introduced. Kermit said that as a "representative of the animal kingdom," it was important to "pass this bill to prevent the continuing abuse and cruelty toward exotic animals in this country." After posing for photos with Derek, Hedren and Griffith, he went on to mention that he too would be endangered: "When I go home to Miss Piggy, I'm going to be in serious trouble."
December 26 • Fozziwig and Mom Ltd. was the old rubber chicken factory owned by Fozziwig (and Mom) in The Muppet Christmas Carol. In addition to artificial chickens, the factory also produced oversized shoes, which hung from the warehouse rafters, and party hats. Fozziwig and Mom Ltd. was known for its annual Christmas party, marked by dancing, speeches, and singing grapes. The firm employed a young Ebenezer Scrooge as an accountant, who disapproved of such revelry. It was at one such occasion that Scrooge was introduced to Belle, a friend of the family.
December 22 • In 1985, Hallmark issued a glass ball Fraggle Rock Christmas ornament. It is unusual as it depicts the Fraggles celebrating Christmas, a holiday that they are unfamilar with in the television series. The ornament features a decorated Doozer construction tree, wrapped presents, and Doozers helping with snowballs and ice sculptures. Red carries a banner that reads "Happy Holidays '85", and Sprocket watches through the hole in Doc's workshop.
December 21 • In 1980, Hallmark began producing Muppet Christmas ornaments, most as part of their "Hallmark Keepsake Ornament Collection". Although never a part of an official series, many handcrafted, satin, and glass ball ornaments were released in the early 1980s. There were also two silver "Little Gallery" ornaments created. Between 2003 and 2005, a trio of new handcrafted Muppet ornaments were released.
December 20 • A Christmas Story is a 1983 MGM film based on the short stories of author Jean Shepherd. The film follows Ralphie (played by Peter Billingsley), a young boy growing up in 1940s Indiana, on his quest for the perfect Christmas gift, an official Red Ryder carbine-action 200-shot range model BB rifle with a compass in the stock. In the opening sequence of It's a Very Merry Muppet Christmas Movie, two Whatnot children are seen admiring a downtown Christmas window display. The characters, sets, and blocking of the scene mirror the opening sequence of A Christmas Story. Later in the production, a group of young frogs "triple frog dare" another frog to touch his tongue to a cold metal pole, at which point his tongue sticks to it. The scene is a parody of a now-famous scene in A Christmas Story.
December 19 • The song "Skid-dy-mer-rink-adink-aboomp (Means I Love You)", known to most as "Skinnamarink", originated in the 1910 Broadway musical The Echo, a comedy production by Charles Dillingham. In Ernie's Show and Tell, during episode 3980 of Sesame Street, Ernie asks his friend Raj to sing a song. Raj chooses "Skinnamarink", which Ernie doesn't know.
December 16 • Sandwiches are a popular food dish created by placing assorted meats, cheese, and/or vegetables, or other substances, between two slices of bread. The food is named after John Montague, the Earl of Sandwich, who devised it as a convenient way to eat lunch while continuing to gamble at cards. This momentous moment in culinary history, enabling schoolchildren everywhere to carry their lunches in brown bags with ease, was recreated in an animated insert on Sesame Street, courtesy of Bruce Cayard.
December 14 • The Grinch is the recurring villain on The Wubbulous World of Dr. Seuss. Created by Theodor Geisel in the 1957 book "How the Grinch Stole Christmas", the Grinch has become an iconic Christmas curmudgeon, almost rivaling Ebenezer Scrooge. On The Wubbulous World of Dr. Seuss, the Grinch does not limit his grinchiness to the holiday season. From his lair on Mount Crumpit, and with the reluctant assistance of his dog Max, he schemes to ruin the fun of the citizens of Seussville and the rest of the Wubbulous World.
December 13 • In 1974, Child Guidance released a set of Muppet Miniature toys. These were small, 2.5 inch high, Sesame Street character figurines packaged in sets of three. Each package was shaped like either part of the Street set, or a vehicle, and was intended to be used as a playset with the figures.
December 12 • "The Gift of the Magi" is a short story by O. Henry about a poor couple that pawns their most prized possessions to buy Christmas gifts for each other: Jim his watch to buy Della a set of combs, and Della her hair to buy Jim a chain for his watch. Even though their presents were useless without the original possessions, O. Henry suggests that their acts represent the true meaning of Christmas. This story was been retold by the Muppets several times.
December 10 • Little Muppet Monsters was a short-lived Saturday morning TV show, of which only two episodes aired on CBS in 1985. The first season of Muppet Babies did very well in the ratings, so CBS decided to expand the series from half an hour to a full hour, pairing Muppet Babies with Little Muppet Monsters. The umbrella title for the hour-long package was Muppets, Babies and Monsters. The show was anchored by three young Muppet monsters: Tug, Boo, and Molly. Occasionally, Muppet Show characters such as Scooter, Kermit the Frog and various penguins would drop by in cameos.
December 9 • In 1992, Idolmaker produced a set of 100 Sesame Street trading cards. The cards were sold in packs of 10, with 36 packs to a box. They included series on numbers, letters, trees, the circus, the wild west, and animals. If you can find them, a complete set would make a fantastic holiday gift for your favorite Sesame Street fanatic!
December 7 • Sinterklaas, or Saint Nicholas, is the Dutch counterpart to Santa Claus (and in fact, predates the Westernized Santa). Sinterklaas arrives in the Netherlands in November, generally by steamer from Spain, and celebrates his birthday on December 5th by giving presents to all children. He has figured prominently in many Sesamstraat productions, often accompanied by his helper Zwarte Piet. He also visits the television world of Sesamstraat every year.
December 5 • Happy birthday, Muppet Wiki! Muppet Wiki was founded two years ago, on December 5th, 2005. The brilliant first sentence that we wrote: "Fozzie Bear is a bear." That may not have been very eloquent or comprehensive, but you have to admit that it was accurate. We've maintained that high level of quality, and now we're one of the biggest and most popular wikis on Wikia, with more than 15,000 pages on all our favorite characters, shows, songs and penguins. A huge, Muppetational thank you to the 230+ people who have contributed to the site so far. If you haven't contributed yet, hit "edit this page" and try it out! Don't worry about making a mistake -- we're friendly, and we'll be happy to help you learn.
December 4 • Jane Austen was an author whose novels drew on the English privileged classes of society. Her work documented and satirized the mores and shifting values of her day, as the country transitioned from the 18th to the 19th century. Because of the status of female authors of the time, her works were often published anonymously, but her name has since garnered great fame and notoriety. She has been frequently referenced in the Muppet universe.
December 2 • Old-time radio is a phrase frequently used by scholars, fans, and companies to refer to a period in American broadcasting history, from roughly 1926 to 1962, when radio was a dominant entertainment medium. While modern radio is dominated by music stations, newscasts, and call-in talk shows, "old-time radio" featured a wide range of programming. Such radio staples as Bob Hope and Edgar Bergen were guest stars on The Muppet Show, and subsequent Muppet/Creature Shop productions would occasionally reference or pay homage to old-time radio, either individual programs, or as a collective entity.
December 1 • Mirkmonster is a behemoth who appears in the Fraggle Rock episode "A Cave of One's Own." It dwells in a cave that Mokey and Red have ventured to in search of supplies for their cave-warming party. Red is cautious of the beast, but Mokey is confident that their positive energy will protect them.
November 2007
November 29 • When Muppets Dream of Peace is a forthcoming documentary being produced by Highlander Pictures to air on PBS in the fall of 2008. Directed by New York-based filmmaker David Van Taylor, the film aims to shed some perspective on the making of Middle Eastern versions of Sesame Street over the past few years. Taylor spent time in the region to film behind-the-scenes material for his documentary, and includes interviews with puppeteers and show executives.
November 28 • The King of Eight is a short film produced for Sesame Street by Jim Henson in stop-motion animation, with some puppetry. The short focuses on the title character, the jovial king of a land where everything exists in denominations of the number 8. Speaking in jazzy rhyme, the King presents an inventory of his domain - 8 flags, 8 guards, 8 windows on the castle, and 8 princesses with 8 jewels on their crowns. Rhythmic percussion, of the sort utilized in Time Piece, underlines the dialogue. An interruption by the Court Jester, informing his majesty of an unexpected addition to his family, serves as the punchline.
November 27 • Junkyard Mega-Wars is an engineering game show produced for The Learning Channel, in which teams have 20 hours to build a working machine that can perform a specific task, using materials available in a scrapheap. A team from Jim Henson's Creature Shop competed in a special "At the Movies" episode, where they went head-to-head with two other movie effects companies: Industrial Light & Magic and KNB.
November 25 • Mrs. Frazzle is Frazzle's mother. She takes her son to the dentist and spends some time with him before his cleaning, to calm his nerves about the experience. When the dentist finally arrives, he addresses Mrs. Frazzle and sets his attention on Frazzle. At first gaze upon the monster's teeth, the dentist runs away screaming. Mrs. Frazzle deduces that the dentist was more afraid of Frazzle than Frazzle was of the dentist.
November 24 • A photo puppet is a poseable, full-body version of a Muppet created specifically for photographs, displays, and various other scenarios in which actual puppets are either inappropriate or unnecessary. Photo puppets are not Muppet-style puppets in the traditional sense, in that they can be posed but not operated from within. They are sometimes known as posers or poser puppets. Prominent uses of posers include calendars, print advertisements, video covers, and Muppet Magazine photos.
November 23 • Muppetisms are a set of thirty to sixty second shorts which originally appeared on the Odyssey Channel in 1999. They later appeared as extras on several Muppet DVDs and video games, and on The Jim Henson Company's official website. Twenty shorts were created in all. These shorts were written by Kirk Thatcher and Jim Lewis, and directed by Kirk Thatcher.
November 18 • Luxo Jr. is a curious, child-like lamp created for an animated short film in 1986 by Pixar. The film was the first completed by the company after it was sold by Lucasfilm, and broke boundaries in computer animation upon its premiere at the annual Siggraph conference. In 1991, the character appeared in several segments developed by Pixar for Sesame Street. The lamp and its larger companion covered such topics as "Surprise," "Light and Heavy," "Up and Down" and "Front and Back." All four were recently released on Pixar Short Films Collection: Volume 1 on DVD and Blu-Ray.
November 15 • The Weebabeast is a creature from Fraggle mythology; in the days when the Rock was small, the Weebabeast guarded the Great Bell that lies at the Rock's heart. The dance of the Weebabeast is an important Festival of the Bells tradition. Five Fraggles don the Weebabeast costume, which operates in a similar fashion to a Chinese dragon, and dance around while singing "Weeba Weeba!"
November 14 • The King of Eight is a stop-motion animated short produced for Sesame Street by Jim Henson. It focuses on the title character, the jovial king of a land where everything exists in denominations of the number 8. Speaking in jazzy rhyme, the King presents an inventory of his domain until he's interrupted by the Court Jester, informing his majesty of an unexpected addition to his family.
November 11 • The Planets is a symphonic suite written by Gustav Holst between 1914 and 1916. The piece is written in seven movements: one for each of the known planets in Earth's solar system. In 1998, the "Slimey to the Moon" story arc on Sesame Street utilized several elements from the suite for its dramatic underscore. Selections from "Venus," "Mars," and "Jupiter" are heard for moments ranging in emotional depth from uplifting to exciting.
November 8 • Global Grover is a Sesame Street segment hosted by Grover, in which the blue monster travels all over the world to explore the traditions of peoples from many diverse cultures. Sesame Street has featured the segment since 2003, and we've compiled a complete guide to Grover's travels. This page is the latest to be awarded Quality status on the wiki, marking it as one of our best. Check out the Quality nominations page to nominate and vote on the best Muppet Wiki articles!
November 7 • Sesamstraat Discography: From its earliest planning stages, Sesamstraat was, like Sesame Street, designed to be a show that would use music and singing as a part of the material being taught. So it was only natural to release the musical content on records, not only to reinforce the curriculum lessons for children when they weren't watching the show, but also because Sesamstraat music is enjoyable just for its own sake.
November 5 • "Time to Say Goodnight" is a parody of "Con te partirò" (also known as "Time to Say Goodbye"). Andrea Bocelli sang the song to Elmo as a bedtime lullaby. The lyrics have been adjusted from the original (made famous as a duet by Bocelli and Sarah Brightman) to tell the story of Elmo's long day which has now come to an end.
November 3 • "My First Sesame Street Library" is a collection of twelve miniature board books intended to teach basic toddler concepts. Packaged in a carrying case, the titles include "Share with Me" featuring Cookie Monster sharing his cookies with his friends, "Grover's Opposites" and "Count With Me" illustrated by Joe Mathieu.
November 1 • Tinseltown is a new Jim Henson Company television series produced for Logo, the gay and lesbian cable network. The series, a mock-reality show, showcases the life of fading Hollywood star Bobby Vegan who is an outspoken and struggling entertainer (and a pig). Bobby's life-partner, soul mate and manager is Samson Knight (a bull). The two puppets have a 13-year-old human foster son named Foster. The pilot episode airs on Friday, November 2nd at 10pm, as part of the "Alien Boot Camp" block.
Ad blocker interference detected!
Wikia is a free-to-use site that makes money from advertising. We have a modified experience for viewers using ad blockers

Wikia is not accessible if you've made further modifications. Remove the custom ad blocker rule(s) and the page will load as expected.