Archive of Today on Muppet Wiki, September - October 2007.
October 2007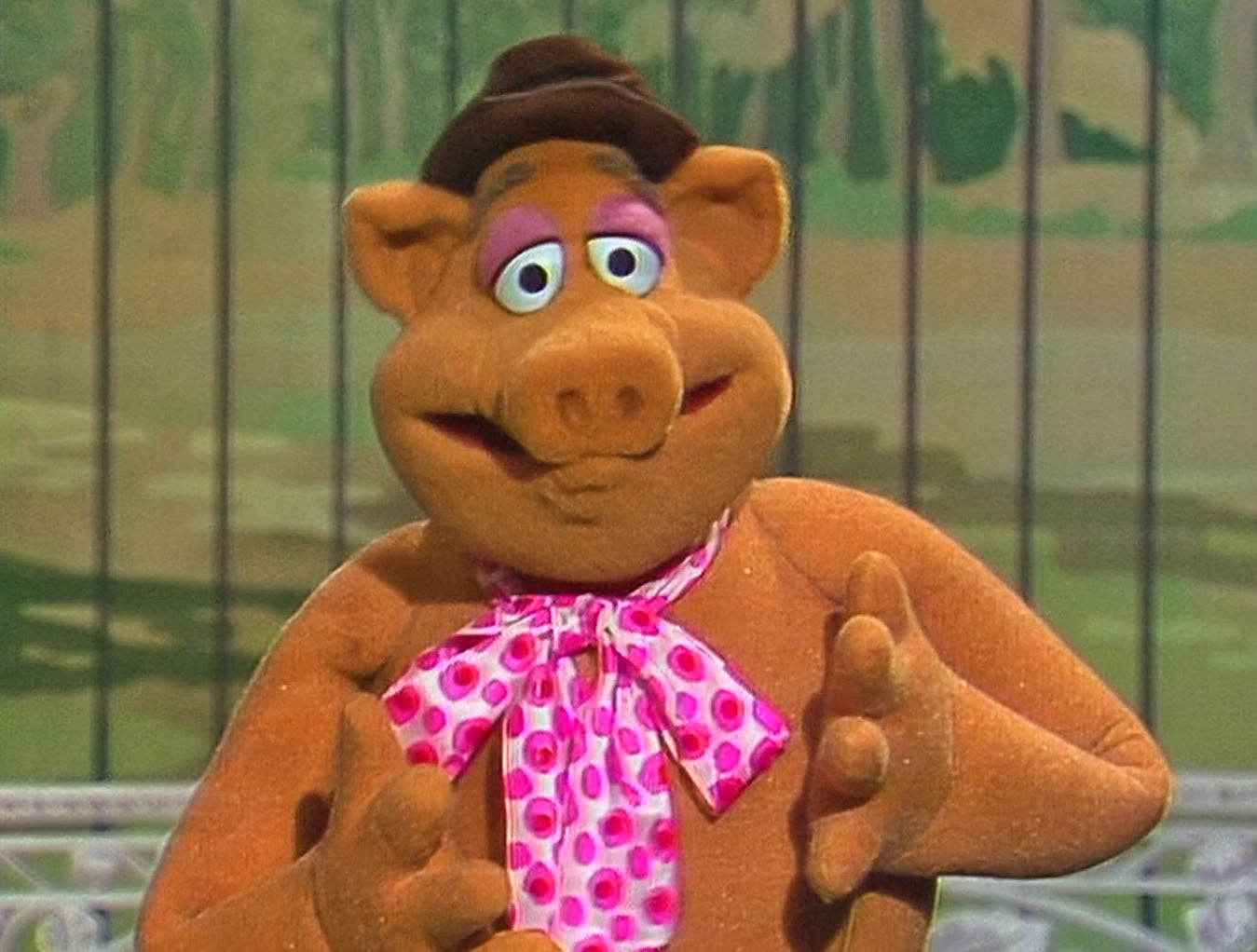 October 28 • Miss Piggy bathroom set: A shower curtain made by Jakson Co. in the 1980s featured Miss Piggy as a mermaid. Other products included a tissue box cover and towels.
October 27 • The Snowths are furry pink creatures with horns and yellow lips who sing the "do doo do doo doo" backup vocals in versions of "Mahna Mahna" that have appeared on The Ed Sullivan Show and The Muppet Show. Both Snowths were performed simultaneously by Frank Oz, who performed one puppet on each arm; as a result, the Snowths' arms swung freely from side to side.
October 21 • Episode 4151: It's time for the Worm Cup, the international worm sporting event that happens to be taking place right outside Oscar's trash can. Sports reporter Lotta Chatter describes the gripping action to the viewing audience of worms, humans, Grouches and eight-foot birds. Sesame Street's own Slimey the Worm is one of the finalists, squaring off against the French champion, Squirmadine. The action gets a little rough, leading to a shocking physical assault. Seriously.
October 20 • Smedley is a wooden dummy performed by Fozzie Bear in a one-page Muppet comic strip that appeared in the final issue of Disney Adventures. Not surprisingly, Fozzie and Smedley's performance ("GLAH GLAH GLAH GLAH") fails to amuse Statler and Waldorf. However, when Smedley combusts due to a sudden flare and has to be extinguished by Scooter, the two hecklers burst into uproarious laughter.
October 19 • Sesame Street 45 RPM Sets: When Sesame Street began to produce LPs and singles in the early 70s, they also created some sets of singles that were released in special custom boxes. These sets sometimes had unique artwork. The sets included the "Carry About" titles: The Sesame Street Carry About, The Muppet Alphabet Carry About and the Havin' Fun with Ernie and Bert Carry About.
October 18 • Ben Cooper Sesame Street costumes: It's a couple weeks until Halloween, which means it's time to get your costume ready. If this was the early 80s, and you were in middle school, that would mean going to Woolworth's and getting a Ben Cooper costume. You'd find shelves of blue boxes to rummage through, each holding a plastic mask that you couldn't see out of and a vinyl smock that usually had the name and picture of the character printed on it. Ah, those were the days.
October 16 • Elmo's World Episodes: Guess what Elmo is thinking about today! Well, it's hard to guess, since it could be anything from Penguins to Skin, or maybe Violins, or Noses, or Helping. It's hard to keep track of all the things that Elmo knows about, so you need our complete episode guide to Elmo's World, with tons of pictures and descriptions for each episode.
October 15 • Antibodies are Y-shaped proteins that are found in blood or other bodily fluids of vertebrates, and are used by the immune system to identify and neutralize foreign objects, such as bacteria and viruses. A group of antibodies appear in an episode of Sesamstrasse, representing Nils' immune system when he takes his medicine. The antibodies explain to a concerned Finchen that Nils needs to take his vitamins in order to keep his immune system healthy.
October 14 • Moppet is a human character featured in the Return to Labyrinth manga series. Moppet has lived inside the Labyrinth for as long as she can remember. As a human, she felt insecure about looking different from the goblins, and disguised herself as a goblin. She hides her human features with a poorly made goblin mask and a wig. She quickly becomes an ally, friend and possible love interest to Toby.
October 13 • Panwapa is a world-wide video initiative produced by Sesame Workshop. The video debuted on October 10, 2007, released online via iTunes and Panwapa.com. A DVD release will follow, and the program will be featured on PBS Kids Sprout On-Demand service in January 2008. The production stars an original group of Muppets that live on Panwapa Island, a giant floating island. The program aims to "foster the foundation for global citizenship and community activism in young children, ages 4 to 7." The Muppet cast includes Azibo the Monster (Kevin Clash), Bill the Bug (Joey Mazzarino) and Koko the Penguin (Leslie Carrara).
October 12 • Moon Dreams: Puppyduck comes running into the shop; she's found a moon creature sitting outside. It turns out that Mopatop can speak moon language, so he's able to figure out that the creature, Clicksnizz, has lost his favorite dream. After a few attepmts to find a new dream in the dream apartment, Puppyduck suggests that Clicksnizz is looking for a dream about stars. Unfortunately, the dream about stars is missing, because Moosey Mouse used the stars to decorate his room. Moosey overhears the conversation in the shop, and returns the stars.
October 6 • Sweetums is a grotesque, hairy ogre who towers above mere humans and his Muppet co-stars. His bulldog-like lower jaw, thick eyebrows, shabby brown shirt and threatening expression belie his more or less genial nature. This page is the latest to be awarded Quality status on the wiki, marking it as one of our best. Check out the Quality nominations page to nominate and vote on the best Muppet Wiki articles!
October 5 • Ricardo is Rosita's father. While Rosita has been a major character on Sesame Street since 1991, her father made his first on-screen appearance in 2007. Ricardo will first appear in a project being developed by Sesame Workshop for military families, in response to Talk, Listen, Connect. In this special, released in 2007, Rosita's father is a member of the military, and was deployed far away. When he comes home he is in a wheelchair and Rosita has a hard time coping with the change. He is friends with Elmo's dad Louie, a fellow Sesame Street servicemonster.
October 4 • Pablo Bigotasso is a Multimuppet artist who appears occasionally on Plaza Sésamo. He often uses his art to demonstrate geometric concepts, and has also been known to innocently create his masterpieces on public walls.
October 2 • Lotta Chatter is the anchorwoman at the Worm's Cup game in Episode 4151. Speaking with an English accent, she gives the play by play commentary to viewers at home and summarizes the game's progress, much to Oscar and Monsieur Depabois' dismay.
October 1 • Super Morphin Mega Monsters was a recurring Sesame Street sketch in the 1990s, spoofing the Mighty Morphin Power Rangers franchise. The Mega Monsters team consisted of Elmosaurus, Zoeteratops, Telly Dactyl, and Rosita Raptor, who would "morph" into caped and helmeted outfits when trouble arose. Their arch-enemy was the evil alien Zostic, ruler of the planet Enormous, who would send his underlings to cause trouble on Earth. In contrast to the fight scenes on the real Power Rangers, the Mega Monsters would run around and wave their arms in vaguely martial arts-style motions, but would only reason with others instead of attacking.
September 2007
September 30 • Who You Looking At, Tiger?, also known as "Tiger Looking Song," is a Sesame Street song sung by David over film footage of a tiger. He sings about who the tiger is looking at and what the tiger is seeing and feeling.
September 29 • Wild Thing is a hit song written by New York-born songwriter Chip Taylor and originally recorded by The Wild Ones in 1965. The song is probably best known for its 1966 cover by the English band The Troggs, leading many to assume they are the original artist; however, the Troggs' version is one of several covers. Animal sang "Wild Thing" in episode 222 of The Muppet Show, accompanying himself with a raucous drum beat. At the end of the number, Animal is dragged away by pigs with nets.
September 28 • Emotion in the Ocean is a Sesame Street song, in which Elmo sings about the feelings of aquatic animals -- the love that a mother whale shows to her babies, the pride of a strutting penguin, and the hunger of a shark.
September 26 • Chunky Cheese is the chief cheese of the planet CH in a Sesame Street "Spaceship Surprise" skit. Chunky Cheese is the planet's leader, and rides a chariot. He explains to the voyagers that the planet is full of chimneys, cherry trees, and cheering chairs, among other items.
September 25 • Mystery Science Theater 3000 is a long-running documentary series about a guy trapped in space with two robots of his own design, forced to watch bad movies by mad scientists who hope to turn these "experiments" into a blueprint for world domination. Okay, so it's not a documentary. But over ten seasons, Joel, Mike, Tom Servo and Crow T. Robot mercilessly mocked some of the worst movies of all time. The wide-ranging pop-culture references included frequent mentions of the Muppets and Sesame Street, which we've arranged in a lavishly detailed page, complete with a screenshot for each one. This page is the latest to be awarded Quality status on the wiki, marking it as one of our best. Check out the Quality nominations page to nominate and vote on the best Muppet Wiki articles!
September 23 • The Kingdom of Loathing is an online, multi-player role-playing text adventure game that parodies traditional fantasy role-playing games. Several elements of the game feature references to the Muppets, including a dual reference to Kermit the Frog and Yoda, as the player encounters a little green man strumming a banjo on a log, who speaks backwards. The character explains, ""Writing I am a song about rainbows. Many songs are there about rainbows, and believe I do that a connection between them there is."
September 18 • The Sesame Street Podcast was launched today by Sesame Workshop. Each week, a 5-minute segment will become available online to web browsers and cell phone users as a way for parents to provide educational media for their children while they are on-the-go. Sesame Street material from current episodes is mixed with older segments and features never-before-aired content.
September 17 • Mahboub is an Arab-Israeli monster who lives on Rechov Sumsum. Introduced in the 2006 revived series, Mahboub is a curious five-year old. He speaks Hebrew and Arabic, and is a gifted drummer.
September 16 • Baloobius: The baloobius is a part of Fraggle anatomy, the proper term for the fringe on the end of a Fraggle's tail. The baloobius tends to flare out when a Fraggle is scared. In the Fraggle Rock episode "Scared Silly," Boober decides to test the baloobius of his fellow Fraggles, primarily Wembley.
September 9 • Stella appears in Wow, You're a Cartoonist! as the proprietor of a cartoon boutique. The store sells a variety of elements that are advertised as "all you need to add spice to your cartoon." From hats, shoes, jewelry, hair styles, clothing, "you know it's fresh 'cuz you draw it yourself."
September 7 • Swedish Kitchen Playset: The Swedish Chef's kitchen was the third playset produced by Palisades Toys in honor of The Muppet Show's 25th anniversary. This playset, released in Spring 2003, had the most accessories and features, including cupboards with opening doors and drawers, a refrigerator and a stove with many working doors, and a telephone.
September 2 • All Work and All Play: It's time for young Cotterpin Doozer to wear her helmet and build like all the other Doozers, but the maverick Cotterpin would rather draw and play than work. Adopting Red Fraggle as her new hero, Cotterpin leaves the Doozers behind and decides to become a Fraggle instead.
Ad blocker interference detected!
Wikia is a free-to-use site that makes money from advertising. We have a modified experience for viewers using ad blockers

Wikia is not accessible if you've made further modifications. Remove the custom ad blocker rule(s) and the page will load as expected.