Muppet Wiki:Today on Muppet Wiki Archive 08
Talk

0
Archive of Today on Muppet Wiki, July - August 2007.
August 2007
August 30 • Disney Adventures: We first heard in May about plans for a new Muppet comic strip by Roger Langridge to appear in Disney Adventures magazine, starting this summer. However, the plans were delayed, and we now hear that the magazine is folding as of November. It's unclear whether Langridge's completed strips will be published.
August 29 • Women Can Be is a Sesame Street song about the many careers women can have. Three women place a spotlight on their own personal stories of success with the medical field, the circus and rocket science. Other opportunities expressed include everything from an alligator hunter to an office clerk, a police officer to a clown college graduate, a mountain climber to a lumberjack, and a published author to a soda jerk.
August 28 • Old School: Volume 2: The second DVD set of early Sesame Street episodes is coming out in November, and we've got information on the contents. The set will include five complete episodes -- the season premieres from 1974 through 1978. There's also 57 bonus "classic clips", and one of the original test shows.
August 27 • Kermit AM Radio: Produced in 1984 by Power-Tronic, this radio was shaped like Kermit the Frog's head and upper body. Kermit is wearing a tuxedo, leaning his face on his hand and smiling.
August 26 • Lovable, Furry Old Grover in Please Don't Push the Red Button was a book-and-tape set released for the Child Guidance Talk 'n Play interactive toy in 1984. On the tape, Grover guides the listener through a series of puzzles and games, but requests rather emphatically that the listener never push the red button on the Talk 'n Play unit. If the red button is pushed, Grover usually offers gentle corrections ("We are not pushing the red button today!") but occasionally he becomes a bit exasperated.
August 25 • Fred Newman is an actor, writer and sound effects expert who worked on various Jim Henson projects in the 1980s, and now appears regularly on A Prairie Home Companion. Newman's first work with the Muppets was as a writer for Muppet Magazine. During this time, he provided content for celebrity interviews, as well as artwork for the Muppet Labs features. In 1984, he co-wrote the stage show The Muppet Show On Tour. Newman also played the leading role of puppeteer Gary on the sitcom pilot Puppetman, and appeared in the direct-to-video special Neat Stuff To Know & To Do. Newman has recently returned to the Muppets' world in the new season of Sesame Street, appearing in the "Mouths" episode of Elmo's World.
August 22 • Ernie & Bert Show is a recurring segment on Sesamstrasse, debuting on October 7, 2007. In these unique German skits, Ernie (puppeteered and voiced by Martin Paas) and Bert (Carsten Haffke) appear in a game show, with Bert as host and Ernie as contestant. Also featured is the human reporter Norbert Neugier (played by German comedian Otto Waalkes) who supplies the questions, such as "What has long ears and can hop?" or "What do you have on your head that grows and has to be cut?" Ernie frequently goes through elaborate measures to find the answer, to Bert's chagrin.
August 17 • Sesame Street Movie Viewer Cartridges: Before home video was common, Fisher-Price produced "Movie Viewers" for kids where they could hand-crank a film cartridge featuring cartoon and puppet stars. There was no sound, but the cartridges contained actual film cells. Several cartridges were produced for Sesame Street from 1974 to 1978, including Alphabet, Big Bird's Birthday Party, Cookie Monster Kitchen, Numbers, and On My Way to Sesame Street.
August 16 • 15,000 articles: They say size isn't everything, but don't say that to Sweetums! We hit 15,000 pages today -- that's over 2,000 Muppet characters, 1,000 Sesame Street episodes, 1,000 celebrities, 800 Muppet songs, 600 Sesame Street books, and 50 Muppets dressed up like animals. (Ah-ah-aah!) Thank you to all the amazing contributors who've helped to make this site the largest and most comprehensive Muppet information source ever assembled.
August 12 • The Muppets Valentine Show is the original pilot for The Muppet Show, featuring guest star Mia Farrow. In the 1974 special, host Wally has writer's block -- he can't think of material for the show that represents the true meaning of love. He asks the other Muppets and Mia for assistance, with mixed results. This special has been released on DVD for the first time, as a bonus feature in the new Muppet Show: Season Two DVD.
August 11 • The Three Musketeers is a French novel written in 1844 by Alexandre Dumas, père. The novel, set in 1625, recounts the adventures of a young man named d'Artagnan after he leaves home to become a musketeer. D'Artagnan is not one of the musketeers of the title; those are his friends Athos, Porthos, and Aramis -- inseparable friends who live by the motto, "One for all, and all for one". The novel has been spoofed by Gonzo, Scooter and Link Hogthrob in The Muppets Go to the Movies, and by Grover, Telly Monster and Zoe in The Three Grouchketeers.
August 10 • Sam the Eagle is an American eagle, who feels his species and role as national symbol have placed certain responsibilities upon his shoulders. He has taken it upon himself to promote and protect wholesome American morals and values, and he works behind the scenes of The Muppet Show as self-appointed censor and advocate of cultural, educational acts. Sam is appalled by the nonsense that passes for entertainment on the series, and does his best to keep things in check, even though his pleas for an end to madness are usually ignored.
August 2 • Numero Comparsa is a bilingual song performed on Sesame Street by Cuban singer Celia Cruz, with a salsa rhythm. She wonders if the audience knows that in Spanish, 1 is uno, 2 is dos, 3 is tres, and 4 is cuatro. Anything Muppets appear from under the stage, each carrying a number. And so the dia wears on.
August 1 • Haman's Ear, also known as hamantashen, is a three-cornered pastry, eaten during Purim. The name is derived from the Biblical character Haman, the villain from the book of Esther whose defeat Purim celebrates. On Rechov Sumsum, in a Purim episode, Moishe Oofnik, as Haman, explains how he invented the pastry, having rejected Haman's Foot and Haman's Nose.
July 2007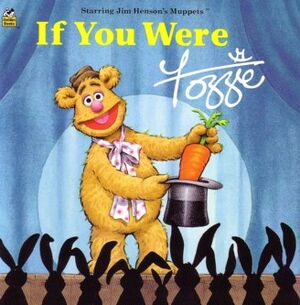 July 31 • Kermit, Save the Swamp! tells the story of a trip that Kermit the Frog takes with Fozzie Bear to his native swamp. Upon his arrival, however, Kermit discovers that his childhood home is about to be turned into a shopping mall and amusement park called Swamp World. Much to Kermit's chagrin, the swamp's inhabitants are looking forward to Swamp World -- Fergus looks forward to free rides on the water slide, Lulu can't wait to buy birdseed at the supermarket, and Kermit's cousin Nemo is learning how to roller skate in anticipation of the new sidewalks. (You can't, after all, roller skate in mud.)
July 28 • Ray Barretto, a.k.a. King of the Hard Hands, was a Puerto Rican jazz musician, widely credited as the godfather of Latin jazz. He was also the first Hispanic to record a Latin song which became a "hit" in the American Billboard charts. Barretto appeared on Sesame Street in the mid-70s to explain Latin rhythm.
July 26 • Elmo's Christmas Countdown is a special slated to air in a prime-time slot on ABC in the 2007 holiday season. Ben Stiller will narrate the special, performing the voice of a Muppet elf. Every year on Sesame Street, somebody gets the chance to open the doors of the advent calendar, counting down the ten days until Christmas. This year it's Elmo's turn -- but the wind blows the calendar out of his hands, and he has to hunt all over the Street to find the days before Christmas comes. Guest stars will include Jamie Foxx, Ty Pennington, Brad Paisley, Sheryl Crow and Alicia Keys.
July 22 &8226; Mad Goat Song is an animated Sesame Street song, in which a goat undergoes repeated annoyances. A dog pulls the goat's whiskers, and then a cat sets off a loud firecracker. A duck makes faces at the goat, and finally a pig refuses to share his ice cream with the goat. The lesson of the song, as specified in the chorus, is that anger can sometimes be a healthy outlet, and when justified, "it ain't bad to get mad."
July 20 • The Perils of Penelope is a comical adventure story published in 1973, starring Bert as the title character and Ernie as various brave heroes. The book was inspired by the legendary silent movie serial, The Perils of Pauline. Like Pauline, Bert's Penelope character gets into a series of perilous predicaments and must be rescued, much to Bert's dismay and Ernie's delight.
July 19 • The Solemn Fraggle Oath is used for situations with serious significance to the Fraggles. The words of the oath are "Weeba weeba, woppa woppa, garpox gumbidge, whoopee!" When someone calls for the oath, others are required to swear, and only the Fraggle who calls for the oath can release other Fraggles from it.
July 13 • Beauregard's Storing Room is featured in episode 503 of The Muppet Show. After Kermit charges Beauregard with "taking care" of the rats, Beau finds them trying to raid the refrigerator. Due to their small rat stature, they can't seem to get the door open. Taking advantage of the kindly janitor's lack of wit, Rizzo elects Beauregard as president of the rats. The president's first job in his new appointment is to declare the fridge "open."
July 12 • Germaine the Grouch, or "Germie" for short, is a female Grouch who moves her can across the street from Oscar in the 1992 book Oscar's New Neighbor. Oscar takes one look at Germaine's grouchy puss and falls in love. His infatuation overshadows his innate grumpiness, and he does everything he can to please her -- which makes her assume that he's not a true Grouch.
July 11 • Pinocchio is a wooden puppet whose major claim to fame is that his nose grows longer when he tells a lie; people come from miles around to see it. In a "Sesame Street News Flash" sketch, Kermit the Frog asks Pinocchio for a demonstration. The puppet says that he's Abraham Lincoln, and he's 50 feet tall; the lies make his nose grow longer. When he sees that Kermit is impressed, he claims that he's a thousand million years old, and that he can lick Superman.
July 10 • Scred was the put-upon servant and sidekick to King Ploobis in "The Land of Gorch" segments from Saturday Night Live. Scred begins as a groveling lackey, accompanying Ploobis to see The Mighty Favog. As the sketches continued, Scred developed more of a personality, flirting outrageously with Queen Peuta and eventually having an affair with her parallel to that between Ploobis and Vazh. In one of his best known moments, and one of the few "Gorch" sketches still widely seen in syndication, Scred declares his affection for guest host Lily Tomlin.
July 9 • "Einstein" is the name given to an Ancient interdimensional being on Farscape. John Crichton encounters him in "Unrealized Reality," and gives him the nickname as an allusion to Albert Einstein. The character made two appearances in the Farscape canon, each time to consider the fate of Crichton's knowledge of the spatial phenomenon known as a wormhole.
July 8 • Near and Far is a classic routine which has been famously performed by Grover on Sesame Street. This sketch involves Grover running back and forth, demonstrating the difference between "near" and "far." To make sure the viewers understand, he repeats this to the point of exhaustion. Grover once performed this act with Johnny Carson on The Tonight Show in the 1970s. Grover also demonstrated near and far during the song Over, Under, Around, and Through.
July 7 • Chef Bernardi appears in a 1966 segment on The Mike Douglas Show in response to the problem of who will prepare meals for the children of working mothers. The Chef works at the Railroad Diner where most of the clientele is in a hurry. For his cooking segment, he has prepared a recipe for a sixty second salad flambé. The concept behind this early character would later evolve into the Swedish Chef.
July 6 • Mee-Shee: The Water Giant is a 2005 family film starring Bruce Greenwood and Rena Owen. The film is based on the Canadian myth of a water monster known as the Ogopogo. This folklore began with Aboriginal peoples in Canada, and while the film was in production, complaints from one Aboriginal chief about cultural appropriation caused the film and its titular monster to be renamed "Mee-Shee". These complaints and the renaming drew media attention and generated controversy. The monster effects were created by Jim Henson's Creature Shop.
July 5 • Balls of Fur are roly-poly, fuzzy creatures with long, thin legs typically covered in striped socks. Usually appearing in sets of eight, these silent dancers come in a wide variety of colors and are known for their agility. Described as being as bushy as a lion's mane, and as curvy as a drop of rain, they have a soul for rock n' roll. Most famously, they were the subject of Little Chrissy's song "Eight Balls of Fur".
July 3 • Sesame Street Singles: Today's children wouldn't even recognize them, but there was a time when "singles" roamed the Earth. Sesame Street produced more than its share, with multiple sets featuring dozens of songs. Some of the songs, such as "Rubber Duckie" and "Sing", proved to be so popular with adults that they were also released as adult "pop" singles. This article is the latest to be awarded Quality article status on Muppet Wiki. Visit the Quality nominations page to nominate and vote for the best pages on Muppet Wiki!
July 2 • Kippi Ben Kippod is the full-body character from Rechov Sumsum, the first Israeli co-production of Sesame Street. Kippi is cheerful and optimistic, and has a pet goat named Sheba. Kippi first appeared on Rechov Sumsum in 1983, and he also appeared in Shalom Sesame, a 1986 Israeli-US bilingual co-production. For Shalom Sesame, the producers chose to translate "kippod" (קיפוד) as "porcupine", and Kippi refers to himself as "your friendly neighborhood porcupine". The translation of קיפוד is actually "hedgehog". Hedgehogs and porcupines are often confused by laypeople, although they are not part of the same family.
Ad blocker interference detected!
Wikia is a free-to-use site that makes money from advertising. We have a modified experience for viewers using ad blockers

Wikia is not accessible if you've made further modifications. Remove the custom ad blocker rule(s) and the page will load as expected.