Muppet Wiki:Today on Muppet Wiki Archive 06
Talk

0
Archive of Today on Muppet Wiki, March - April 2007.
April 2007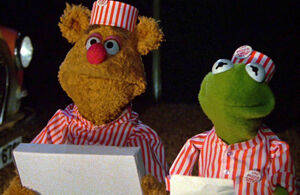 April 30 • Old School: Volume 2: The second Old School DVD set's been announced! The first volume, collecting skits and episodes from the first five seasons of Sesame Street, was released last October. The second volume is planned for this fall. There's no details yet about what'll be on the set, but it's good to know it's coming.
April 28 • Vegetable Soup is an episode of Sesame English, a TV/video series co-produced by Sesame Workshop and Berlitz International as a way of teaching English as a second language. In this episode, the main Muppet character, Tingo, makes a pot of hot soup -- very hot soup, actually, because everybody keeps adding pepper to it.
April 27 • The Muppet Show Diary 1979 is a schedule book for the year 1979, published in the UK. The pages of the book follow the format of an episode of The Muppet Show, treating 1979 as the "guest," complete with an At the Dance segment, Scooter's introduction ("15 seconds 'till curtain, 1979!"), Fozzie's act, Sam's monologue, and other recurring sketches. Other pages feature commentary by the characters on specific dates.
April 26 • The Man from Alphabet was a series of four five-minute film segments made for the Sesame Street Pilot Episodes in July, 1969. Created by David Connell, the segments referenced such tongue-in-cheek spy series as Get Smart and The Man from U.N.C.L.E. The series starred the Man from Alphabet (played by Gary Owens), a bumbling spy in a trenchcoat who, with the help of a young paperboy (H.B.), tried to catch the villainous Digby Dropout and his henchman Dunce. As one of the earliest film segments completed, series was heavily featured in advance promotion for Sesame Street, including an ad in comic books featuring Superman and Batman. However, the film series didn't test well with children, and it was dropped before the series aired.
April 24 • Sesame Street Needlecraft Kits: One of the fun things about Muppet Wiki is that we're constantly unearthing little bits of Muppet merchandise that you'd never expect. Check out these fantastic needlecraft kits; they're lovely.
April 22 • Earth Day 1990 was the international umbrella organization created to coordinate the efforts of more than 200 million people in 141 countries planning to take part in the 20th anniversary of the first Earth Day held on April 22, 1970. The Jim Henson Company produced a PSA using Earth Day 1990's popular slogan, "Who Says You Can't Change the World?" The spot featured Kermit the Frog singing his signature song, "Bein' Green."
April 21 • Three books were released in 1993 by Western Publishing with a particular "green" theme. In Ready, Set, Recycle!, Kermit teaches Miss Piggy the necessity of reusing items rather than letting them go to waste. In Pretty Park, Piggy and her friends become active by cleaning up a local park of its pollution and vandalism. Finally, Off to the Woods! features a story with the Frog Scouts and their attempt to preserve the forests.
April 20 • Willie Wimple is a careless youth who appeared in Sesame Street animated inserts beginning in 1972. Through a jaunty song, Willie would routinely throw garbage, chop down trees, and leak oil into the waters. The chorus always pointed out how "if every kid did it, can't you see what a messy world it would be," typically ending with a shot of a ruined earth. Willie's purpose was to demonstrate how one person's actions can harm the planet, since in fact individuals are seldom alone in their waste.
April 19 • "The Future is Counting on You" is sung by Baby Rowlf and his future grandson, Lieutenant Woof. Woof explains that the future looks so good because previous generations took such good care of the Earth. The point is made that everything we use originally came from the Earth; so treat it kindly, because the "future is counting on you."
April 18 • Better World Society was an organization developed in the late 1980s by media mogul Ted Turner, aimed at encouraging Hollywood to produce media that focused on environmental and social issues. Kermit the Frog was a spokesfrog for the organization, and the Muppets produced two Public Service Announcements that posed the question: "What if everyone in the world lived in one house?"
April 17 • National Wildlife Federation is a conservation organization that aims to inspire Americans to protect wildlife for future generations. Earth Day is coming up on Sunday, so this is a good time to remember that Jim Henson was passionate about environmental causes, and advocated for protecting the environment and living creatures in many productions. One example is the series of Public Service Announcements that the Muppets did for the National Wildlife Federation in the late 80s and early 90s, featuring Kermit, Fozzie Bear, Miss Piggy, Rowlf and Robin the Frog talking about pollution and energy conservation.
April 15 • Mars is a planet that orbits Sol, the same star system in which Earth can be found. It's the fourth celestial body classified as a planet, and it's also the home planet of Sesame Street's most famous extraterrestrial visitors, the Martians. Speaking primarily in a series of "yip-yip"s and "uh-huh"s, these strange explorers have journeyed to Earth from their planet to learn about such odd human concepts as telephones and clocks.
April 14 • Muppet Eyes: The eyes are the windows to the soul, and there's nothing more important for Muppets than eye placement in defining the character's personality. In the 1960s, puppet builder Don Sahlin developed "the Magic Triangle", a simple but effective approach to postioning eyes, creating a triangle in relation to the nose and mouth. Jim Henson explained the importance of eye placement: "It would be the last thing [Sahlin] would do, and he always wanted me there, to make sure it was right for both of us -- making sure the eyes had a point of focus, because without that you had no character." This article is the latest to be awarded Quality article status on Muppet Wiki. Visit the Quality nominations page to nominate and vote for the best pages on Muppet Wiki!
April 13 • The Luck Child: It's Friday the 13th, so this is a good time to watch "The Luck Child", assuming that you're not busy walking under ladders or stepping on cracks in the sidewalk. This StoryTeller episode is about the seventh son of a seventh son, who's blessed with good fortune, and is sent to fight the terrible Griffin.
April 12 • The Muppets Take Manhattan teaser trailer was shown in theaters to promote the upcoming release of The Muppets Take Manhattan in 1984. Like many teasers, it consists of footage shot especially for the trailer, with a surprise twist at the end. The teaser hasn't been released on video, and hasn't been seen anywhere since 1984.
April 11 • The Kit-Cat Clock is a novelty wall clock introduced in the mid-1930s, and has become a part of Americana. The clock is shaped like a cartoon cat, with roving eyes and moving tail. The clock has also often been referred to as or assumed to be a "Felix the Cat" clock, due to a certain resemblance to the pioneering cartoon character. A Kit-Cat Clock, or a reasonable facsimile, adorns the wall of Eliot Shag's Apartment in nearly every episode of Dog City.
April 9 • Gonzo's Family has long been a canonical conundrum within the Muppet universe. Members of Gonzo's family are rarely seen or even mentioned, and the family history of Gonzo is a bit of a mystery -- even to Gonzo himself. Muppet Babies showed an infant Gonzo, like many of the Muppets, raised exclusively under the care of Nanny. No parents or other relatives were visibly present in the little weirdo's life. However, a fantasy segment in the third season episode "Fozzie's Family Tree" showed Gonzo tracing his family tree back to the planet of Crouton located in the Soup Galaxy. However, according to the Muppet Kids book series, an adolescent Gonzo was raised by his grandmother and his aunt.
April 7 • Bean Bunny's Alternate Identities: And while we're on the subject of springtime and bunnies, we need to mention the Muppets' only Easter-type special, The Tale of the Bunny Picnic. This story introduced the world to Bean Bunny, who was later hired by the Muppets to be cute so that they didn't have to bother. You can see how cute Bean can be in the "Alternate Identities" page, where we've got pictures of Bean as a tree, a prince, a dragon and a VietNam War vet.
April 5 • Spring Fever: These springtime books just get more and more improbable. In Spring Fever, all it takes is for Elmo, Zoe and Baby Bear to say that they're sick of winter, and all of a sudden, a group of birds drop a silver flute, a lute and a basket of flowers into their hands. I mean! How does a thing like that happen? They start playing and scattering flowers all over the place, and that somehow magically raises the temperature and makes the trees and flowers bloom. Ducks and lambs even show up. I just don't see how that's possible.
April 4 • The Bunny Hop is an Easter book detailing yet another series of unlikely events. It's springtime on Sesame Street, and suddenly there are bunnies, like, everywhere. There's a bunny under Elmo's bed, three bunnies in Oscar's trash can, and a good half dozen in Bert's broom closet. Hoots the Owl finds a bunny nestling in the bell of his saxophone, which doesn't seem like the kind of place that a bunny might go. Bunnies, bunnies, bunnies! You know, it's possible to have too many bunnies.
April 3 • Big Bird Brings Spring to Sesame Street: And who can blame him? In this 1985 Little Golden Book, Big Bird is down in the beak because winter is dragging on, and he can't ride his unicycle or roller-skate. He decides to cheer himself up by buying a bouquet of flowers from Mr. Macintosh and decorating his nest. On his way home, he runs into several of his friends, and impulsively gives each of them a flower. When he gets back to the nest, the generous bird doesn't have any flowers left.
April 2 • Fozzie's Fabulous Easter Parade: It's almost Easter, and that means it's time to drag out the Muppet Easter books again. First up is Fozzie's Fabulous Easter Parade, a 1998 Little Golden Book that tells the story of how the Muppets spend a spectacularly dull afternoon. They're planning a Most Beautiful Easter Egg Contest, an annual event which they hold in an empty field with nobody else around. Fozzie Bear has lost his special egg, and tracks it to Camilla the Chicken's house. It's revealed that Camilla steals other people's eggs and hatches them when nobody's looking.
April 1 • The Voice Is an Instrument: As yet another public service provided by Muppet Wiki, we present the detailed synopsis for a completely crackers Ghost of Faffner Hall episode. Who else gives you access to that kind of information? Nobody, that's who. In this episode, the villainous Farkas Faffner has sold Faffner Hall to a zookeeper, who plans to capture all the Hall's musicians and display them in a zoo. It's up to the ghost of Fughetta Faffner to reclaim the Hall, with the help of her musical guests.
March 2007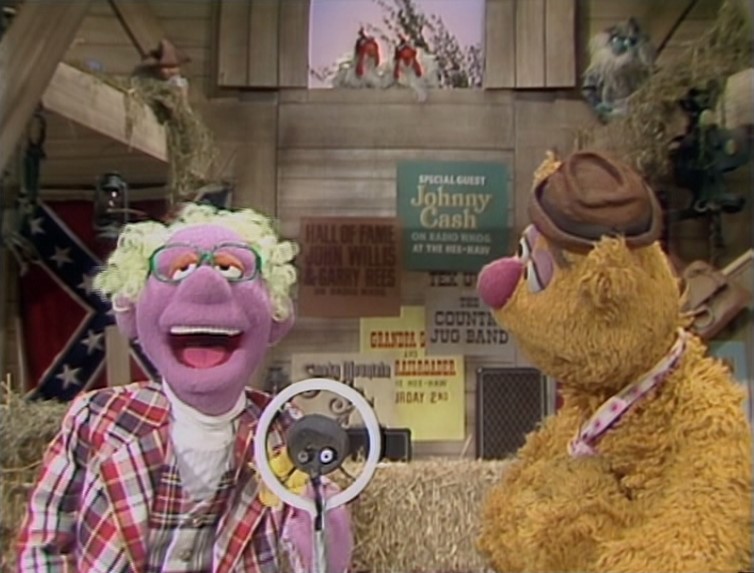 March 29 • Sesame Street Magic Slates: Western Publishing released a series of "Magic Slate Paper Saver" toys featuring Sesame Street characters, from the 1970s through the 90s. Each slate is a piece of stiff cardboard, with a sheet of cellophane over a soft waxy surface on the front. Using the included red plastic stylus, a child can draw on the cellophane, and then lift the page to erase and start over. The illustrations on the slates feature an odd assortment of characters, including the Amazing Mumford, Farmer Grover, and Biff and Sully.
March 28 • Muppet Meeting Films are a series of short films produced for public screenings during business meetings and training sessions. The films are about three minutes long, and provide some comic relief in a long, dull meeting. The early films in the series, produced in 1975, featured puppets that would soon become stars on The Muppet Show -- Kermit, Sam the Eagle, Janice, Gonzo and Waldorf. In 1979, Jim Henson and Frank Oz created a new comedy team for the films -- Leo, a master speechmaker and wordsmith, and Grump, a cynical crank. This article is the latest to be awarded Quality article status on Muppet Wiki. Visit the Quality nominations page to nominate and vote for the best pages on Muppet Wiki!
March 27 • Fraggle Rock Sing-Along Book was released as a book-and-record/tape set in 1984. The book includes lyrics for all of the songs -- which is especially helpful for the "Beetle Song", as the words speed up at the end into a tongue-twister.
March 26 • Hello: A key moment in Sesame Street's history was the release and marketing of the show's educational and entertaining musical content in the form of albums and singles. "Hello" was an audio skit featured on the first Sesame Street single released in 1970. The skit introduces the main street characters to listeners who may not be familiar with the show or its characters. This rare skit was included as the B-side to the "Sesame Street Theme" on a 45 single and has never been made available or re-released on any other album or single. We've got a transcript.
March 25 • Snuffy's Parents Get a Divorce: In 1992, the producers of Sesame Street tested an episode in which Mommy Snuffleupagus and Daddy Snuffle get a divorce. After a series of arguments, Daddy Snuffle moved out of the cave, and their children, Mr. Snuffleupagus and Alice, have to deal with the emotional fallout of a breakup. In testing, however, the topic proved too difficult for the show's young audience; children who watched the episode thought that Snuffy would never see his father again. The episode was shelved, and the Snuffleupagus family is still intact. This article is the latest to be awarded Quality article status on Muppet Wiki. Visit the Quality nominations page to nominate and vote for the best pages on Muppet Wiki!
March 24 • Fat Mamma Jefferson was a blues composer who wrote a short piano piece played by Rowlf as a prelude to "God Bless the Child" in episode 516 of The Muppet Show. In warming up for a number with Gladys Knight, Rowlf cites her as his favorite blues singer. Gladys doesn't remember her right away, until Rowlf explains that she was a spotted basset hound. Then Gladys recalls that she's the one who wrote the classic, "I Won't Hang My Head In Shame 'Cuz I Step On My Ears When I Do."
March 23 • Gertha is one of the stars of "DragonTime" as seen in the Puppetman pilot. Aptly described in the script as "an ugly battle-axe," Gertha is a rotund, bitterly sarcastic dragon, with two horns and an earring, who resides with the other puppets in the DragonTime Castle. Gertha is in some ways the Oscar the Grouch or Statler and Waldorf of "DragonTime", offering a sharp counterpoint to the prevailing sweetness and light. Gertha saves most of her ill-humor and jibes for when the show goes off the air, constantly insulting hostess Rita, at one point calling her a tramp. Though Gertha has a puppeteer, Del, she seems to have a mind of her own, often arguing with him, and represents the cynical, insulting side of his personality.
March 18 • The Great Muppet Caper!: The Making of the Masterpiece is a behind-the-scenes book that reveals the not-quite-true story of the filming of The Great Muppet Caper. The section on editing reveals that there were rumors around Hollywood that the "best" parts of the movie had been left on the cutting room floor: "the scene in which Fozzie parts the Red Sea; the panic-in-the-square sequence, in which the Electric Mayhem band is squeezed into a baby carriage and goes careening down a long, broad sweep of steps while playing their rock-Dixieland version of 'Midnight in Moscow'; and the (already infamous) 'shower scene', in which Lew Zealand is seen taking a shower."
March 15 • V CAST is a video streaming service provided by Verizon Wireless. User subscriptions include access to a network of programming available from various vendors which are accessible from select Verizon compatible cellular phones. Clips of Sesame Street and Plaza Sésamo are currently available on the V CAST service, including a special "Sesame Favorites" section, dedicated to memorable moments from Sesame Street's 37 years of programming for fans of all ages.
March 14 • Puppetman was a sitcom pilot produced for CBS, which aired on July 3, 1987 as part of "CBS Summer Playhouse," a weekly dumping ground for unsold pilots. The proposed series, developed by Jim Henson jointly with Bernie Brillstein's Brillstein Productions, was set backstage at a TV kid's puppet show. Fred Newman starred as Gary, the lead puppeteer, with veteran Muppeteer Richard Hunt as Gary's partner, whose puppet characters seem to have minds of their own. This is the latest article to be awarded Quality article status on Muppet Wiki. Visit the Quality nominations page to nominate and vote for the best pages on Muppet Wiki!
March 13 • Tickle Me Land is the place that Dorothy sees in her head, as revealed in a song which appears on a new DVD, Elmo's World: What Makes You Happy? In Tickle Me Land, "everything everywhere is furry and red" -- to be exact, everything is a variation of Dorothy's owner, Elmo. Everyone laughs in Tickle Me Land -- a phenomenon that anyone who's ever been tickled could understand. The song relays Dorothy's declaration that the listener can go to Tickle Me Land just by imagining what they can be. Indeed, Rocco proves that Dorothy is not the only one able to invoke Tickle Me Land, when he imagines Elmo as a rock in Elmo's World: Friends.
March 12 • Justine Johnston was a character actress on Broadway, and occasionally in film and television. Often cast as snobbish dowagers or matrons, she appeared in the Sesame Street video Big Bird Gets Lost as a prim customer. Attired in an ornate feathered hat and yellow suit, a crouching Johnston is mistaken by Maria for Big Bird, prompting an indignant "I beg your pardon!" Faced with this tower of respectability and dignity, Maria tries to explain the situation: "I thought your hat was my friend's behind."
March 11 • Philip Glass is a composer of contemporary classical music. He is most famously associated with the minimalist movement in music, although the majority of his work is more accurately described as theatre music written for the concert hall. In 1977, Glass wrote a series of short vocal and instrumental pieces for Sesame Street. These include a series of animated films which employ geometric curves traced to various points on a circle to reveal other geometric shapes and colors.
March 10 • The Pizza Twins: Fozzie and Kermit disguise themselves as the Pizza Twins, a pair of identical twin pizza delivery boys, during "The Great Muppet Caper". They bring a pepperoni pizza to the guard of The Mallory Gallery. In the movie, the two play twin brothers, and the only distinguishable difference between them is that normally only bears wear hats. Because both wear hats as part of the Pizza Twins costume, Fozzie speaks in a ridiculous (and poor) Italian accent to differentiate himself from Kermit, and to help the audience tell the two characters apart.
March 9 • Pop Off is a soft drink which employs brightly colored roadside billboards, creating a convenient hiding place for bears whose cars have recently been repainted by a rock band.
March 8 • Evelyn Glennie is a world-renowned, award-winning, classical virtuoso percussionist with a post-lingual hearing impairment. She appeared in a segment on Sesame Street with Linda playing the marimba and a series of other percussion instruments, including drums. Before she begins, she instructs Linda to join the performance when she's signaled. Linda shows enthusiasm for her participation, but by the end of the piece she has nearly fallen asleep. Glennie alerts her with a tap of the shoulder and Linda closes with one strike of a cymbal. When Linda recives the most praise from the audience, including flowers from a little girl, Glennie leaves the stage in a huff.
March 7 • Muppet Babies train playset: Playmates Toys produced this Muppet Babies battery-operated toy train playset, which includes a clover-shaped track and four playstations. As the train stops at each of the four corners, the amusement ride is activated by the train. The train cars are shaped like cupcakes and shoes. The set comes with eight Muppet Baby figurines; the figurines can ride on the train and in the amusement rides.
March 6 • Wormy Gras is the biggest worm holiday there is; where worms all over the world celebrate the joys of worminess. Festivities include dressing up in costumes and taking part in a parade with Dixieland band music. The holiday was celebrated on Sesame Street in episode 3856; Slimey the Worm spends most of his day before the parade deciding what to wear, finally settling on a grouch costume.
March 4 • Fat Cat is a song performed on Sesame Street by Bip Bippadotta and three Anything Muppets in sunglasses. The Anything Muppets say a list of rhyming words (such as "fat," "cat," "sat," and "hat"), and then Bip interrupts with a sentence combining all of the words in a fast-paced scat, much to his companions' dismay.
March 2 • Alligators and Crocodiles are different species belonging to the order crocodilia, of the class reptilia. To the layman, the two species are easily confused. (The main visual differences are that alligators have a broader snout, and crocodiles show both sets of teeth when their mouths are closed.) Alligators and crocodiles have appeared in several Muppet productions over the years, with the same puppets used interchangeably for both species. The same puppet who appeared in the "Never Smile at a Crocodile" and "Crocodile Rock" numbers on The Muppet Show also appeared as an alligator in The Muppets at Walt Disney World and The Earth Day Special. Just in case anybody's keeping track, which we are.
March 1 • Astro-Grover: "Look up in the stars! It's Astro-Grover and he's all set to have some close encounters with the friendly Zips from the planet Zap. Children help Grover count the Zips and if they are right, GROVER will fly out to meet them. In case of a wrong answer, the Man-in-the-Moon will shake his head and encourage the child to try again. As children develop their number skills, a series of correct answers results in the building of Grover's beautiful city or the launching of a zippy spaceship." Seriously. It was made in 1987 for Apple II computers. Sounds like fun, doesn't it?
Ad blocker interference detected!
Wikia is a free-to-use site that makes money from advertising. We have a modified experience for viewers using ad blockers

Wikia is not accessible if you've made further modifications. Remove the custom ad blocker rule(s) and the page will load as expected.