Archive of Today on Muppet Wiki, January - February 2007.
February 2007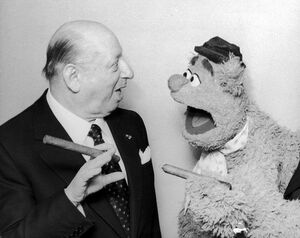 February 28 • Learn Along with Sesame is a collection of online videos produced by Sesame Workshop, currently available via the iTunes Store. The free downloads of educational resource videos launched this month on the iTunes Store, as full video downloads. The collection currently has 6 episodes, including "A is for Asthma", in which Elmo and Rosita meet an asthmatic friend, and "Talk, Listen, Connect", in which Elmo's father Louie is in the military.
February 27 • The Natural History Project was the working title for a feature film about dinosaurs conceived by Jim Henson in 1986, as his next big fantasy feature. In 1986, the project was developed as Henson's next big fantasy feature. The story involved a gruff old parasaurolophus who serves as a guide and teacher to a young corythosaur named Cory. Sketches also exist for a pair of dim-witted pachycephalosaurs, a woeful ankylosaur, a haughty styracosaur and a trio of villainous velociraptors to provide comical relief for the film's villainous monster, a Tyrannosaurus rex. However, almost a year after the script had been approved and pre-production design work had been completed, production halted. The studio decided to hold off on the project when it was discovered that another dinosaur film, The Land Before Time, was in production by Universal Pictures. The movie was never completed, although it may have served as the inspiration for the TV series Dinosaurs.
February 26 • Rosita's Easter on Sesame Street is a new storybook about the preparations for the Sesame Street Easter picnic. In the book, Rosita observes her friends preparing for the picnic, and then brings a surprise of her own. Baby Bear is among the excited participants, bringing Easter Braided Bread to the party, although it was established in the 2002 video Elmo's World: Happy Holidays! that he's Jewish. Of course, Easter on Sesame Street is all jellybeans and marshmallow chicks anyway, so it's more of a celebration of Springtime and sugar.
February 25 • Will Lee played Mr. Hooper on Sesame Street, from the show's debut in 1969 until his death. Lee was 61 years old when he began playing the kindly owner of Hooper's Store, and he had a long career before taking up residence on the Street. In the 30s and 40s, Lee worked with New York City theater groups that performed Communist-themed plays, and was one of the founders of the Theater of Action. He also had parts in several films, including a small part in Alfred Hitchcock's 1942 thriller Saboteur. Lee was called before the House Un-American Activities Committee in 1948, and was blacklisted for several years. There's lots more, but you get the general idea. This is the latest article to be awarded Quality article status on Muppet Wiki. Visit the Quality nominations page to nominate and vote for the best pages on Muppet Wiki!
February 24 • McDonald's Muppet Workshop Happy Meal Toys: In 1994, McDonald's made a set of Muppet Workshop Happy Meal toys, which came in Muppet Workshop-themed Happy Meal boxes. Each toy was a plastic figure with a hinged mouth, which came with two accessories which could be exchanged with the other toys to create slightly different characters. The toys were a tie-in to a larger merchandising push for the "Muppet Workshop" brand, a line of craft kits which also included the Muppet Workshop Puppet Kits.
February 23 • Sesame Street Gangsters: Although Sesame Street is meant to represent a child-friendly, and somewhat idyllic, New York City street, the neighborhood has a network of seedy underground criminal organizations. These groups are run by criminals most commonly for the purpose of shady and illegal activities such as alphabet trafficking, black marketeering and robbery. Comprised mainly of Anything Muppets, these gangs are typically composed of a crime boss and his lackeys (often named Lefty).
February 22 • Snuffleupaguses are furry, pachyderm-like mammals native to the world of Sesame Street. A Snuffleupagus has a large proboscis, similar to an elephant's trunk, called a "snuffle." The snuffle is a Snuffleupagus' most important and versatile appendage. It is used for lifting small items, feeding, hugging, quick-blow-drying, waving, performing puppets, playing musical instruments and conducting musical arrangements. However, as Snuffy learned in Episode 3806, a snuffle cannot be used to communicate in American Sign Language. This is the latest article to be awarded Quality article status on Muppet Wiki. Visit the Quality nominations page to nominate and vote for the best pages on Muppet Wiki!
February 21 • Do De Rubber Duck was a reggae song sung by Ernie, who was joined by several other Muppets in the bathroom for a special dance. Near the end of the song, Bert stands outside the bathroom door and listens in on the song.
February 19 • Bruno the Trashman is a sanitation engineer on Sesame Street who acts as personal chauffeur to Oscar the Grouch. He appeared on the series from Season 9 through Season 24. During the 1970s, the Sesame Street cast made live performances across the country, but there was no effective way to get Oscar to enter the stage. Caroll Spinney, inspired by a puppet character on The Gong Show, conceived of a full-body garbage man who could physicially carry Oscar. Since his arms are usually just holding onto the can, Caroll Spinney was able to perform Oscar as well as Oscar's right hand. The trash can was connected to an opening in Bruno's stomach.
February 17 • Tommie Through the Years: Tommie is one of the main characters from Sesamstraat, the Dutch co-production of Sesame Street. Tommie is a six-year-old dog-like character, who's energetic, creative and inventive. The puppet has been redesigned significantly since his debut in 1976, when he looked more like a teddy bear than a dog. The color of his fur has changed, his eyes have changed, and he's lost his arm rods. A lot can happen in thirty years!
February 15 • Itzhak Perlman is an Israeli virtuoso violinist and teacher, one of the most famous violinists of the late 20th century. So what's he got to do with the Muppets? Plenty. In 1980, he recorded three segments for Sesame Street -- playing a duet with Telly Monster for violin and tuba, and singing along to "Put Down the Duckie". In 1986, Perlman appeared on a number of volumes in the Shalom Sesame home video series, alongside the American characters from Sesame Street and the Israeli characters from Rechov Sumsum.
February 13 • Bureaucracy is a concept in sociology and political science referring to the way that the administrative execution and enforcement of legal rules are socially organized. In fiction, bureaucrats are often portrayed as impersonal or even rude, valuing the rules over any personal beliefs or attachments. The Muppet Show bureaucrats include Inspector LaBrea, a government noise inspector who threatens to shut down the show in episode 413, and Clive Cahuenga, the singing civil servant from episode 316. The Sinclair family battled a number of bureaucrats, notably the Job Wizard and the Office of Male Supremacy, and the world was ultimately destroyed by the bureaucratic Vogons. For more information on bureaucracy, see also every other aspect of your life.
February 11 • MuppetFest Memories is the latest article to be awarded Quality status, having been voted one of the best articles on Muppet Wiki. This article is a synopsis of the panels at MuppetFest, the 2001 Muppet fan convention, and it includes lots of quotes and pictures from the event. To nominate, discuss and vote on Muppet Wiki's best articles, visit the Quality article nominations page.
February 9 • The Earth Day Special was a two-hour special which aired on ABC on April 22, 1990, featuring an all-star cast addressing concerns about global warming, deforestation, and other environmental ills. One scene featured the Muppets; Kermit the Frog and Robin, surrounded by other frogs and animals in a devastated swamp, watch the broadcast, and discuss how the polluting ways of mankind harm animal life and lead to extinction. We have a transcript of the scene, with photos. It's pretty depressing.
February 8 • The Muppet Mobile Laboratory is an in-development theme park exhibit for Disney's California Adventure. Part of Disney's "Living Characters Initiative" project, Dr. Bunsen Honeydew and Beaker will be "brought to life" through the use of advanced Audio-Animatronic remote-control-puppeteering technology. Planned to start in January 2007, Bunsen and Beaker will travel in their Muppet Mobile Laboratory vehicle through the Hollywood Pictures Backlot, part of California Adventure. The Audio-Animatronic puppet versions of the characters will encourage park visitors to take part in their experiments and antics.
February 7 • Jim Henson Bench: In 1991, a bench in Central Park was dedicated to Jim Henson, on Literary Walk between 66th and 72nd Streets. The inscription reads: "To the joyful life of JIM HENSON, who loved this walk in the park".
February 5 • Labyrinth Bubble Gum: The marvelous thing about Muppet Wiki is that it never loses the power to surprise. I had no idea that Topps made bubble gum to tie in with the 1986 release of Labyrinth. Now I know, and my life is the better for it.
February 4 • Don Sahlin was Jim Henson's main designer and puppet builder in the 1960s and '70s, and a key influence on the overall aesthetic of the Muppets. Sahlin first worked with Henson on the design for Rowlf the Dog, who was originally built for a series of Purina Dog Chow commercials and went on to become the Muppets' first star. Beyond building specific characters, Sahlin contributed two significant concepts to the Muppet aesthetic, "the Magic Triangle" and "the Henson stitch." This article has been voted by Muppet Wiki contributors as a Quality article, one of the best articles on the wiki. You can participate in this process, too! Visit the Quality article nominations page to nominate and vote for the best articles on Muppet Wiki.
February 3 • Let's Lay an Egg is a Sesame Street spoof of Cole Porter's 1928 hit song "Let's Do It, Let's Fall in Love". In the Sesame version, oviparous animals sing about their reproductive cycle. According to the song, "doves do it, hawks do it, even puffins on the rocks do it." The birds sing together in the chorus: "Let's do it! Let's lay an egg!" In another verse, we learn that snails do it, slugs do it, and even tiny Twiddlebugs do it -- a secret of Twiddlebug reproduction that had never been mentioned before. The list of egg-laying animals in the song also includes frogs, toads, alligators, snakes, hens, toucans, fish, crows, and dinosaurs.
January 2007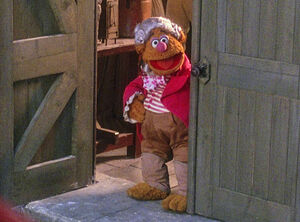 January 31 • Playboy: One of the great pleasures of Muppet Wiki is finding connections between the Muppets and the most unlikely things. But what Muppet could possibly have a connection to Playboy magazine, and what well-known Playboy artist could have worked on Sesame Street animations?
January 30 • Famous Femmes du Histoire: In 1983, Enesco produced two porcelain dolls of Miss Piggy dressed as historical divas Marie Antoinette and Cleopigtra. The two dolls wore elaborate costumes befitting both the Queens they were based on and the Pig who followed in their footsteps. Let them eat cake!
January 28 • Professor Charles Chicken is a mathematical chicken, personified by a toy puppet, who appears in Five Children and It. Professor Chicken, M.A., B.S.c., E.G.G., from the University of Eggsford, is sent to Uncle Albert. The publishers of his forthcoming book, Difficult Sums for Children, propose a catchier title, Count to Ten with Charlie the Chicken. Uncle Albert is outraged by the change, and shortly afterwards receives a visit from Professor Charles Chicken.
January 27 • Dark Crystal action figures: In 1983, Hasbro produced prototypes for a set of nine action figures based on characters from The Dark Crystal. Six of the figures would come with pieces of the Crystal, which could be assembled into a full model. The figures were designed, and stock cards were printed, but the line was shelved and never brought to market. Yeah, we've got pictures.
January 26 • Swoopfoomer is Doc's name for the type of party noisemaker that flares out and honks when blown into, as christened on Fraggle Rock. In the first season episode "Don't Cry Over Spilt Milk," Doc realized that they had no specific name. Determined to give them one, he suggested "tromcordion," "foomaphone," and "pookarina." He also built a complex mechanized musical instrument out of several of them. The noisemakers did not appear again until the final season episode "The Honk of Honks," in which Sprocket got one in his cereal box. Doc referred to it as a "swoopfoomer," indicating that this was the name he had ultimately settled upon.
January 24 • Convincing John is a Fraggle who can convince anyone of anything. He bears more than a passing resemblance to the flashier kind of evangelical priest. His technique for persuasion involves a catchy song (assisted by his backing singers, the Fragglettes) outlining a spuriously awful fate that will befall his listeners if they fail to heed his advice. According to the Fragglettes, the more verses his song has, the more convincing it will be.
January 23 • The Muppet Show: Season Two: The DVD set of the first season came out in August 2005, so fans have been waiting for the second year. DVD news site Digital Bits announced today that the second set will be out this summer, so the wait may be over.
January 22 • Mean Mama is a voracious brown monster who debuted on episode 210 of The Muppet Show, where she protected her baby from Don Knotts. Although Mean Mama is unquestionably female, her gender is sometimes emphasized more strongly, depending on the sketch. At times, she has been adorned with long eyelashes, a sundress, and bosoms (as in episode 308). In The Muppets Go Hollywood, she appears in the "Hooray for Hollywood" production number in a deep purple gown, with a matching bow in her hair and a feathery black fan. In other appearances, the puppet would lose all its feminine accoutrements and become more masculine in appearance and voice. In her final appearance on The Muppet Show, in episode 515, she appeared as an alien in a "Pigs in Space" sketch. At the end of the sketch, she swallowed First Mate Piggy whole -- but because the cast was in the middle of Gonzo's dance marathon, Piggy had to keep dancing while inside the alien's gullet.
January 20 • Oscar the Grouch pull toy: There's not that much to say about this Fisher-Price toy, produced in 1977. You pull it along, and when you squeeze the bulb, Oscar pops out of his can and makes a grouchy noise. But a picture is worth a thousand words, and this thing is adorable.
January 19 • The Land of Tinkerdee was a pilot for a daily children's television program, produced by Muppets, Inc. circa 1964. Jim Henson's company had produced a previous pilot in 1962 -- Tales of the Tinkerdee, a fast-paced puppet show with many sets and a complicated narrative. That show wasn't picked up, and the 1964 version was a much simpler and more conventional puppet show. The Land of Tinkerdee took place on a single set, with minimal props. The show paired a human actor, Darryl Ferreira, with a Muppet dog, Rufus. King Goshposh, the King of Tinkerdee, asks Darryl to fix his grandfather's antique watch, but Rufus breaks it. You can read a full synopsis of the pilot on the article page.
January 16 • Playskool Sesame Street Puzzles: From the 1970s through the early 90s, Playskool produced a series of Sesame Street frame tray puzzles. Looking at a sampling from the whole run, you can see the Sesame Street art style developing over time -- from the rough, strange artwork of the early 1970s to the more polished look of the early 90s. Unfortunately, they seem to think that Oscar is a monster. Oscar isn't a monster; he's a grouch. There's a difference.
January 15 • Roger Bradfield is an illustrator and commercial artist who illustrated many award-winning children's books in the 1960s. Bradfield's contribution to the early line of Sesame Street books is brief, but significant. In 1971, Bradfield illustrated The Together Book, the first Sesame Street Little Golden Book. He also illustrated the first Sesame Tell-a-Tale Book, Sherlock Hemlock and the Great Twiddlebug Mystery, and four other titles. In 1972, Bradfield moved on from Sesame Street illustrations to create a daily comic strip, Dooley's World, which ran for seven years. In the early days of Sesame merchandising, there wasn't a defined style that the illustrators had to follow; the artists were essentially free to create their own style. Bradfield's art style is distinctive, and memorable.
January 14 • See No Evil, Hear No Evil, Smell No Evil is a Sesame Street scratch-and-sniff book published in 1975. In the book, the Muppets have painted their new clubhouse, but they want to get rid of the drying paint smell. They try to cover the smell with roses, but that becomes overpowering. Oscar the Grouch brings in sardines, and that's even worse. The Muppets then try to use lemons, pine trees, gingersnaps, and smoke -- and finally, a skunk enters the clubhouse, closing the discussion for good.
January 13 • Leonardo da Vinci was an Italian Renaissance polymath: an architect, anatomist, sculptor, engineer, inventor, geometer, musician, and painter. He has been described as the archetype of the "Renaissance man" and as a universal genius, a man infinitely curious and infinitely inventive. He is considered one of the greatest painters who ever lived. His most famous painting, "Mona Lisa", has been referenced by the Muppets a number of times -- as "Mona Moi" in Miss Piggy's Treasury of Art Masterpieces, as Cookie Monster in two Sesame Street coloring books, and as an Anything Muppet in Grover and the Everything in the Whole Wide World Museum.
January 11 • Lenox China Collectibles produced a series of Muppet collectibles in 2006, including china figures of Kermit and Miss Piggy dressed up in eveningwear. There's also a little girl doll who has a little Kermit doll of her own...
January 10 • The Skrumps is a Jim Henson Company television project that is currently in development. The series is based on characters created by John Chandler. The Skrumps features computer-generated puppets, using the Henson Digital Performance System. A pitch tape was shot in October 2006 to test the show and characters. Several short videos, including a music video and 3 character video-blogs, were produced and distributed on Yahoo! Kids this month to launch the brand. The company is currently working to bring the characters to television with a full TV series, and other other supporting merchandise and products.
January 9 • The Comic Muppet Book is a 32-page graphic novel published in the UK in 1979. Kermit hosts the book, guiding the reader through a day behind the scenes at the Muppet Theater. On this particular day, Scooter has arranged for a famous photographer to come take publicity photos for the show -- and Miss Piggy is horrified to find that she's developed a spot on her nose. Meanwhile, a group of unruly cabbages form the Cabbage Liberation Movement and plot to escape from the canteen.
January 8 • National Wildlife Federation is a conservation organization that aims to inspire Americans to protect wildlife for future generations. The Muppets appeared in several public service announcements for the organization in the late 1980s. In one spot, Reporter Kermit interviews the heads on Mount Rushmore about clean air; in another, Miss Piggy conserves energy by turning off the lights and smooching with her frog.
January 7 • Richard Hunt was a core Muppet performer who is known for his many characters, his accomplished singing voice, and his warm backstage personality. Hunt brought many popular characters to life, including Scooter, Beaker, Janice, Statler, Sweetums, Junior Gorg, Don Music and Forgetful Jones. Hunt first began working full-time for the Muppets in 1972 as a background puppeteer on Sesame Street, and went on to major roles on The Muppet Show, Fraggle Rock, and many of the Muppet specials. In the 1981 book Of Muppets and Men, Christopher Finch described Hunt's endless energy and humor. "He seems to get more unadulterated pleasure from performing than anyone else in the organization," Finch wrote. "When he is not working on camera, he is apt to have Scooter or Beaker or Janice -- anyone -- on his arm for the purpose of entertaining visitors to the studio. If there are no visitors around, he will attempt to entertain his co-workers... He makes the crew laugh, jokes with the guest star, clowns for the shop personnel. He is one of the chief reasons for the loose atmosphere that exists around Studio D." Hunt died fifteen years ago, on January 7, 1992.
January 6 • Oscar's Rotten Birthday: The Sesame Street gang prepares a surprise birthday party for Oscar the Grouch, who hates parties. They lure him out of his trash can by singing "Rotten Birthday to You", and they give him a bunch of grouchy presents -- broken toys, a bag of peanut shells, and a flat tire. They play Pin the Tail on the Pig, and Dunk for Rotten Apples. Despite himself, Oscar is pleased with his party -- until he realizes that he has to wait a whole year until his next rotten birthday.
January 5 • Fully Operational Automated Tony Bennett: Only one Fully Operational Automated Tony Bennett has ever been produced, and Johnny Fiama owns it. It features in episode 106 of Muppets Tonight when Johnny has hauled some of his Tony Bennett collection in to the studio to prepare for his interview with the real Bennett. The robot stands inside a glass case, and to the untrained eye, appears to be Tony Bennett trapped inside. Upon button activation, the copy of Bennett can sing "I Left My Heart in San Francisco" or tell your fortune.
January 4 • The Seven Dwarves of Sesame Street appear in Episode 4114 alongside Snow White, who's played by Amy Sedaris. The team includes Clumsy, Vertigo, Gassy, Itchy, Smelly, Sensitive-Nose and Hammy. They're quite happy to be together -- until one at a time, the Dwarves must take leave to pursue other ventures, leaving Snow White alone. Elmo comes up with the idea of replacing the Dwarves with Alan and some kids.
January 2 • The Seven Deadly Sins was a screenplay written by Anthony Minghella, which was in pre-production by Jim Henson Productions for ten years and never produced. The plot involved a man suffering a spiritual crisis. Faced with losing his wife and children to another man, the protagonist attempts suicide and is visited by the sins, anthropomorphized beings, supplied by Jim Henson's Creature Shop. The script was optioned in 1991, and assigned a producer in 1996 and a director in 1999. The film was mentioned in The Hollywood Reporter in early 2001, and then never heard of again.
January 1 • Wonder Pig is an alter ego taken on by Miss Piggy in episode 419 of The Muppet Show. Lynda Carter is the guest, and as Kermit advertises at the show's opening, she is the star of TV's Wonder Woman. As a result, the Muppets are excited to have her on the show, despite their mix-up in personas ("she's not gonna play Wonder Woman tonight"). To supplement, Piggy appears in a story of "sheer terror" with Link Hogthrob as her husband, Dr. Julius Strangepork and Annie Sue playing her sister. They are ravaged by "one of the most frightening creatures ever to roam the Earth": a giant chicken who places them all in a state of shock. In a moment of heroism, in order to save her porcine brethren, Miss Piggy spins around to transform into Wonder Pig, increasing in size to break though the roof, thus defeating the chicken.
Ad blocker interference detected!
Wikia is a free-to-use site that makes money from advertising. We have a modified experience for viewers using ad blockers

Wikia is not accessible if you've made further modifications. Remove the custom ad blocker rule(s) and the page will load as expected.