Archive of Today on Muppet Wiki, November - December 2006
December 2006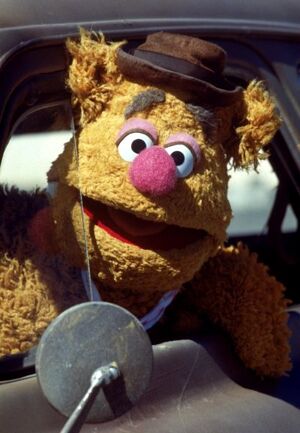 December 30 • Joseph McCarthy was a Wisconsin senator who became infamous for his aggressive investigation and claims of Communist infiltration in the United States of America. In one 1950 lecture at a Republican Women's Club meeting, McCarthy claimed that "I have here in my hand a list..." of known Communists working in the State Department. Over the following days and weeks, McCarthy's claims of the number of Communists on "the list" changed, and it seems likely that an actual list never existed. Over the next few years, McCarthy's was made Chairman of the Senate Permanent Subcommittee on Investigations, and used this pulpit to make wide-ranging claims of Communist infiltration. The Muppets have made reference to McCarthy on The Muppet Show, Fraggle Rock and Dinosaurs. Really!
December 29 • Professor Krassman is the world's leading authority in the rapidly growing field of mind control in frogs. Krassman is hired by Doc Hopper in The Muppet Movie to force Kermit the Frog to appear as a commercial spokesman for Doc Hopper's Frog Legs. The result of many late nights at his laboratories in Cologne and Dusseldorf, Krassman's latest achievement is an imposing device used to perform an electronic cerebrectomy, a process by which a frog's brain is reduced to guacamole. Due to the timely intervention of Miss Piggy, Kermit's gray matter is saved, and Krassman becomes a victim of his own machine.
December 28 • Fay Ray was the Weimeraner dog most often used by photographer/filmmaker William Wegman in segments on Sesame Street. Wegman, who had had success with his dog Man Ray from the 1970s until Man Ray's death in 1982, bought Fay, then known as "Cinnamon Girl", as a puppy in 1985. Wegman first began photographing Fay in 1986, and she made her screen debut in Wegman's 1986 short Dog Baseball. In November 1987, Wegman was contacted by Sesame Street producer Arlene Sherman, who invited him to supply short films for the series. Fay was the natural choice to star. Wegman, in voice-over, would narrate and give instructions, and Fay would demonstrate everything from math skills to letter concepts. Fay Ray passed away in 1995 at the age of 11; her children continue to appear on Sesame Street.
December 26 • Thelma Thumb was a series of animated segments on Sesame Street. Designed to teach pre-science concepts, the series was produced by John Korty using his Lumage system, which utilized fabric cut-outs. The central character was little Marcia Middlewell, a seemingly average girl who harbored a secret alter-ego. When accidents appeared inevitable or other trouble spots occurred, Marcia would enter a phone booth. With the utterance of her magic phrase, "Zapper jiffy squincher scrum, make me into Thelma Thumb!", she would shrink to the size of a salt shaker and fly to the rescue.
December 24 • The Twelve Days of Christmas is a traditional and lengthy English Christmas carol. The song is based on the premise that the singer receives one gift per day from his or her "true love" over the 12 days immediately following Christmas Day. Each verse repeats all of the previous gifts listed; thus, one could say that the singer receives 364 gifts total -- or one a day until next Christmas, when the process begins all over again. The Muppets have recorded five versions of the song, each lasting well over four minutes. Listening to them all in a row might help to pass the time until Christmas. Then again, it might not.
December 23 • A Special Sesame Street Christmas is one of the strangest artifacts of the Muppet Christmas season. The special was produced for CBS in 1978, the same year that Christmas Eve on Sesame Street aired on PBS -- and it's obvious that the Sesame Street creative team only worked on the PBS special. The script is a vague takeoff on A Christmas Carol, with Oscar the Grouch in the Scrooge role, but the emphasis is on the celebrity guests and the musical numbers, which pop up in the most unlikely places. Guest star Leslie Uggams makes it her mission in life to bring Christmas spirit to Oscar, and enlists various celebrities to help, including Anne Murray, Imogene Coca and Dick Smothers. Henry Fonda and Michael Jackson also make walk-on appearances. Oscar sings "Yakety Yak", Ethel Merman sings "Tomorrow", and Maria takes in an injured kitten named Tiny Tim. 1978 was a very different world, even at Christmas.
December 22 • Ma Bear's Farmhouse is the rural home of Emily Bear in A Muppet Family Christmas. The home where Fozzie Bear grew up, the house is now solely occupied by Emily, at least on a normal basis. For the holidays, she lets the house to Doc and Sprocket, with the intention of spending Christmas in Malibu. Soon an array of Muppet guests arrive, however, completely filling the country home. Since bed space is limited, Gonzo and Animal have to sleep on hangers in the closet and Bert and Ernie will build bunk beds in the broom closet. The spacious kitchen is quickly utilized by the Swedish Chef, and the basement includes a Fraggle hole, connecting to Fraggle Rock. The precise location of the farmhouse is unclear, although the Sesame Street Muppets are able to make the trek from New York City, apparently on foot. During the winter months, harsh blizzards tend to isolate the house. An additional safety hazard is the icy patch on the front porch.
December 21 • Refrigerator Day: The happiest holiday in Pangaea is approaching and Earl, carried away by the commercial side of the occasion, overspends on presents for the family. When the traditional WESAYSO bonus fails to come through for Earl, the family is placed in financial jeopardy. Any hope for a joyous holiday is dashed when their refrigerator is repossessed. With no food, no refrigerator and no money, the family is forced to fall back on the spiritual side of the holiday.
December 20 • Chanukah: Shalom Sesame celebrates the holiday with songs and stories of Jewish tradition. Moishe Oofnik sells sufganiyot from a 2,000 year old family recipe while Kippi Ben Kippod races to bring the Chanukah torch to Jerusalem. A trip back in time to the days of Judah Maccabee and a dreidel game show further help to illustrate the traditions of the holiday. Also, Jeremy Miller from Growing Pains is Jewish, apparently.
December 19 • Mr. Applegate is a tenant who pleads with Ebenezer Scrooge in The Muppet Christmas Carol. Behind on his mortgage payments, the nervous Mr. Applegate repeatedly asks Scrooge not to shout at him, while relating his family's woes, before being flung bodily out the door.
December 11 • Pa Otter is the late husband of Alice Otter and father of Emmet in Emmet Otter's Jug-Band Christmas. Although he died a couple of years before the start of the story, his presence is felt throughout the special. Pa was a snake oil salesman, though business wasn't always good. As Pa often joked, "There aren't enough people who want to oil a snake!" Pa was also an early environmentalist, establishing the family tradition of the Christmas branch. Every year, he'd go out and vow to bring back a whole Christmas tree. He never had the heart, reflecting that the tree, if allowed to live, would remain for another hundred years.
December 9 • Sababa Christmas Kermit Plush: One of your stranger Muppet Christmas toys, this is a plush toy of Kermit the Frog in snowy Christmas white, with a gray collar and mouth. He wears a traditional red and white Santa outfit, with a jacket and cap. Some of the people who see this toy think it's adorable; some think it's disturbing. But that's Christmas for you.
December 8 • Episode 0330: The Fix-It Shop opened its doors on Sesame Street on January 21, 1972. At the time it was known as "the L and R Fix-It Shop", and was owned jointly by Luis and Rafael. If you don't remember Rafael, he was played by Raúl Juliá. This was before Kiss of the Spider Woman, obviously. Rafael disappeared after the third season, and Luis took over the Fix-It Shop by himself. Man, the learning just never stops on Muppet Wiki.
December 7 • Little Richard is a rock 'n' roll singer who rose to fame in the 1950s with such hit songs as "Tutti Frutti" and "Good Golly, Miss Molly." He's appeared with the Muppets several times -- performing "Rubber Duckie" on Sesame Street and "I Hear You Knockin'" on Muppets Tonight, plus a cameo in the Muppets' video for "She Drives Me Crazy". Plus, Beaker does an uncanny Little Richard impression.
December 5 • Happy Birthday, Muppet Wiki! This website was launched on December 5, 2005 -- and in this year, we've created an enormous, crazy database, full of odd facts and interesting connections. As of this morning, there are 12,130 articles on the wiki -- including 1,766 Muppet Characters, 548 Sesame Street Books, 521 Muppet Show Songs, and 42 Grouches. Muppet Wiki has everything from A to Z, including Kermit the Frog, Dave Goelz, the Statue of Liberty, Little Golden Books, Cleopatra and Gorilla Suits. We've got the Sun and the Moon, Superman and Batman, and Statler and Waldorf. So far, 135 people have contributed to the wiki -- thank you to everyone who's helped to make the wiki a fun project to work on and to read! It was a very good year...
December 1 • Gorham Sesame Street Plates: Christmas is coming, so we might as well get started. We'll kick off with some pictures of the Sesame Street Christmas plates made by Gorham Fine China in the early 1980s, illustrated by Sesame artists Mike Smollin and Joe Mathieu. Gorham made a big series of neat collectibles, including figurines, Christmas music boxes, and piggy banks. Obviously, these are only available at places like eBay now, but if you can find them, they would make terrific Christmas gifts for the Muppet fans on your list, like for example the administrators of a certain Muppet-related encyclopedia website. I'm just saying.
November 2006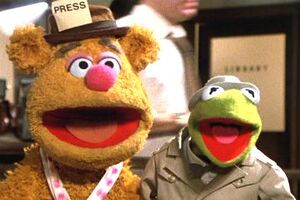 November 29 • Aunt Matilda is Bert's aunt, who has been mentioned in several Ernie and Bert sketches. In one sketch, Ernie finds a present in the apartment, and tries to guess what Bert is giving him. Ernie guesses that the present might be a football, a cake, or a reading lamp. When he's told that his guesses are wrong, Ernie excitedly unwraps the box. The present turns out to be a pink pillbox hat, with flowers and a veil, which Ernie commandeers. When Bert tries to explain that the hat was intended for Aunt Matilda, Ernie expresses surprise that he bought them both the same gift.
November 28 • University of Maryland: The Libraries at the University of Maryland holds the archives of the Children's Television Workshop in the National Public Broadcasting Archives -- part of the Broadcasting Archives along with the Library of American Broadcasting. These archives are accessible to the general public, and have been used as source materials for some of the articles on this wiki. The NPBA website has an index of the CTW archives holdings, and visitors can see the archives in person by visiting the Hornbake Library in College Park, Maryland.
November 27 • Episode 2615: In the finale for Sesame Street's 20th season, Maria is giving birth to her new baby. Oscar is racked with guilt -- he drove Maria and Luis to the hospital, which is a nice thing to do, and he's calling the gang at Hooper's Store to tell them how things are going, which is also a nice thing to do. He even admits to Luis that he feels happy that the new baby is coming! Does this mean that Oscar isn't a grouch anymore?
November 26 • When Parents Are Deployed is a television special produced by Sesame Workshop that focuses on the educational and emotional needs of children with parents and caregivers deployed by the military. The half-hour special is planned to premiere on December 27, 2006 at 9:00 pm on PBS. The special, hosted by Cuba Gooding, Jr., is targeted at educating adults about the issues and effects of parental deployment on children and what they can do.
November 25 • Eileen is Miss Piggy's department store co-worker in The Muppets Take Manhattan, played by Joan Rivers. Assigned to the perfume and cosmetics counter, Eileen has been having trouble marketing "Quelle Difference" perfume, so she turns her attentions to a clearly distraught Miss Piggy. Hoping to cheer up her colleague, she gives her a make-over. Eileen grows increasingly engrossed in this endeavor, adding make-up to her own face with each addition, and growing ever giddy, until manager Mr. Wrightson fires them both.
November 24 • Mo Momo is a customer in the Mopatop's Shop episode "Mouse Count." He's the proud owner of a toy mouse, and is desperately seeking three more to add to his collection. He seems oddly cavalier about whether his mice are inanimate, live, or a blue balloon mouse which will likely deflate in a comparatively short time. Mopatop offers no warranty for the product, but then again, no currency is exchanged either. The economics of Mopatop's shop are even more mystifying than those governing Hooper's Store.
November 22 • The Best Thanksgiving Ever: It's Thanksgiving at the Big Blue House and every year, Bear prepares a wonderful Thanksgiving feast. There's all sorts of delicious food, and Grandma Flutter and Doc Hogg are coming over to join the celebration. Everyone is very thankful for Bear's great feast, but Ojo wonders if there isn't more she can do to help. She becomes a sort of Thanksgiving commander and takes charge of the decorations and the Thanksgiving pageant. Ojo wants everything to be perfect, but soon finds things going outside her control.
November 15 • Sam the Super Automated Ghost of Christmas Future is the third ghost to visit Oscar the Grouch in the new direct-to-video special, A Sesame Street Christmas Carol Sam is summoned by remote control to show Oscar what Christmas will be like in the future. Voiced by Kevin Clash, the character was animated by Magnetic Dreams as a computer generated image. Sam displays several characteristics similar to his predecessor of the same name, Sam the Robot. His design appears to be influenced by the former, as evidenced by his eye movement, and his faulty speech pattern follows the same loop-hiccup which can apparently only be cured by a whack on the hardware.
November 14 • The Value of Imagination is a biography for children about the life of Jim Henson. The book is part of a series called "Value Tales", which teaches inspirational messages through the biographies of celebrated people, including Abraham Lincoln, Ludwig van Beethoven and Christopher Columbus. Proving that Henson didn't have a monopoly, the Charles Dickens biography is also called "The Value of Imagination." The story follows Henson from a young boy in Mississippi to Washington, D.C., and then on to fame and fortune. Because the publishers didn't have a license to produce a book with images of the copyrighted Muppet characters, the illustrations use generic Muppety-looking puppets instead. For example, a two-page spread illustrating The Muppet Show depicts two blue cows playing banjo and guitar, backing up a singing purple horse.
November 13 • Muppet*Vision 3D is a current attraction at the Disney-MGM Studios in Walt Disney World, Florida, the main feature of which is a 3D film that was the last project directed by Jim Henson. The attraction, which opened on the first anniversary of Henson's death on May 16, 1991, has since been duplicated at Disney's California Adventure at the Disneyland resort in California, which opened its own version in 2001. The attraction features an elaborate multimedia pre-show which begins the moment that guests arrive in the main Muppet*Vision plaza.
November 11 • C is for Cooking: Recipes from the Street is a Sesame Street cookbook set to be released on April 17, 2007. The 112-page hardcover book will feature over 50 recipes that parents can make for, or with, their children. The recipes are illustrated with photos of the Sesame Street Muppets.
November 10 • K.I.T.T. is the computer intelligence that controls a black Pontiac Trans-Am in the 1980s television series Knight Rider. In the Spring 1984 issue of Muppet Magazine, K.I.T.T. was interviewed by Gonzo for that issue's edition of Mondo Muppet. The two misfits chat about their mutual affection for lunatic daring, eating a healthy breakfast (a mixture of high-tech fuels which Gonzo requests the recipe for), responding to fan mail and the pleasures of the drive-in movie theatre experience. K.I.T.T. would later make an appearance on The Nick and Jessica Variety Hour, which also featured the Muppets.
November 7 • Sesame Place Presidential Election: On May 7, 1988, while George H. W. Bush, Michael Dukakis and Jesse Jackson were busy bringing their messages to America's adult voters, the Sesame Place amusement park gave young visitors a taste of presidential campaigning with the 1988 Sesame Place Presidential Election. Visitors of Sesame Place got their first taste of the elective process as they used real voting machines, loaned by the city of Philadelphia, to cast their vote for one of seven famous Sesame Street Muppet characters -- Big Bird, Cookie Monster, the Honkers, Bert, Ernie, Grover and Prairie Dawn. The park was covered in campaign signs (each with unique character campaign slogans) and the walk-around characters were out shaking hands and campaigning with the young voters all day. By the end of the day, one of the seven characters was elected President of Sesame Place. Those young voters are of legal voting age by now -- please join them in going to the polls today!
November 5 • Mayor Thaddeus Twiddlebug is another in the list of mayors that you probably shouldn't vote for -- not because he's corrupt or anything, it's just that he's only a couple inches high. Thaddeus is the mayor of Twiddlebug Town, which is located in Elmo's window box. It's not clear whether the community of Twiddlebugs in Ernie's window box is a separate political entity.
November 3 • Mayor Kickbark: Election day is coming up, so Muppet Wiki is featuring a selection of mayors that you probably shouldn't vote for. First up, Mayor Kickbark, the mayor of Dog City. Introduced during the second season, Mayor Kickbark is an unctuous politician who often undermines police chief Rosie O'Gravy's authority, intentionally or otherwise.
November 1 • Puppet Up! - Uncensored is a one-hour television special set to air on TBS on November 20th, based on the live Puppet Up! shows that the Jim Henson Company has produced this year. The improv puppet troupe, headed by Brian Henson, will be performing at the Comedy Festival in Las Vegas this month, and the performance will be filmed for TV.
Ad blocker interference detected!
Wikia is a free-to-use site that makes money from advertising. We have a modified experience for viewers using ad blockers

Wikia is not accessible if you've made further modifications. Remove the custom ad blocker rule(s) and the page will load as expected.