Archive of Today on Muppet Wiki, September - October 2006.
October 2006
October 28 • Joe is a live pig who appears in Kermit's Swamp Years. Young Kermit encounters him on a farm, where he's chased by the curious porker. A shaken Kermit, informed by Pilgrim that the creature is a pig, replies, "A pig, huh? I hope I never encounter another one of those my entire life." Actually, we're not that sure about the pig's name. The only source is that Joe the Armadillo calls the pig "Joe" in the behind-the-scenes featurette, and he calls everybody Joe.
October 27 • Batman is a DC Comics superhero who debuted in 1939, the dark knight who fights crime with Robin, engages in gritty noir tales, and teaches street safety. You don't remember that last one? Batman and Robin, according to CTW advisor Gerald S. Lesser, have "unassailable authority with four-year olds." This led to animated appearances on Sesame Street, where Batman moderated arguments, watched the Joker fall in a manhole, and explained why windows should be kept clean. Batman has also been spoofed, with Kermit as Batfrog, and in 2005, Jim Henson's Creature Shop supplied additional digital visual effects for the motion picture Batman Begins. Dah-nah-nah-nah nah-nah-nah-nah, Batman!
October 26 • Gorilla Suits: Halloween is just days away, so what better time to dress up in a mass of black fur and pretend to be a primate? The practice of dressing up as a gorilla is an artform with a long history. The noble fake gorilla has been honored in many Henson productions, from Time Piece to an encounter with Dr. Bunsen Honeydew on The Muppet Show to MirrorMask. Plus, puppeteers from Bill Barretta to Mak Wilson have perfected their ooking in non-Henson productions. So go on, dress up like an ape, and get some practice before National Gorilla Suit Day comes around!
October 25 • Shrinkel and Stretchel: Two young siblings are lost in the woods when they come across a gingerbread house inhabited by a witch. Sound familiar? How about when she shoves the two into her oven but to her surprise, the two emerge unharmed? How can this be? Simple, they've got Pak-Nit RX!
October 24 • Sesame Street: Old School, Volume 1: Just out today -- the highly anticipated DVD set of classic Sesame Street! This is the first commercial release of full episodes and is a DVD treat for the nostalgic Sesame fans of the 1970s. The 3-disc set includes five complete episodes -- the season premieres from the first five seasons. The set also includes two hours of additional skits and songs (grouped by season), a detailed, 16-page booklet, and the show's original pitch reel.
October 23 • The World According to Sesame Street: Ever since 1969 Sesame Street has been an educational force like none other. A critically acclaimed documentary on the show's globalization and international adaptations film premiered in January at the Sundance Film Festival. Now the film is making its way tomorrow concurrent with the broadcast premiere to your TV, as The World According to Sesame Street will be released on DVD on PBS.
October 22 • Bicycles: Is there anything the Muppets can't do? Whether heading out to Hollywood or down to Frogtown Hollow, Kermit the Frog is defiantly king of the road on his bicycle. And audiences love to gawk and marvel at the skill and grace of a cycling frog. Although he's tried motorcycles scooters, cars, hot air balloons and tall ships, none have prevailed over his trusty ol' Schwinn.
October 21 • Sir Hubris: According to Gorg legend, the Universe was once ruled by a mysterious creature. He was not a Gorg, in fact "he was only half the height of a Gorg and not even a hand width in girth." But when he decided to explore his relm, the mysterious Hubris gave his crow to King Gorgus the Great, the first Gorg king. Yet now there are only three - a dying race numbly rehearsing the ancient ways in a blur of forgetfulness.
October 20 • The Fireys: Chilly down with the fire gang! The Fireys appear in one of Labyrinth's most extravagant and technically sophisticated musical numbers as they terrorize Sarah on her quest. These five lanky residents of the Labyrinth are committed to having a good time. And what could be more fun than tearing off body parts and tossing your head?
October 18 • Mickey Mouse: "Who's the leader of the club that's made for you and me?" Walt Disney's Mickey Mouse has a lot in common with Jim Henson's Kermit the Frog; both are beloved entertainers, world-wide icons, corporate symbols and member of FASA (Fictional Animal Stars of America). In fact, Kermit has a suspiciously similar fan club as well.
October 15 • Grouchland USA: To celebrate National Grouch Day, take a trip to Oscar the Grouch's beloved hometown. Grouchland, the land of a thousand stenches, is a teeming metropolis littered with garbage. The business district is a thriving marketplace of shops and services, including the Book Dumpster, the Wilting Rose florists, the Car Mess, the Tone Deaf music shop, the Bad Humor Man's ice cream cart, and a restaurant called The Rotten Egg. The bank of Grouchland is the First Savings and Leave Us Alone, while female grouches can receive a make-over at the Ugly Parlor.
October 14 • Sesame Street: Old School, Volume 1: The DVD set of early Sesame Street episodes is coming out on October 24th, and we've got some more information as the release date approaches. The set will include five complete episodes -- the season premieres from the first five seasons. The set also includes two hours of extra material, including extra skits and the Sesame Street Pitch Reel.
October 13 • Cartoon All-Stars to the Rescue was a half-hour animated television special that aired simultaneously on all three networks on April 22, 1990. The special brought together a star-studded cast of cartoon characters -- including Winnie the Pooh, Daffy Duck and the Smurfs -- to warn children about the dangers of smoking marijuana. In one sequence, Baby Kermit, Baby Piggy and Baby Gonzo use "the power of imagination" to take a drug-using teen on a psychedelic tour of his own tortured mind.
October 11 • Sigma candy dishes: Back in the late 70s, there was a lot of candy just lying around loose all over the place. There was nothing you could do but get a whole bunch of attractive candy dishes and try to keep it off the floor. Luckily, Sigma stepped in to help Muppet fans deal with the problem.
October 10 • Postage Stamps: Once upon a time in America, you could mail a letter with a Jim Henson stamp. Those days are long gone, but the wiki pays tribute with a page of Muppet-related postage stamps.
October 9 • Muppets Eating Other Muppets: Ever since the early days of Sam and Friends and Muppet commercials, there's been a tradition of Muppet characters eating each other. In the "Inchworm" sketch, which Jim Henson performed on many variety shows in the 1960s, Kermit the Frog would sit on a wall, eating passing worms. A Muppet monster would drag Kermit off the wall and then re-appear making a chewing motion, creating the illusion that Kermit was eaten whole. For later sketches, a "slit" in the second Muppet's mouth was made so the eaten Muppet could be pulled through and, if necessary, performed from inside the second Muppet after being "eaten". Which is awesome.
October 8 • Doctor Who is a long-running British science-fiction TV show. The show originally ran from 1963 to 1989, and the new revival is now airing in the US on Sci Fi. In the 2006 episode "Tooth and Claw", the Doctor tells his companion, Rose, that he loves The Muppet Movie. And here's something for the "six degrees" fans: John Barrowman, Jean Marsh, Zoë Wanamaker and Nigel Plaskitt all have connections to Doctor Who and the Muppets.
October 7 • Bombay, renamed Mumbai in 1995, is the most populous city in India and the nation's business and entertainment center. The site of "Bollywood" Hindu filmmaking, the city gained international attention with a number of high profile films in the 1990s and beyond. However, years earlier, Gonzo expresses a desire to go to Bombay and become a movie star in The Muppet Movie. Fozzie Bear scoffs at the notion, but the success of such films as Monsoon Wedding has proven Gonzo's sagacity.
October 5 • Clive Cahuenga, the singing civil servant, appears in episode 316 of The Muppet Show, where he sings the Municipal Vermin Abatement Code to the music of Mozart. He sings each piece he performs twice, because he has to do everything in duplicates. Statler and Waldorf claim that Cahuenga is the second worst performer of all time -- the worst being Manny Kaye, the tuned clam player.
October 3 • Rowlf the Dog: Ten months into working on the wiki, and there's still a lot left to do. We're so busy chasing around the tiny little details that we haven't necessarily gotten around to writing some of the big articles yet. We do get to it eventually, though, and Rowlf's page is an example of what we can do when we put our minds to it. It's a spectacular page; go check it out.
October 2 • Denny's is a restaurant chain, best known for its all-day breakfast menu. In an advertising campaign launched in 2002, Kermit, Miss Piggy, Statler and Waldorf appeared in several television and radio spots to promote the 25th anniversary of the Grand Slam breakfast. The spot with Kermit and Miss Piggy involved the latter openly salivating over the plate, which included bacon strips and sausage, and requesting three servings. Some journalists noted the apparent "conflict of interest", forcing Kermit and Piggy to make public statements on the matter. No, really.
October 1 • Royal Crown Cola: In 1966, Jim Henson made four TV commercials for RC Cola. Most of Henson's commercials used two opposing Muppet characters to talk about the product -- and in this case, the loony Nutty Bird irritated the cynical Sour Bird. There are pictures and transcripts on the page, plus a liberal use of the phrase "quick-fresh energy".
September 2006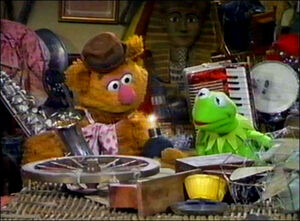 September 30 • Froggy the Gremlin was an early amphibious star of radio and television. Created by Smilin' Ed McConnell in 1944, Froggy was a regular on Smilin' Ed's Buster Brown Gang, a popular children's series melding adventure serials, letters, Buster Brown shoe commercials, and conversations between McConnell and his imaginary friends. In his 2006 memoir Before You Leap, Kermit the Frog pays tribute to Froggy, as one of the "only on-screen amphibian stars." Kermit speculates that while Froggy was clearly a frog, he adopted "the Gremlin" moniker to "avoid being greenlisted."
September 29 • Talk 'n Play was an interactive toy first produced in 1984 by Child Guidance. The toy was an audio cassette player with four colored "Answer Buttons". When verbally prompted, pressing one of the Answer Buttons allowed the listener to hear one of four responses. Each Talk 'n Play cassette was paired with an illustrated book, with color-coding for each of the Answer Button prompts. At least three Sesame Street book-and-tape sets were released for the Talk 'n Play, including Can You Tell Me How to Get to Sesame Street?, which was included with the Talk 'n Play unit.
September 26 • Jerry Juhl Day is a day of silliness established by fans on the Tough Pigs message board to celebrate the life and work of Jerry Juhl. Juhl, the head writer for the Muppets and Fraggle Rock for nearly four decades, died on September 26th, 2005. Rather than mourn Juhl's death, we remember how much we love him by doing silly things. Reading Muppet Wiki is right up there on the list of silly things to do, so you're getting a good start on the day.
September 25 • J.P. Grosse is Scooter's uncle, the often-mentioned but rarely seen owner of the Muppet Theater. His name was invoked during the first season, but he wasn't actually seen in the flesh until episode 205. After a few second season appearances, he disappeared again from the canvas. In Of Muppets and Men, Jerry Juhl discussed the limitations of the character: "J. P. Grosse was a good concept so long as we didn't see him, but when we introduced him in person, he was just too harsh. You didn't want to have him around."
September 22 • George the Janitor is the crotchety custodian of the Muppet Theater. George debuted in a guest spot on a UK variety show, and then took a featured role in the 1974 pilot The Muppets Valentine Show. In the special, George grumbles as he cleans up after the Muppets, who are trying to define "love". George insists that he doesn't "go for that valentines and love stuff," but guest star Mia Farrow realizes that George does love something -- his mop. "Aw, that's crazy," George says. "I don't love this mop. It's a good mop... it's useful. It's... cute." In the end, George proudly proclaims his love for his mop.
September 20 • Tickle Me Elmo: Remember that Christmas where the world went crazy, and decided that a Tickle Me Elmo doll was the only possible gift? It seems like Rosie O'Donnell had a hand in sparking the fad in October 1996, when she gave away 200 dolls on her talk show, and Bryant Gumbel may also be involved. By late November, shoppers were literally fighting over dolls in toy stores, and paying hundreds of dollars to get their hands on one. It was a beautiful fad; we may never see its like again.
September 19 • Impersonations of Animals is one of those Muppet Wiki pages that has a job to do, and does it well. It's just what it sounds like, a list of all the examples we can come up with of characters pretending to be animals. This includes Muppets who are already animals, like Big Bird and Buster the Horse, pretending to be other animals. There's also Cookie Monster as a bunny, Grover as a peacock, and Doc Hopper dressed as a frog. You're welcome.
September 18 • The Muppet Show Shadow Theatre is a cardboard shadow puppet stage produced by UK toy company Palitoy in 1977. Four cardboard Muppets -- Kermit, Miss Piggy, Fozzie and Animal -- could be operated behind a white screen, with strings controlling the characters' arms. The art is based on the character designs from the first season of The Muppet Show. It looks really cool. Man, kids in 1977 had everything.
September 17 • Before You Leap is Kermit the Frog's new book -- part autobiography, part self-help inspiration. In the first part, "A Frog's Life", Kermit tells the story of the Muppets from his point of view -- growing up in the swamp, moving to Washington, D.C. to star in Sam and Friends, and then moving on to Sesame Street and The Muppet Show. In the second part of the book, "Lessons for Your Life", Kermit puts his amphibian spin on the current self-improvement fads, including "Moving Your Own Cheese" and "Fridays with Fozzie".
September 15 • The Librarian is a MirrorMask character whose torso is a massive pile of books, topped with a few shapes which form his head. Dressed in a scholar's robes, the Librarian explains to Helena the backstory of the Kingdoms of Light and Darkness. He obligingly lets her keep the Really Useful Book. The Librarian is voiced by Stephen Fry, who also supplied the voice of the Guide in The Hitchhiker's Guide to the Galaxy.
September 14 • Bernie is a talent agent for many characters in Muppet TV shows and movies, including Miss Piggy, Lola Falana and Boober Fraggle. Bernie is never seen; characters communicate with him in one-way phone conversations. Dom DeLuise played a character named Bernie the Agent in The Muppet Movie. It's unclear whether there's any relationship between the two characters -- or, for that matter, whether any of the Bernies are the same Bernie. Maybe every agent is named Bernie.
September 10 • Mr. Tinkles is a pampered Persian cat who takes the principal villain role in Cats and Dogs. Mr. Tinkles takes up residence in the home of wealthy industrialist Mr. Mason, and plots to use Mason's company to orchestrate his plans for world domination, including the destruction of an experimental cure for allergic reactions to dogs.
September 8 • Enid Cafritz is a portrait artist whose work is included in the Smithsonian Institute's American Artist Portrait Gallery collection. In 1965, Cafritz appeared in Jim Henson's short film, Time Piece. In keeping with her real-world occupation, Cafritz's character paints the Mona Lisa in Time Piece.
September 3 • Scintillating Jeweled Scuttling Crabs live on Vogsphere, the Vogon homeworld. The crabs have golden jewels all over their shells, and they seem friendly and intelligent. Unfortunately, everybody who comes into contact with a crab crushes it with something heavy. It's a hard life being a crab.
September 2 • The Labyrinth video game: In 1986, Nintendo produced a video game based on Labyrinth which was available only in Japan. Sample dialogue: "I'm David Bowe! Well I wear spandex! Um... Rescue your baby brat uhh brother!" (Sic. Sic as a dog.)
Ad blocker interference detected!
Wikia is a free-to-use site that makes money from advertising. We have a modified experience for viewers using ad blockers

Wikia is not accessible if you've made further modifications. Remove the custom ad blocker rule(s) and the page will load as expected.