Archive of Current events.
Six year anniversary -- new movie, new friends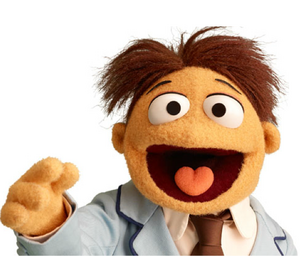 Tomorrow is Muppet Wiki's sixth birthday! We started the site on December 5th, 2005. It's always fun to hit these milestones -- an anniversary, another 1,000 new pages -- and this one is especially satisfying because of the Muppets' amazing new comeback.
As a group of devoted Walters, we've spent years building this incredible site, even during the wilderness years when the most exciting Muppet news was a Pizza Hut commercial. Now, magically, the Muppets are popular again, and there's a huge new audience that's coming to the site, enjoying what we've created, and pitching in to add more to the wiki.
I just looked us up on Quantcast.com, one of the major web stats sites. Check out the screenshots of new people and pageviews! For the premiere week, we had almost 200,000 people reading more than 1.5 million pageviews. That's huge!
Looking at our contributor stats is cool too -- we jumped from 158 article editors in October to 201 in November! It's an all-time high for us.
This is a super exciting time to be a Muppet fan, and a super exciting time to be on Muppet Wiki. Just like Walter -- we've helped to keep the spirit of the Muppets alive for a new generation to discover them. Think about all the kids who are going to wake up Christmas morning to find a Kermit doll under their tree... How many of them will be Muppet Wiki contributors someday? :) -- Danny
(talk) 20:56, December 4, 2011 (UTC)
Another landmark! Very exciting! It's great to have some new contributors adding things we still haven't gotten around to in six years. I'm really proud of all the content we've built. We've worked really hard on it, and I'm always happy for people to see it. Happy Birthday, Muppet Wiki! —Scott (message me) 03:42, December 5, 2011 (UTC)
Yay! To paraphrase Bert, our favorite wiki is six! -- Ken (talk) 04:44, December 5, 2011 (UTC)
That is just fantastic Danny! I had no idea that the wiki got that many hits. It just blows my mind! -- Nate (talk) 16:17, December 6, 2011 (UTC)
Y U No...
Just curious here, buy why isn't there an article on Muppets (as in, the puppet itself)? Both Muppet and Muppets redirect to the main page. I was kind of wondering when Jim first started using the name. I'm also not sure everyone knows where the name came from (I do), so there might be a need for the page. --King Starscream 16:25, December 4, 2011 (UTC)
I believe this is the article you are loking for. Henrik (talk) 16:32, December 4, 2011 (UTC)

I am derp. Thanks!! --King Starscream 02:44, December 5, 2011 (UTC)
Wall issues
Ugh. As of this morning, when I wanted to reply to a response on Nate's wall, I find that I can't. Nothing on any of the walls works. I type and can't submit; pressing enter just creates a new paragraph and there's nothing else I can use. And of course now that we've fully switched to Walls, this means I can't communicate with anyone outside of the article talk pages. I'd noticed a few days ago that Nate and I kept leaving messages for Nick, and I thought he was just ignoring them and refusing to reply. It's still possible that's what happened, but perhaps it was a bug like the one I have. I know these days folks don't check this page as often, but Danny, if you see this (I know Scott's already gone), help, please? (It's happening on IE 8). -- Andrew Leal (talk) 20:02, November 18, 2011 (UTC)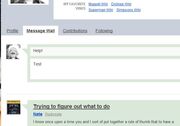 Not a lot to really show in a screengrab, but I took one anyway. Basically, I enter text, and then I'm stuck. Nothing I can do will submit the comment I want to leave, even on my own wall. I tried logging out, I tried shutting down the browser... I have to go to work in a few minutes, so I'll just shut down completely and restart and hope it's fixed by this evening, but it's puzzling and frustrating. Anyone else experienced this? -- Andrew Leal (talk) 20:07, November 18, 2011 (UTC)
Grr! We tested it on IE8 in the office, and we can't reproduce the problem you're having. It looks like the javascript that controls the "post" button isn't completing when your page loads. As I'm sure you've seen, when you type in those fields, you should see the entry field get bigger, and the "Post" button should appear under the fields.
We tried it on IE8 and it worked for us, so I think it's a (probably temporary) problem with the way the page is loading on your computer. My best guess is that there's some other little bit of code that had trouble loading. There are several bits of code that have to fully load when you go to a Wikia page -- tracking pixels from Comscore or Quantcast, the Like button from Facebook -- and if one of those servers had a problem, then that could create a loop that keeps all of our code from loading properly. This is a little more likely if you usually have a slow connection.
So, here are a few things you could try -- let me know if any of these work.
First -- restart your computer, and try it again. (It might just fix itself, you never know.) Second -- if you have another browser like Firefox or Chrome, then try one of those. (If you don't have them, they're both free to download.) Third -- go into your preferences and try switching to the MonoBook skin. (The option is near the bottom of the first preferences tab.)
All of those options are a pain, I'm sorry! Obviously, this should just work without having to try any of those things. But if you're still seeing the problem, then hopefully another browser or using MonoBook will help you talk to people while we figure out what else might be happening. Let me know! -- Danny (talk) 22:04, November 18, 2011 (UTC)
Problem gone, hopefully it was just a one-time glitch. Thanks for looking into it, Danny!
Muppets on Google+ Hangout
...right now! And int'l folks seem to not be getting in. Or at least I can't. Bummer! :( — Julian (talk) 00:36, November 8, 2011 (UTC)
5 Great Sesame Street celebrity appearances
The AP ran an article this week (as a tie-in to the new Kevin Clash documentary) enumerating some of the best celebrity appearances on Sesame Street. (Stevie Wonder, Ricky Gervais, Lena Horne, Johnny Cash, and Liev Schreiber/Naomi Watts.) Powers 21:19, October 28, 2011 (UTC)
New movie skin
Hi guys! I love the skin that Scott and I made last year, but it started looking kind of old to me, especially seeing the graphics for the new movie over the last few months. The Wikia marketing folks wanted to do something nice for us to tie in with the movie, so I asked if they could make a new-movie styled skin. They did, and I've uploaded it, and I hope you guys like it!
We can change it more if we want to -- this was a gift and not a mandate. :) But I think it's nice to get some of the new-movie mojo on the site. What do you think? -- Danny
(talk) 23:12, October 27, 2011 (UTC)
PS. At the moment, when you scroll down, the color underneath the image is the same beige -- which doesn't really fit but is probably better than just fading to black all the way down. I'm sure Scott or Julian or someone will come up with something better in (looks at watch) about the time it takes for me to finish typing this sentence. Let's see... -- Danny (talk) 23:14, October 27, 2011 (UTC)
D23 Muppet-acular Mayhem
http://d23.disney.go.com/events/2011/10/24/d23s-muppet-acular-mayhem-at-d-street/
This is a D23-only event but it previews some new Muppet merchandise coming out in the near future. Just a heads-up for you all, since I have no idea where I'd put this info in the wiki. Powers 22:55, October 24, 2011 (UTC)
Yeah, I found this and I put it on the D23 page, because although the main focus on that page is to document the Muppets appearances at the Expo, it also mentions that D23 holds smaller events throughout the year, separate from the Expo, so that is the proper page for this info.--Gonzofan 23:32, October 27, 2011 (UTC)
Prepping for Photo Pop
Hi everyone! I'm a member of the Wikia's Community Support Team, and I'm excited to tell you we're working on a new game called Photo Pop, which will use content from Muppet Wiki.
What's Photo Pop?
Photo Pop is a photo trivia game we're developing as an iPhone and Android app (but we'll also have a web version available so you can see what it's like). It's simple and fun: players uncover a photo of a character from a movie or TV show piece by piece. As soon as they recognize the character, they click the correct name from a list of options. If they run out of time before they pick the right name, they lose that round.
We know that user-generated content is what makes Wikia special, so we're developing this game to pull names and photos directly from your wiki. To do this, we'll be adding some of your best character pages to a new category called "Photo Pop Characters". This category will automatically pull the main image and the character name into the game's content rotation.
How You Can Help
Another member of the Wikia team (Kmanwing) will take care of the basics, so you don't need to do anything at all in order for your wiki to participate. However, if you're interested, you can also help us out by submitting more pages to the game. Here's the criteria for what we're looking for:
Pages that are titled with a character's name. The game assumes that page titles are possible character names, so make sure that all of your Photo Pop pages fit this requirement.
Images should be horizontal (ideally, a width:height ratio of 3:2) and at least 320px tall. They should also be good quality (not blurry) and focused on the named character. These will look best in the game.
All of the images on the page should be possible candidates. The game might select any image on the page, so pick pages where this is okay.
To submit a page, simply add Category:Photo Pop Characters to the page.
We expect that the game will be ready in about a month, so stay tuned, and we'll let you know when you can play it. Please let me know if you have any questions (you can reach me on my Message Wall), and thanks for creating such a great wiki! --Dopp
(help forum | blog) 22:01, October 19, 2011 (UTC)
Yay, cool! I want to add a little note -- I know a bit about the Photo Pop game, but not everything, cause it's not a project I've worked on directly. It looks neat, and it could be a good way to get people to check out the wiki next month when the movie comes out. So I just wanted to give my little Danny seal of approval. :) We'll learn more about this, I'm sure it'll be fun. -- Danny (talk) 00:37, October 20, 2011 (UTC)
New Message Wall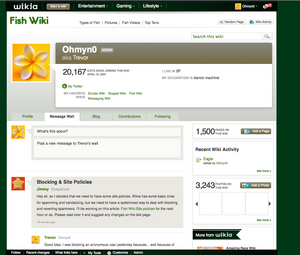 Hi guys! For the last few months, I've been working on a new feature that will make user talk pages a whole lot better. We all use talk pages a lot, but I think you pretty much know all the reasons why they're awkward and hard. New people never know how to sign their name, or how to reply to a question, and you end up getting watchlist e-mails because you're following a whole talk page instead of just the conversation you're interested in.
So I've been working on this for a long time, and we're almost done with the first version of the Message Wall -- a new feature that's going to replace the user talk pages. All of our current talk pages will be archived, and we won't lose anything -- but for new conversations, we'll be able to use the new system.
The Message Wall is kind of a plug-and-play system. To start a new thread, you just type in the subject heading and then the message. You hit Post, and it starts a new heading at the top of the page -- Not at the bottom, yay! :) There's an obvious place to reply right under the message, so you can keep the thread going. It all happens on the page, so you don't have to wait for an edit window to load -- you can just keep talking and go down the page. It automatically does the signature and timestamp for you, it includes the name that you've set in the profile masthead, and you don't have to worry about adding colons to indent anymore.
There's a bunch of other cool stuff, too much to mention it all. There's an awesome notification system that lets you follow individual threads, and then you have a dropdown at the top right to help you keep track of your conversations. (Someday the "active talk pages" template will be a thing of the past.) Seriously, there's even more good stuff and I'm already boring myself talking about it. I think you guys are going to really dig it.
So -- I'm in Poland this week finishing it up with the engineers, and the plan is to launch the first version on five wikis next Wednesday. That includes us, yay! The upside of that, obviously, is that we get to be among the first people to use it live. The downside, obviously, is that there will probably be a few bugs in that first week that we'll discover and fix. It'll definitely be a little awkward in those first couple days, because conversations that weren't quite finished in the talk pages will have to finish up the next day in the Message Wall. But -- luckily -- three of the Muppet Wiki admins work for Wikia, and one of them is the Product Manager responsible for this project, so if something doesn't work on Muppet Wiki, it's a full-scale red alert. :)
I hope this description helped you guys picture the new feature -- please ask questions and let me know what else I can tell you. I'm so excited about this project, and I can't wait to share it with you guys. -- Danny
(talk) 20:42, September 29, 2011 (UTC)
Okay! The new Message Wall is live now. You can see your new Message Wall on your profile. (Your old User Talk page has been archived; there's a link to the archive at the bottom of your Message Wall.)
This is the first "limited release" version, and there's a lot still to do. We want to get this version out, so that we can start seeing how it works on a real wiki -- but that means we cut a few corners to get here. This is the list of things that we know aren't quite right yet:
You can't follow a whole wall yet; you can only follow specific threads.
Wiki Activity shows the thread title, but it doesn't say whose wall the thread is on yet.
Recent Changes and Contributions pages aren't as tidy as they should be; these will be cleaned up soon.
E-mail notifications aren't great. You only get the URL, not the title of the thread. You also get an e-mail now for every new message and reply. (In a week or so, those e-mails will give you the complete message. Right now, they're a little useless.)
A lot of our system messages still say "Talk" instead of "Wall".
View Source fails on archived talk page (Note: this is a sitewide bug, not related to Message Wall.)
Blocked users can't post messages -- but right now there isn't an error message for them. We'll build a warning message or close the fields.
The welcome bot still posts messages on archived user talk pages. Sadly, that means we'll have to turn off the welcomes for a week or so while we fix it.
Monobook users can't delete threads or messages yet. (Workaround in the meantime: add ?useskin=wikia to your URL to access the page temporarily without Monobook)
You can't link to a specific reply and have it scroll to the appropriate place.
When a page is unfollowed or deleted, it still appears in your notifications. Deleted messages stay "unread" until you click "Mark all as read". This will work better soon.
We plan to auto-suggest links while you're typing, but this isn't live yet.
Handmade links to the Message Wall appear as red. The link still functions, though.
There are no cross-wiki notifications for the Message Wall yet.
No thread history. Timestamps don't update to reflect edits either.
Managing deleted threads is complicated and messy. We'll make it smoother.
Those things will be improved and out in a couple weeks. I'm hoping they won't be too annoying right now. (We prioritized things based on the "annoying or catastrophic?" scale, and fixed the catastrophes.)
Right now, the benefits are obvious, as far as no longer needing to explain how to post a message to new people (or even on rare occasions making the mistake ourselves when tired and just submitting a new topic). And obviously I'll love the auto-indent function. :) It definitely makes it more like a forum/messageboard as far as communication, and eliminates problems when people forget to sign their names.
I'm not overly fond of auto-suggest links (since quite often, in any auto-suggest function, they have a tendency to be the wrong ones), so when that is enabled, would there be a way to turn that off? Otherwise, right now, I'm already liking it. Many thanks! -- Andrew Leal (talk) 19:14, October 5, 2011 (UTC)
Yay! I'm glad to hear you like it. We've got link suggest right now in the edit window, so the idea is just to take that and implement it on the Message Wall entry fields. The suggestions show the most-linked pages first, so if you type [[Kerm, then it offers Kermit the Frog and not Kermit the Forg. :) -- Danny (talk) 19:32, October 5, 2011 (UTC)
I must have it turned off or something in the edit window since right now the only time it occurs is when I'm using the search function (which is fine). But since you seem to be clarifying that it only does so when you use the link brackets, that's better (I was thinking of the many thingummies that do so when you're typing *period*; although sometimes Google's attempts to predict my desires can amuse, or else frighten me). -- Andrew Leal (talk) 21:49, October 5, 2011 (UTC)
Yeah! Sorry, I didn't realize that you hadn't seen that yet. On your profile page or Message Wall, you'll see a big avatar and word bubble at the top. Put your mouse over the word bubble, and there's a pencil with the word Edit. That opens up the dialog so you can edit your masthead. You can add your name, your birthday, all kinds of stuff. When you add your name, then your name will also appear on your messages. -- Danny (talk) 12:28, October 6, 2011 (UTC)
24,000 pages!
It looks like we just hit 24,000 pages, just in time for what would have been Jim Henson's 75th birthday on September 24th! Thanks to all the people who keep creating new pages, and thanks to all the companies who keep making stuff for us to write about! Yaaaayyyy! -- Ken (talk) 03:56, September 22, 2011 (UTC)
New Users
I've been wanting to ask this for a long time. I've noticed that we've had a ton of people join the wiki, but they don't always get the automatic welcome message, as you can see on the User creation log page. Is that because they didn't actually edit an article page? I'm confused, because sometimes when people just make a user page, I've seen them getting thanked for making a user page. I know it's not a big deal, but I was just curious if anybody checks this page, because there are an awful lot of red links on it. -- Ken (talk) 06:00, September 7, 2011 (UTC)
opaque images
Hey guys, I've noticed a lot of opaque images on the wiki that should be transparent. Put them here and make them transparent! -Danny (talk) 22:02, August 25, 2011 (UTC)
I don't see why they should have transparent background. They're already white, like the pages, so they blend in. - Oscarfan 22:05, August 25, 2011 (UTC)
New Profiles
Hey guys -- you've hopefully already seen the new profile pages. They should be straightforward to fill out with as much (or as little) info as you want. Once you've saved it on one wiki you'll see it everywhere, but it's blank until then. Also you may notice the avatar image is bigger now, so you can upload a new larger one if you wish. Have fun with it, and feel free to post here or on my talk page with any comments or questions or things that you notice don't work :). -- Wendy (talk)
22:14, August 18, 2011 (UTC)
Ha! 70,000 images!
YES! We hit 70,000 images! Per here! I can't WAIT for 75,000 images and 24,000 pages! -Danny (talk) 20:56, August 12, 2011 (UTC)
Idea for new Rumor page
I have seen a comment or two on facebook from Pepe haters who seem to think that he was created by Disney, and they blame Disney for him. This is probably due to his irreverent personality and the fact that he is a new Muppet who happened to pop up in recent years (and possibly because Muppets Tonight was on ABC and Disney Channel. So I'm thinking of creating a rumor page that answers the question, "Did Disney create Pepe?". I seriously think that this would be an important contribution to the rumors page. Since there are already rumor pages for even MORE obscure topics like Fuzzyface and When did Kermit become a frog? So I think that its a good contribution for this wiki. After all, Muppet wiki is supposed to be a resource for EVERYONE, not just die-hard Muppet fans.--Gonzofan 23:09, August 7, 2011 (UTC)
Well, I guess its sort of thinking: "Disney created the character to make money" Here is a facebook comment that I found under "name the characters in the poster" topic; "Missed Rizzo, never liked Pepe the Prawn (always felt like an extra Muppet Disney made up for merchandising reasons)" And that's just incorrect considered that Pepe premiered before Disney acquired the Muppets. I know that's just one comment, and when it comes to ignorance, the Internet can be an embarrassment of riches. but if there's an incorrect assumption about the Muppets, it might be worth to address it. Anyway, its just an idea.--Gonzofan 01:10, August 8, 2011 (UTC)
That sounds like a less prominent rumor than Ernie and Bert being gay and the whole Veggie Monster hoo-haw. Those are things we always hear about; I never even heard of people thinking Pepe was created under Disney. - Oscarfan 01:49, August 8, 2011 (UTC)
That's true, but again, like the examples I mentioned, not all of the rumors on Muppet wiki are prominent. Whatever, it was just an idea.--Gonzofan 02:04, August 8, 2011 (UTC)
Who has two thumbs and a Muppet over his shoulder? This guy.
Anyone know who this is? I don't recognize him from any of the cameos. -- Zanimum 13:49, July 23, 2011 (UTC)
According to the caption, it's Robert Randolph. —Scott (contact) 18:25, July 23, 2011 (UTC)
Policy for clipart-style imagery
In recent months, a lot of imagery has been made available for characters from their respective official websites. And a lot of these are just the characters against a white background, creating a clipart-like look. We've been using these on our character pages, but as I look over some of them, they're starting to look really sterile. We're using 5 of them on Big Bird right now with similar usage on the other main Sesame character pages. This type of imagery works for the character profiles on Sesame's website, but I don't think they work for us. Pretty much any other image featuring the character is more interesting and dynamic than the clipart versions. When we use context photos and screenshots, our pages look more unique. (The clipart style does work on some pages, The Martians for example). I think we should limit the usage of the clipart style images; maybe relegate them to a gallery or something. Thoughts? —Scott (contact) 18:25, July 21, 2011 (UTC)
Yeah, I think that's a good question. Sesame Street is posting some really amazing high-res pics on their Tumblr account, and it's really tempting to just take those huge nice pictures and get them on our pages. But they've only been posting there for a few months, and already those pics are taking over our Sesame character pages. (I think the Ernie page is even worse than the Big Bird one.) After a year, those pages would be 100% Tumblr pics. I want to have those pics on the site, because they're awesome and people will love them, but I agree that we should be more selective about where they appear.
I agree. They were getting to be a really big problem (especially on Telly Monster before that was handled). I say we keep one or two of them in the artlce, then put the rest in a gallery. - Oscarfan 20:49, July 21, 2011 (UTC)
Loch Ness Production and One World, One Sky
After seeing Scott post some information on this show, I did some searching and found a link to Loch Ness Production's website, who was very nice to post the whole movie show on their site. Here's the link. Enjoy this show except without the planetarium experience. Big thank you for Loch Ness Production. —Steven (talk) 01:20, July 18, 2011 (UTC)
That's a great find, Steve! Although I'm having trouble getting it to work full screen even with the popout as suggested (I want to transcribe the credits). I tried in both IE8 and Mozilla. Were you able to get it to work? -- Andrew Leal (talk) 04:23, July 18, 2011 (UTC)
rare Sesame episodes on iTunes
iTunes has released a new collection of Sesame episodes in a package called "Sesame Street Classics, Vol. 1" featuring episodes from Seasons 1, 10 and 20. Most of them we don't have guides for here yet, so I thought I'd post about it here so we can all get going on them. I've only had time to scan them so far, but hopefully I can make a guide for an episode or two. Here's the link. —Scott (contact) 00:07, July 12, 2011 (UTC)
Scott, is Episode 0001 the real version, or the DVD version? I'm curious if the music rights holders are treating this differently than when they sold it on Old School. -- Ken (talk) 03:33, July 12, 2011 (UTC)
Nice! I added the episode numbers and descriptions to Itunes#TV Shows. Of the 12 episodes, we only have guides for three of them. Nine more episodes to add to our collection; what a treat! -- Danny
(talk) 05:56, July 12, 2011 (UTC)
I'm slowly working on Episode 0115 and bits and pieces of others. Also, say hi to Elmo's Great Grandmother. -- Andrew Leal (talk) 06:10, July 12, 2011 (UTC)
Yes, although some are the same one we've seen. See File:0115.jpg (I'm partly through writing out a summary and gathering images for that episode). Also NET logo on some, the Season 10 image (although it seems to be at the end), etc. And Mr. Hooper in a cloth cap! Season 1 Cookie Monster mentions Millard Fillmore! Herry Monster needs glasses! Olivia dresses as a flamingo! So much joy! -- Andrew Leal (talk) 06:39, July 12, 2011 (UTC)
Could you guys let me know what guides you plan on doing? I want to get in the fun, but I have no access to iTunes until next week (vacation) and don't want to be left in the dust. If you need help I.D-ing segments though, I'm around for that. - Oscarfan 17:00, July 12, 2011 (UTC)
I'm really digging the early Cookie Monster bits, after his cookie obsession was established but *before* his name and relationship to others was as clear, so he's always addressed with "Okay, monster" or "Hey, fella" and so on. I'm thinking I may include some observational notes on character development on some of these pages, as "Notes" at the bottom (so they don't get confused with the episode guide itself and clutter up the summaries). A bunch of the skits the archive material just had listed as featuring "a monster" or something involve early Cookie. -- Andrew Leal (talk) 18:47, July 12, 2011 (UTC)
Yeah, it's cool! I think noting the development of Cookie Monster is a great idea on the episode guide pages. You could even do it as footnotes, so there's a signal to people reading the episode guide that there's more info below... Annotated episode guides is a scary and beautiful idea. -- Danny (talk) 19:02, July 12, 2011 (UTC)
Well, I finally broke down and joined iTunes because I had to see those episodes, so I wanted to announce to whoever's interested that I rewrote Episode 0056 so that all of the pieces are in order, and now we can start making a full guide. I was surprised that we had most of it. I was also surprised that sometimes they would run a Jazz Numbers cartoon 3 times in the same episode! Anyway, now on to the other 2! -- Ken (talk) 04:06, July 17, 2011 (UTC)
Screenshots
So now my question is -- how do I take screenshots from these? ITunes and QuickTime both block screenshots, and the files don't seem to want to open in VLC. -- Danny
(talk) 06:01, July 12, 2011 (UTC)
Screenshotting is basically cut and pasting. Press "Print Screen" on the keyboard when you have the iTunes window at the desired size, paste into your preferred image editing program, and crop and save. Also, say hi to Elmo's Great Grandmother. -- Andrew Leal (talk) 06:10, July 12, 2011 (UTC)
Yeah, I agree; I'm really thrilled, and I was happy to give them $17 for it. This is an awesome step forward towards the thing we all want -- access to the entire Sesame/Muppet libraries. :) -- Danny
(talk) 18:17, July 12, 2011 (UTC)
Likewise! I use Irfanview for my screenshotting, so it wasn't giving me any trouble. -- Andrew Leal (talk) 18:47, July 12, 2011 (UTC)
New Muppet section at sesamestreet.org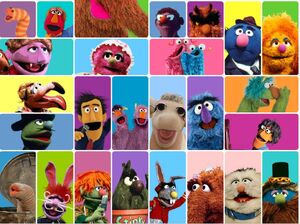 If anyone hasn't noticed, the Muppets section at sesamestreet.org has been updated! Now, we can see Snuffy, The Martians, Slimey, Biff, Sully, Sam, Kingston Livingston III, Guy Smiley, Murray Monster, Baby Bear, Frazzle, Prairie Dawn, and more! Check it out! Click here! --User:Brainulator9 20:18, July 11, 2011 (UTC)
Muppet Wiki Chat
Hi folks! We've got the new chat feature, which is awesome, but it's not always easy to find folks online -- we've all got work and school and whatever. So I thought we'd try out a couple of scheduled chat times, so we'll know that if you come to the wiki then, there'll be somebody to talk to. I've made a lot of great friends on the wiki and other Muppet sites, so it would be great to hang out with my current friends and get to know some of the new people better!
So -- for now, the schedule is Tuesdays and Thursdays, starting at 8pm Eastern US. Obviously, you can feel free to use the chat any time you're around, but it's nice to have some times that we can look forward to having a group there. So if you're free on Tues/Thurs, stop in and say hi! -- Danny
(talk) 17:34, July 8, 2011 (UTC)
Yet another category idea
My latest category idea is Science, which has things like Muppet Labs, Dr. Bunsen Honeydew, Beaker, Dr. Julius Strangepork, Dr. Nobel Price, Gorilla Detector, Automatic Wastebasket, Steel Rabbit, and more. What does everyone else say?--Fred (talk) 01:37, July 6, 2011 (UTC)
Again, as Scott noted earlier, we've mostly moved towards lists versus categories, and we already have Robots for most of the machines, and you could create a list of Scientists and put it in Category:Character Lists. However, that does make more sense than birds. If you do really think it deserves a category, look at the specific organization of other items in Category:Themes. Bring it up as a proposal at Category talk:Themes and, if possible, list a definition. We do have broad categories right now like Category:History, or you might look at Category:School as a model, but there are so many branches of science, and existing lists and categories like Category:Space, Category:Environmentalism, and so forth. I'd honestly recommend starting with a simple list of scientists, similar to other lists in the Character Lists category, and go from there if a need for the overarching category arises. That's usually how we approach categories anyway. -- Andrew Leal (talk) 01:57, July 6, 2011 (UTC)
Separate page for The Muppets Studio
I'm thinking that its time we had a separate page for The Muppets Studio. I realize that it hasn't been deemed necessary in the past, but I think it needs to be done. Just because its a subsidiary of the Walt Disney Company, doesn't mean that it needs to be on the same page, After all, Marvel Comics (its parent company, Marvel Entertainment, is currently a wholly-owned subsidiary of Disney) has its own page. I think it needs to stand on its own after all this time. I'm thinking of creating one using the existing text and images from here with perhaps some additional text added to it. Any thoughts on this?--Gonzofan 04:49, June 20, 2011 (UTC)
I don't think either of those are the best example, since they existed as independent entities prior to Disney's acquisition with their own histories and prior references to or connections to the Muppets at that time. "The Muppets Studio" was a name which followed the Muppets Holding Company period, just a label used by Disney more than anything else.
That said, the full discussion of the reasons for merging and redirecting can be found here. That was in 2009, before the movie. The movie is really the only factor that makes it possibly worth covering on its own, but also note, Fred, that The Jim Henson Company is the same page we use to cover Muppets Inc., Henson Associates, etc. A better comparison than the ones you made might be to Jim Henson Pictures, for a page which is really about a label/administrative or distributor arm more than anything else, and I could actually see a good argument made for merging that as well. -- Andrew Leal (talk) 19:17, June 20, 2011 (UTC)
I can certainly see those points. For me, I guess its just a matter of not wanting to see the Disney Company and The Muppets Studio joined at the hip, because although Disney owns them, its not like Robert Iger is the one making their everyday decisions, its people like Lylle Breier. Oh well...It might also be beneficial if there was a separate page for Walt Disney Pictures. There are an awful lot of links that redirect to the Disney Company page.--Gonzofan 22:38, June 20, 2011 (UTC)
It may be a lot of redirects, but the same can be said of the redirects to The Jim Henson Company. It's really a question of what can be better covered on a single page rather than splitting up and having to do a ton of see alsos (we apply the same logic even to stuff like Sid the Science Kid, since it's not an actual Muppet project but a Henson project post sale). So definitely no benefit to Walt Disney Pictures as its own page since there's nothing really relevant to it (that they distributed two Muppet theatrical features and now a third to date) that can't be said on the page.
I *can* understand the reasons for wanting Muppets Studio as its own page. The redirecting occurred when the biggest thing the name was attached to was the web stuff, and now there's a movie, which is why I compared it to Jim Henson Pictures. But it's still really just a list of corporate execs, who answer to Iger anyway; Breier is still an overall Disney employee and has been, she was just put in charge of the Muppets (so it's nothing like the Marvel/Pixar comparisons). It also fits in with the overall narrative, which *still* confuses people, as to the Muppets relationship with Disney and when/how they were owned, so splitting it out would still require text to explain that relationship, so at most we could lose the second and third paragraphs and maybe shorten the first. This could change in the future, but right now it's still mostly a label (used most often to date not even to indicate production but as a copyright notice, as on Letters from Santa) and list of exec names, and a fair part of that section predates their finally deciding on Muppets Studio" as the name (so again, it fits better as part of the history of Disney's ownership and handling than anything else). -- Andrew Leal (talk) 02:39, June 21, 2011 (UTC)
Alright then...You can't blame me for trying. ;) I'm just always worried that casual readers will get the wrong idea about things. I'm always trying to make sure that things are clear and as streamlined as possible.--Gonzofan 03:11, June 21, 2011 (UTC)
Oh..and I just want to mention that Steve Whitmire said some time ago on The Muppetcast (episode 147) that there is a person at Muppets Studio who came from the Henson days; Debbie McClellan (I spelled it the best I could) She was with with the Henson Company for 20 years and she now has a creative director title with the Muppets Studio group, So its NOT just all Disney people with no Henson background. (I'm just mentioning that as a side thing).--Gonzofan 05:49, June 21, 2011 (UTC)
I have yet another thing to talk about here. I am planning on creating pages on more characters specifically for the Muppet Show comics, so I think that category would be ideal.--Fred (talk) 23:09, June 9, 2011 (UTC)
We have Illustrated Characters (which includes everything from Sesame Street storybooks to Dark Crystal comics) and we have The Muppets Characters which captures the whole franchise (regardless of medium). But I would not oppose having a category to group just the comic book characters. So it would include Kismet the Toad, Four Little Hop-Toads, Johnnie Steele and Lucille, The Ubiquitous Quilp, Medium, The Masked Phantom, Madame Rhonda, Babyface Magee, Ninja Rogers, Mitch Dumpling, Scorchy Brownfinger, Clint Wacky, Cousin Mo, Wormwood Soames, Wuffles, and the likes? -- Brad D. (talk) 19:06, June 10, 2011 (UTC)

Yes, Brad, that was just the kind of thing I was thinking of. And you forgot the Humorous Cheese. Does anyone else have an opinion?--Fred (talk) 12:08, June 11, 2011 (UTC)
Primetime Propaganda
Just FYI: Fox News - Elmo & Big Bird Are Too Liberal & Make Gay Boys Want To Be Prom Queens. Is this book noteworthy? I mean, the author being a conservative bigot, unfortunately doesn't stop us from including it... right? — Julian (talk) 04:04, June 3, 2011 (UTC)
Yeah, they're talking about it over on ToughPigs, and I guess we can quote from it when it comes out, as far as examples of the characters being discussed in non-fiction works, like Saturday Morning Censors. -- Ken (talk) 05:23, June 3, 2011 (UTC)
Birds category
I would like to propose a new category: Birds. I think there is a good number of articles for that: Big Bird, Granny Bird, Chickens, Penguins, Placido Flamingo, Sam the Eagle...and others. What does everyone else say about that?--Fred (talk) 23:52, June 1, 2011 (UTC)
Movie pages
Due to the moving of Muppet movie news to The Muppets (2011), I think to keep consistency, we should move other movie pages like that as well, like Muppets from Space to Muppets from Space (1999). What does everyone else think about that?--Fred (talk) 13:56, May 29, 2011 (UTC)
I'm sure you read the discussion about the article title for the new Muppet movie; adding (film) or (movie) was our way of distinguishing it from The Muppets, a different article entirely. "2011" was the most concise and easiest way of doing that without the title sounding too clunky. There's no reason to add dates to the other movies, since their article names are all distinguishable, with additional parts added to pages related to that. (i.e We have The Great Muppet Caper, then we have The Great Muppet Caper (video) and The Great Muppet Caper (soundtrack)). - Oscarfan 14:32, May 29, 2011 (UTC)
Gallery orientation
Just a head's up to everyone here that the tech team is working on the issue of gallery orientation being broken for the past few days. It should be fixed by next Wednesday. So don't worry about trying to fix the way they look. All should be copacetic again soon. —Scott (contact) 23:06, May 26, 2011 (UTC)
Fashion Category
I'm unsure where exactly we used to discuss new categories, but I'd like to propose: Fashion!
I think we've got more than enough pages for a collection that includes the likes of Macy's Glamorama, New York Fashion Week, London Fashion Week, Adidas, Prada, Selfridges, Marc Jacobs, Donna Karan, Calvin Klein, Tommy Hilfiger, Francisco Costa, Diane von Fürstenberg, Thakoon Panichgul, Kate and Laura Mulleavy, Oscar de la Renta, Vera Wang, Cindy Crawford, Tyra Banks, Heidi Klum, Twiggy, Petra Němcová, Cheryl Tiegs, Lauren Hutton, Carolyn Murphy, Vendela, Kathy Ireland, ELLE, Harper's Bazaar, Episode 222: Slave to Fashion, Kitson, and possibly GAP, H&M, Frito-Lay, or even The Very Fashionable Miss Piggy Card Game and the various Miss Piggy Paper Dolls... there's probably more.
And considering Miss Piggy's involvement with Vogue, as depicted in The Muppets, I think this category would be more than warranted. Opinions? — Julian (talk) 02:29, May 22, 2011 (UTC)
Even with the models in the ads, Frito-Lay's presence in the category would be confusing (if anything, Kermit's fragrance which showed his abs on the label, if not quite fashion, feels closer in theme), but the models themselves and the rest seems to fit. At the very least you already have enough for a decent list article, maybe something in the vein of Ice cream (but there seem to be enough people and things like Prada to make a category worthwhile, similar to some of the other theme categories we have, in a way that ice cream and China don't). -- Andrew Leal (talk) 03:40, May 22, 2011 (UTC)
Yeah, I can see your point with the Frito-Lay page. I don't think a list article would be the best solution though; a fashion category would be a concise pool of related pages, and simple to add existing pages to. I was thinking similar to Sports.
Would fragrances (Amphibia and Moi) fit a category like that? What about the Tonner dolls, Barbie and similar products? Oh, and then there's Victoria's Secret, Cosmopolitan, ... — Julian (talk) 04:13, May 22, 2011 (UTC)
Any objections, or will it be a go for fashion? — Julian (talk) 00:16, May 24, 2011 (UTC)
FROG?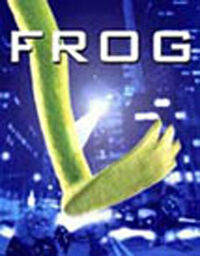 Since I don't know where else to ask this, here goes: I was wondering where this image comes from, or what project it goes with. I assume it's a parody of something, and I believe it came from John E. Barrett's homepage. I think I can make out Miss Piggy in front of, and Animal under Kermit's giant foot... can anybody enlighten me? — Julian (talk) 20:36, May 21, 2011 (UTC)
The 90s version of Godzilla poster maybe (for either a calendar or queue art or just something which may not even have made it to release)? Though I think the Godzille posters used an eye rather than a stomping foot. -- Andrew Leal (talk) 03:43, May 22, 2011 (UTC)
Apostrophe/Link Question
I have a question that I feel is valid. I have noticed lately that when users try to remove apostrophes from a link, they will get reverted by another user using the logic that "apostrophes in links are fine and don't need to be removed" Well my question is, what is WRONG with removing apostrophes from links? And why is it so important to put them back in when a user tries to remove them?--Gonzofan 04:58, May 15, 2011 (UTC)
That is a valid question, although it has been discussed before. There hasn't really been an official agreement on apostrophes in links. My general opinion is that even though it's easier to type them outside of links, it just looks weird to see something like "Jim Henson's" rather than "Jim Henson's". It's been done both ways, but I feel if a user has already gone to the trouble of putting it in the link, there's really no point in taking it out. -- Jon (talk) 18:40, May 17, 2011 (UTC)
Thanks for the response. I appreciate it.--Gonzofan 20:31, May 17, 2011 (UTC)
Yeah, Jon summed up the history fairly well. The problem is those particular users, who were blocked for other problematic behavior, were simply changing them in every case and without bothering to discuss. As the discussion shows, while at least a fair amount of agreement and preference (certainly mine and Danny's) is for using it within links since it reads cleaner and looks neater, but we know that not everyone's going to do that or even think to. So a little inconsistency here and there in exchange for respecting other editors is fine. The users in question weren't doing so and were making a weird issue out of removing them on dozens of pages, so that was just the simplest edit summary explanation (my PC is back in the shop for a data transfer so this is the first time I saw this question). Overall, what you witnessed was not an apostrophe issue but a cooperation issue (and in particular one user who has been banned multiple times for lack of cooperation, communication, and odd behavior fixating on a single change). A second user for no clear reason kept reverting the reversions after this person was blocked and making other nonconstructive changes, and never responded to talk pages, including one final warning and explanation before the block, and ignored summaries and engaged in considerable edit warring beyond three reverts). So it was dealing with those particular users and their combative edit patterns, not a "No person can EVER not include apostrophes in an edit" rule. -- Andrew Leal (talk) 23:54, May 17, 2011 (UTC)
Poll?
I have found that using some certain code, we could create a poll. An example: <poll> Do you think we should have a poll? Yes No </poll>
We could add a poll about something on the main page, like maybe we could come up with ideas about how we could set up the wiki design, put them in a poll, and ask users to vote.That's the idea I came up with, anyway.Does anyone else have ideas for a poll?--Fred (talk) 23:28, May 5, 2011 (UTC)
I'm not so sure. Admins and other regular members would be able to talk out new issues with typed conversations better than with polls. A poll may be helpful in making a final decision, but it's not that useful when it comes to first bringing up a new issue. - Oscarfan 02:49, May 6, 2011 (UTC)
Yeah. We've put up questions and taken votes in the past (mainly, just for redesigning the main page several years ago and for establishing our Muppets vs. Creatures policy), so that's the equivalent of a poll situation, both of which were indeed the culmination of other processes and discussion rather than a starting point, and right now there's no need for it. If a need arises, we may use it but there's no point in coming up with ideas for polls just for the sake of having a poll. -- Andrew Leal (talk) 03:04, May 6, 2011 (UTC)
I don't know. It seems like the only people who would benefit from this would be the users. The general readers would not get any benefit at all. And ultimately, the information in this wiki is supposed to be for the readers. So I feel that a poll that only users can vote in would really alienate the readers and go against the point of a wiki in the first place.--Gonzofan 05:05, May 15, 2011 (UTC)
Event in Philadelphia
There is an event featuring live puppetry of an event with a puppet character called Didi the Dodo at the Philadelphia Zoo called "X-Stink-Shun" with a bunch of other puppets.It should be covered on the wiki because it is presented in part by The Jim Henson Company.I live in the Philadelphia area, but I may not have time to see it.Do any users live there?If they do, they should get on it so that it is covered here before it ends in October.--Fred (talk) 21:31, May 2, 2011 (UTC)
Activity feed
I placed an activity feed on the main page yesterday, which was removed by Danny.I think it should be there for several reasons.When I want to see the recent wiki activity, there is no wiki activity box on the main page, so I go to some random page on the wiki for the activity.If I want a more detailed version, I click the little "see more" link at the bottom.Generally I use a good, quickly enough computer, so for me this is not a problem.But there can be users who kept their older operating systems, never bothered to update their web browser, computer doesn't load pages as fast as it should, whatever.So web pages may not load as fast as they usually do on computers I use.As a result, they may be frustrated waiting for all those pages to load.So if we provide an activity feed on the main page, they wait for only one page.That might take time but it takes less time.On top of that, the wiki activity box does not generally show up on cell phones, unless it is a smartphone.I have viewed both Muppet Wiki and my Film Wiki on a Blackberry.The wiki activity box on every page does not show up on either wiki, but I have an activity feed on Film Wiki, which does show up on a Blackberry.So an activity feed on the main page will allow users to get wiki activity on non-smart cell phones.That said, I think providing an activity feed on the main page would be accessible and convenient.
What does everyone else say?--Fred (talk) 14:00, April 28, 2011 (UTC)
question
Where do you want this to go? -BRAINULATOR9 (TALK) (AOW)(der, die, das) 18:58, April 18, 2011 (UTC)
Why is noone answering? -BRAINULATOR9 (TALK) (AOW)(der, die, das) 14:04, April 20, 2011 (UTC)
Ask Julian or Henrik. They know German. ;-) -BRAINULATOR9 (TALK) (AOW)(der, die, das) 18:40, April 20, 2011 (UTC)
The song comes from Folge 2316. I don't think we need to put the video anywhere though. - Oscarfan 18:47, April 20, 2011 (UTC)

Okay. -BRAINULATOR9 (TALK) (AOW)(der, die, das) 22:59, April 20, 2011 (UTC)
Question
Recently, I tried experimenting by using a different image (Big Bird) for "Sesame Street characters" on the main page and it was reverted back to Grover. Was there a specific reason why? No history is available -- Gonzofan 00:25, April 16, 2011 (UTC)
Hi! Sorry you got reverted like that w/ no explanation. We try to remember to leave edit summaries or a note on people's talk pages when we roll back someone's edit -- but sometimes we're lazy and we forget. I think the reason why it got reverted was just because we like that picture... I understand your logic about Big Bird being the first Muppet we saw on the show, but that Super Grover pic is just really nice looking. :) -- Danny (talk) 00:41, April 16, 2011 (UTC)
More chattin'
Hey guys, the chat feature continues to evolve... If you check it out, you'll see some new stuff. Fair warning: It might not work that great. For one thing, it always says "Start a chat" even if there's someone in there already. Also it might not work at all. But that's life with a test feature! Most of the "new stuff" right now is actually back-end, behind the scenes stuff. Let me know if you see any weirdness in there... I know it still looks pretty lame, but we have cool plans, and today was a big milestone for the behind the scenes part. More features coming soon... -- Danny
(talk) 00:00, April 9, 2011 (UTC)
I think that one of the new features should be to send sounds with messages.They have that feature on the chat rooms in the fan site [[Muppet Fan Online]].-- Fred (talk) 18:20, April 13, 2011 (UTC)
We also could allow users to enter wiki syntax with their messages, or, for something more flexible, HTML. But HTML would allow stuff we might not want, like iframes of websites with viruses...wiki syntax might be better(and not everybody knows HTML!).--Fred (talk) 20:44, April 14, 2011 (UTC)
Hi, guys! The new version of chat is online now. It's got some new features -- the best one is that the "entry point" in the sidebar now shows you how many people are in the chat right now, and who's there. No more guesswork! Other new stuff: You can post links in the chat messages by using brackets -- you can also use a pipe to do [[Kermit the Frog|this]]. If you're away from your computer but still in the chat, it shows your status as "away" so people know you'll be back. There's some other new stuff too.
As usual, there are still some bugs that we're chasing down now that we see it live, and then we get to start working on more features for the next version. Thanks to everybody for trying this out and being so patient as we move it from prototype to real feature! -- Danny (talk) 21:51, April 14, 2011 (UTC)
Hey, just so you know -- there is a bug in the chat right now that we're trying to figure out. The user list in the chat isn't taking people off the list when they leave, so it looks like there's more people in the chat room than there really are. This incorrect data is also populating the chat entry point in the sidebar. So -- that's a bummer. We're hoping to fix that today -- if we can't, then it'll get done on Monday. Everything else seems to work great so far. :) -- Danny (talk) 19:02, April 15, 2011 (UTC)
23,000 pages
Hooray, a new milestone just in time for April Fool's Day. :) 23,000 pages today! The 23,000th was Henrik's guide to Folge 2580, a recent Sesamstrasse episode. As always: We are amazing. I can't wait for 25,000! -- Danny
(talk) 18:23, April 1, 2011 (UTC)
...which is another good reason you should always like love Sesamstrasse! (-) -BRAINULATOR9 (TALK) (AOW)(der, die, das) 18:15, April 2, 2011 (UTC)
New Category
I tried to discuss this in chat.I thought of a new "Uncategorized" category that can be added to a page which someone is not sure what the category should be with it when they have just created the page.What do other people think of this? --Fred(Hihokermitthefroghere) 16:35, March 30, 2011 (UTC)
I think it's actually fine just to create a page without a category... There are usually folks around who'll see it and help it find the right home. Anything we put in the "Uncategorized" category would get taken out within a few hours anyway. :) If you're not sure where to put something, feel free to ask someone, or just create the page! -- Danny (talk) 18:23, April 1, 2011 (UTC)
Yeah, as is, there's actually a Special page which lists uncategorized pages anyway (three right now plus Muppet Wiki, the front page which we never categorize; I fixed one and will look at the other later, and sometimes failure to close a gallery tag or such will inadvertently keep a category from showing up). -- Andrew Leal (talk) 05:44, April 2, 2011 (UTC)
Attached videos
I've noticed that when a video is embedded,it comes with a bunch of related videos.So I was wondering,since we don't allow commercially available videos,is there a way to prevent them from being attached to videos we embed? --Fred(Hihokermitthefroghere) 18:17, March 26, 2011 (UTC)
Muppets Tonight on Youtube
Fred brought up a question on Andrew's talk page -- is it okay to post Muppets Tonight videos on the appropriate episode pages?
Right now, the entry on the Policies page says: "Due to the frequency with which videos are removed from YouTube, we try to keep links to that site at a minimum. Some exceptions include accounts owned by regular contributors who are keeping an eye on their own links or cases where wiki information is being sourced. We also never link to anything that's commercially available."
Muppets Tonight isn't commercially available, and it doesn't look like it will be in the foreseeable future; obviously, we'll all know about it when that happens. Ditto for Muppet Babies. But there are lots of full episodes up (in whole or in parts) on YouTube. I think a Muppet Wiki reader who's reading about an episode would be interested in watching those clips, and if they can find them on our site, then that person sticks around longer and likes the wiki more.
The problem, as far as I can tell, is that sometimes videos are taken down, and then we'd want to delete the video embed. Personally, that doesn't bother me very much. The same is true for external links -- websites get taken down, and we link to a lot of press releases and news articles as sources that could easily go away. We don't worry too much about those links going dead; we just remove the dead ones when we notice them. The Muppets Tonight and Muppet Babies episodes that I see on YouTube have been up for three or four years; they seem just as stable as anything else on the internet that we might link to.
What do other folks think? -- Danny
(talk) 22:18, March 14, 2011 (UTC)
I think we've established a track record for being one of the best sites for Muppet information on the Internet, and we've already got a ton of links to official video clips from Disney, Henson and the Workshop, as well as fan-uploaded YouTube stuff like old commercials, interviews, documentaries, and other appearances. So I think we should treat Muppets Tonight clips like we've treated other video clips (and stuff like the transcript from Mr. Hooper's death): Take it down if it ever gets officially released, someone asks us to, or the link goes dead. -- Ken (talk) 02:12, March 15, 2011 (UTC)
Wikia Poll
Hi all :) If you have a couple minutes, please help us out by taking this poll about your experience on Wikia.
http://www.surveymonkey.com/s/8629TLG
Thanks, I appreciate it! —Scott (contact) 23:38, March 8, 2011 (UTC)
Live chat test
Hi guys! I'm working on a project right now to improve communication on Wikia, and the first part is a live chat feature. We've got a prototype chat box almost ready to go, and we need a wiki to test it on... So obviously I'd like to put it here, cause if I'm going to be in a chat all day testing it out, I might as well have Muppet Wiki people to talk to. :)
So! Probably tomorrow, I'd like to put the chat prototype live on our wiki. It's a pretty basic chat box at the moment, nothing fancy. There'll be a little "Join Chat" button in the sidebar that only logged-in folks can see. (You have to be logged-in to chat. In the future, it'll be available for not-logged-in folks to read, but for this version, only logged-in can read.) Wiki admins will automatically be chat moderators, with the ability to kick someone out if they misbehave.
We're testing out the prototype on an active, friendly wiki so we can see how the chat works when real people use it. There's a long list of things that you won't be able to do yet, and part of the test is to find out what people need the most. So -- hopefully you'll see this tomorrow -- hopefully you'll dig it -- and I appreciate everybody's patience and good humor about it. Does this sound okay? -- Danny
(talk) 22:17, March 7, 2011 (UTC)
Sounds fine to me. -- Andrew Leal (talk) 22:57, March 7, 2011 (UTC)
Would the chat box help out with some issues on the wiki? --Parstin32 23:04, March 7, 2011 (UTC)
I can't see it, either. Parstin32 13:17, March 9, 2011 (UTC)
They'll let us know when it's up. Danny said "probably tomorrow" on the 7th, not definitely (he just wanted to make sure we were okay with it, *then* do the tech stuff to get it up, which naturally can often involve delays). -- Andrew Leal (talk) 15:13, March 9, 2011 (UTC)
Yeah, sorry for the delay! I was hoping we'd have it ready, but there are some tech issues we're trying to work out. I'm hoping that we can put it live today, possibly tomorrow... I'll definitely let you know when it's up! -- Danny
(talk) 18:19, March 9, 2011 (UTC)
Chat is live! We've got the prototype up on the site right now this minute. Come join us! :) You should see the "Join Chat" button in the right sidebar, under the spotlights.
So -- this is a super early stripped-down prototype with no features and no design. The actual finished chat feature will look a lot different and have more bells and whistles... Right now, we just want to see how people use the basic stuff, so we can figure out which bells are important and which aren't. So go ahead and chat it up -- and I would love to see your questions and feedback, either here or on my talk page. Yay! -- Danny (talk) 23:58, March 10, 2011 (UTC)
Hi guys! It's Saturday afternoon / early evening (depending on where in the US you live)... I'm in the chat, if anybody feels like joining me! -- Danny (talk) 01:22, March 13, 2011 (UTC)

Yeah, last night, me and Danny had an egaging conversation about Sesamstrasse. We should talk more. -BRAINULATOR9 (TALK) 22:22, March 15, 2011 (UTC)
Hearing voices
Several times in the past week I've loaded pages on the wiki and there have been ads (all the way down at the bottom of the page) that automatically start playing sound/music/dialog. The first few times it happened it startled me and it took me a while to figure out where the audio was coming from. Is this going to be a lasting thing here? It's annoying as heck. -- Brad D. (talk) 02:49, March 5, 2011 (UTC)
It only happens when I'm browsing the wiki when not logged-in. -- Brad D. (talk) 06:12, March 7, 2011 (UTC)

Oh, ouch. That should not be happening. Wikia tries to filter out auto-play audio ads... Sometimes stuff slips through the ad system that we need to track down and eliminate. Are you still seeing (hearing) these? Has anyone else noticed them? -- Danny (talk) 22:03, March 7, 2011 (UTC)

Hey Brad (or anyone else). If you see any auto-play ads again (on any wiki), could you please report them to Special:Contact? There are directions here about all the information we would like to get with the report, but if you find that confusing just let us know anything you did notice about the ad. Thanks! -- Wendy (talk) 18:24, March 9, 2011 (UTC)
As a follow-up to this issue: the Rich Text Editor has been updated and the technical problem appears to be fixed. Is that correct, and is it OK for us to add links in picture captions again, if used wisely? — Julian (talk) 19:45, February 8, 2011 (UTC)
Quality articles
For the last 9-months we've somewhat neglected nominating and voting on new Quality articles. I'm sure we have some quality work on the wiki that should be highlighted, recognized and showcased as an example of Muppet Wiki at its best. Please take some time to check out Muppet Wiki:Quality article nominations and nominate and vote on some of our best work. -- Brad D. (talk) 14:00, February 4, 2011 (UTC)
Quote template
I've noticed on some pages lately that the quote template is feeling uncomfortable with the new page width. Here's an example: Elmo's Backyard. The template doesn't wrap under photos or boxes, and with the new width, it makes for a very narrow column of text. Anybody have thoughts? -- Danny
(talk) 00:02, February 3, 2011 (UTC)
I tried making a wrapping quote template: Sandbox: Quotes. -- Brad D. (talk) 14:53, February 4, 2011 (UTC)
Nice! That template is super old, we were definitely overdue for an update. Nice work, Brad! —Scott 18:22, February 4, 2011 (UTC)
Awesome! I just replaced the old quote template with the new one, so now all our quotes are using the new format. I've checked some pages, and they all look good! Rock on, Brad! -- Danny
(talk) 19:17, February 4, 2011 (UTC)
Important: I just found a couple of pages that got formatted all funky because of the new quotes. It's fixable though... we've got to make sure that there are no line breaks anywhere in between the quote brackets! Otherwise everything that follows the quote gets pushed to the left margin in a smaller font, as had happened here for example (scroll down a bit). To avoid the issue, just use <br>, or even <br><br> instead of line breaks within quotes! — Julian (talk) 18:42, February 6, 2011 (UTC)
No problem! Phew! I can't check the remaining 230 pages anymore tonight, so if someone else volunteers to do it, that'd be great! Just start here, check the pages for the described quote issue (the affected pages say "Retrieved from [page name]" at the bottom), fix it, hit "next 50" on the list, lather, rinse, repeat! Thanks. — Julian (talk) 21:42, February 6, 2011 (UTC)
Photos of Muppeteers significant others
IWas wondering what the policy was on posting pictures that are publicly posted online of Muppeteers' significant others. For example, Marty Robinson's wife has her own blog, and someone over on Muppet Central recently posted a photo of Steve Whitmire's wife Melissa from the Center for Puppetry Arts' website.
Thanks! -- Melissay1 February 1, 2011
I think we could use them if they're relevant -- for example, if there's a picture of Whitmire and his wife at a movie premiere or something. But I don't think we should randomly post a picture of Whitmire's wife on his page. Marty Robinson's wife, Annie Evans, is a writer for Sesame Street, so she's got a page already. :) -- Danny (talk) 17:54, February 1, 2011 (UTC)

Thank you, Danny! Just wanted to know before I posted anything. Melissa Whitmire has her own page as well, doesn't she?

I have posted a picture of Melissa Whitmire on her own page with her Steve and Heather Henson from an event at the Center for Puppetry Arts. I provided the link in the caption information. If this photo is a problem, please feel free to take it down. Just wanted to give the heads up. Thanks!
Reprinting full articles
So, are we allowed officially to copy full magazine articles to Muppet Wiki? Specifically, I'm questioning the full text of an article from BrainWorld Magazine, December 2010. I had asked the policy question on the talk page, to no reply, trying here. -- Zanimum 02:45, February 1, 2011 (UTC)
Hmm, good question. I don't want to completely close off the idea of reprinting articles of historical interest, especially interviews with Muppets or performers. My main problem with that BrainWorld Magazine page is that that article isn't interesting and tells us nothing new. -- Danny (talk) 16:52, February 1, 2011 (UTC)
Yeah, something like Woman's Day definitely should be here, no doubt. It's the sole appearance of that Jerry Juhl script; I personally have the first three pages, always wondered the conclusion. In my mind, it's less the historical interest of the article, it's more time-related. This particular item was posted on Muppet Wiki the day after the cover month was over, it just seems a tad to quick. Plus, the article is still available on their website, now that I look. Perhaps the rule should be, "not available online, and back issues via the publisher are sold out/pulped"? -- Zanimum 19:10, February 1, 2011 (UTC)
Yeah. "Frank Oz discusses his favorite pencil," even if it is from an out of print issue of OFFICE SUPPLIES MONTHLY, might be a little too Bert (unless, obviously, he did the interview *as* Bert). -- Andrew Leal (talk) 21:21, February 1, 2011 (UTC)
I'm having a problem
I just made some edits to The Ed Sullivan Show, and since I made these edits the categories and source heading no longer appear. I keep adding them back but when I hit the save button they don't come back. I don't know what's going on here. --Minor muppetz 17:18, January 17, 2011 (UTC)
I'm having a problem too, and without meaning to hijack your thread I thought I'd at least mention it in case it's just another of a couple of problems surfacing as of late, possibly due to the recent (supposedly barely noticeable) changes at Wikia: For about an entire week I haven't been getting my usual E-mail reminders about the changes of pages I'm following. Has anybody else experienced the same issue? At first I thought something had changed in the settings, but it all looks the way that it should. I had hoped it was just temporary, but it's really starting to bug me. — Julian (talk) 23:34, January 17, 2011 (UTC)
Yeah, they're working on upgrading the site to the new version of MediaWiki... It's not going as smoothly as they hoped. Michael, I looked at the edit you were making -- it looks like it got fixed? In general, performance has been pretty bumpy for the last week.
There's also a problem with not sending out watchlist e-mails... A possibly unrelated problem that they're working on. Sorry for the problems; they're working on them... -- Danny (talk) 00:02, January 18, 2011 (UTC)

I checked and it looks like it was fixed. The edit I made was always there but for some reason the "reference" heading and categories stopped appearing (I see that they are back, though). --Minor muppetz 00:34, January 18, 2011 (UTC)
Rudman and Vogel performing Hunt's and Nelson's characters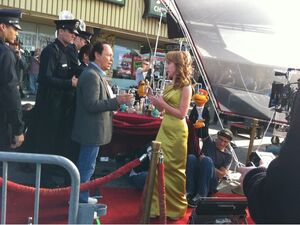 In 2008, David Rudman and Matt Vogel became the permanent performers of Richard Hunt's and Jerry Nelson's minor (at the time) characters such as Scooter and Floyd Pepper. Now that Rudman and Vogel have been performing those characters for 3 years and the new Muppet movie (a very big production) is halfway through production, can we now add them in those character's performer boxes? The reason (before) why they haven't been added into those character's performer boxes was because all of the minor characters (again, at the time because of the retirement and death of the two great performers) were performed by many different people for only a few small productions. The only reason Vogel was added in Robin the Frog's performer box was because nobody else had performed him for six years after Jerry Nelson retired and Vogel had been performing him for two. Is that confusing? --MuppetHelper 07:25, January 16, 2011 (UTC)
Cleaning up delete
Can one (or some or all) of our admins delete what's in the Delete category? There are currently 278 items in there. I may be deleting some more things, and I didn't want it to get even bigger. I know there are a lot, so there's no rush; I just wanted to mention it in case people didn't know about it. Thanks! -- Ken (talk) 02:30, January 14, 2011 (UTC)
Yeah, Ken, if you've noticed the logs lately, I've been deleting a lot (but hardly anyone else is, and more has been added), and when there's this much of a backlog (it was over 300 just a couple days ago), it takes awhile. Right now my own browser is giving me fits (plus I have a writing deadline off-Wiki) but I'm tackling it a little at a time. -- Andrew Leal (talk) 03:40, January 14, 2011 (UTC)
Layout builder
Introducing the Layout Builder -- Open call for community testers
Worth trying, for something like Sesame Street episodes, or something else highly formatted? I don't know if it's desperately needed for anything. -- Zanimum 03:43, January 13, 2011 (UTC)
To avoid a rumor...
This thread was posted at Muppet Central to avoid a potential rumor. It may be an overeaction, but I'm posting the thread here, to alert us as to avoid posting the rumored info at Muppet Wiki, just in case. --Minor muppetz 03:47, January 5, 2011 (UTC)
Sadly, when stuff like this results, it's the kind of thing that needs to be nipped in the bud. I can't count the number of reversions I've done of people entering fantasy-land, pie-in-the-sky, never-will-happen-in-a-million-years wish list data (such as what makes up most of Idea Wiki) on Wikipedia as if it's fact. And most of it relates to Disney and/or the Muppets. Powers 20:34, January 6, 2011 (UTC)
Happy New Year!
You won't believe what's ahead in 2011! I'm already in the new year over here in Europe, and we have insta-grow mustaches, new old flying DeLoreans, exploding toothpaste, and brand-spankin' new Muppet movies... so come on over, everybody! Don't be shy! Ein frohes, neues Jahr! :) — Julian (talk) 02:06, January 1, 2011 (UTC)
Ad blocker interference detected!
Wikia is a free-to-use site that makes money from advertising. We have a modified experience for viewers using ad blockers

Wikia is not accessible if you've made further modifications. Remove the custom ad blocker rule(s) and the page will load as expected.