Archive of Current events.
Image Issues
A general heads up, right now, image uploading is broken, on all Wikis. Existing images seem fine, but any attempts to upload new images or replace existing ones are futile right now. Danny's already reported the issue. Hopefully things will clear up soon, so if you have any problems, it's not your machine, it's Wikia. -- Andrew Leal (talk) 18:56, 29 September 2007 (UTC)
And now it's fixed. Yay! -- Andrew Leal (talk) 21:33, 29 September 2007 (UTC)
Telly's space friend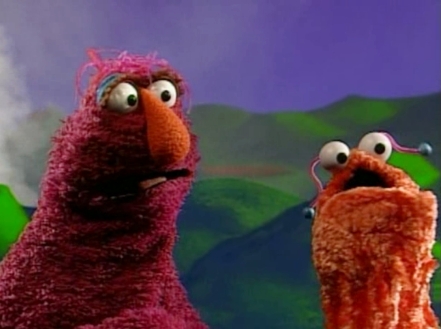 I thought we had an article about a Telly song in which he imagines going into outer space and meeting a friendly Martian. But now that I'm looking for it, I can't find it. Anybody know where it is? -- Danny (talk) 23:41, 28 September 2007 (UTC)
Two-word Headings
I was talking about this with a couple of people about a month ago, but some people were gone then, so I wanted to bring it up here now that everybody's back. In looking at the record section, and wanting to make every article uniform, I'm seeing that people have made headings differently. I'm seeing "See Also", and "See also", "Track Listing" and "Track listing", etc. I know that article page titles have every important word capitalized, so should we do that for these? Or are headings in articles treated differently? -- Ken (talk) 05:32, 26 September 2007 (UTC)
Personally, I think we should only be capitalizing names, titles and category names. So we have Muppet Toys as a category, and Muppet View-Master reels as an article. So I like "See also", "Track listing" and "External links".
Yeah, we've all been doing our own things. I could go with the lower case on the examples given, but I'm not sure I want it for all headings. "Production Crew," for example, I think looks better capitalized. -- Andrew Leal (talk) 00:43, 29 September 2007 (UTC)
Quality nominations
Hi folks: There are a couple of nominees on the Quality article nominations page that could use some attention. Sweetums and Mystery Science Theater 3000 are up for nomination, and the vote closes on Monday. So far, they don't have any negative votes, but they also don't have enough positive votes. Please take a look, and cast your vote. Thanks! -- Danny (talk) 17:18, 22 September 2007 (UTC)
Hi guys: I'm working on a project right now to help link wikis together, and encourage readers to see Wikia as one big project, rather than a bunch of separate wikis. The Gaming wikis have been doing this recently, and it's been very successful, so I'd like the Entertainment wikis to try it out.
The idea is to have a box at the bottom of the main page that links to other TV-related wikis. I've created a footer for us on Template:Moretv. It's got links to some related wikis, including Puppet Wikia, Disney Wiki, The Wiggles and MST3K. It's also got some wikis that I'm personally working on, like Flash Gordon and Pushing Daisies, so if other folks want to add their favorite TV wikis, I think that's only fair. :)
What do folks think about adding this at the bottom of the main page? Good idea, or no? -- Danny (talk) 20:57, 14 September 2007 (UTC)
Hmmm. It's good as an *idea*, I just wonder how it will look. If it's only on the main page, it wouldn't be too intrusive. But we also have a fairly crowded main page (as do a few of the others). I'd want to see what it looks like first myself. -- Andrew Leal (talk) 21:04, 14 September 2007 (UTC)
Well, I'll post it here. It'll be all the way on the bottom of the page. If you want to see it in action, a similar footer is on the Flash Gordon main page. -- Danny (talk) 21:07, 14 September 2007 (UTC)
Well, I'm going to do a special "Science fiction" one to link together the sci-fi related wikis. If you click on "Wikia's new fall season", it takes you to the Entertainment hub, which has links to all the TV and movie wikis. -- Danny (talk) 11:25, 15 September 2007 (UTC)
What to title the Elmo movie article?
Now that it's confirmed that there's an Elmo-themed movie (thank you Roscoe), what should the article be called? I've made an article called Untitled Elmo feature film for the time being, and have emailed the writer to find if she knows anything else about the movie. -- Zanimum 17:17, 11 September 2007 (UTC)
I left a note on the talk page. Nick, I'm afraid you completely misread that one sentence. Remember, it takes awhile to write and illustrate any book, even a children's book. A quick check proved that Orman was referring to The Adventures of Elmo in Grouchland, not referring to some new production. His publisher, Inkwater Press, has an advance version of the book downloadable as a PDF, and includes sidebars on its production, like this: "While on the set of The Adventures of Elmo in Grouchland Roscoe began to draw the illustrations. The picture to the right is one of his favorites." -- Andrew Leal (talk) 17:29, 11 September 2007 (UTC)
User profiles
Okay, here's the deal on the new stuff that's been appearing on the site. Wikia is developing some new ways for contributors to interact on the wiki, and Muppet Wiki is one of the first batch that gets to play with the new toys.
Right now, it's only on four wikis -- Muppet Wiki, Marvel Database, DC Database and 50 Parties. It's still being developed, and we're one of the test sites, so if things don't work right, or you don't like something, then this is a good opportunity to make it work the way we want it to. I'm in touch with the Wikia folks who are working on this, and I'll make sure that they hear our feedback.
So here's what there is: Every user now has a "User profile" page, in addition to the regular user page and talk page. There's a "profile" tab on your user page, and a link at the top.
Right now, this is what you can do on your profile page:
Upload an "avatar" -- a picture that represents you. (Click on "Manage avatar" to upload your own picture.)
You can list your name, location, hometown and birthday. (Click on "My profile" to update the info.)
You can make "friends" with other users, who are then listed on your profile as a friend. (Go to another user's page and click "Friend me".)
You can give "gifts" to other users by going to the user's page and clicking "Give a Gift". You can give a gift to express friendship or appreciation, to tell somebody they made a good article or laugh at their mistake. There are some basic gifts that came pre-loaded, and then wiki admins can create gifts that are specific to the wiki. I've been creating some Muppety gifts for us. If you want a particular kind of gift and you're not an admin, let me know, and I'll create it for you.
You can invite your friends to join the wiki by clicking on "Invite contacts" on your profile page. To make it easier, you can load your contacts from Gmail, Yahoo, Hotmail or AOL on the "Find Your Friends" tab, or just add your friends' e-mail addresses on the "Invite Your Friends" tab.
And that's it, right now. I know that there are some more features coming up, including some different ways to personalize your profile. They're also working on making your user profile consistent for any Wikia wikis that you visit, so if you work on more than one (like I do), then it'll help to tie all of that closer together. The idea is to help people to see Wikia as one big project, rather than a thousand little islands.
So like I said, it's still in development, and it's possible for us to make changes. What do you guys think of it? Please post if there's something that you like or don't like, if you find a bug, or if there's something that you wish worked differently. -- Danny (talk) 17:40, 28 August 2007 (UTC)
This will take a bit of getting used to; it's like LiveJournal mated with Wikia. But I can see some advantages to it. While we're a pretty social group here, on other Wikis, or for newcomers, I can see how this could create a friendlier atmosphere and make it easier to express one's self as more than a username. That said, I'm not sure about the avatar. It would be nice if there were a way to disable it, so if you don't really want to upload one (I already have a larger image on my user page, and don't really want to add a tiny one at this point), you're not stuck with the blank gray space, and could re-enable it if you change your mind. -- Andrew Leal (talk) 18:32, 28 August 2007 (UTC)
Well, the avatars are partly there so that you appear on your friends' profiles. So you need some kind of image.
I don't know if it's me, but ever since the new stuff started appearing, the table of contents on my talk page, as well as other people's, gets shoved over to the right side of the screen, and gets really tall and thin. I haven't done anything differently, so I don't know what's causing that. -- Ken (talk) 04:59, 29 August 2007 (UTC)
15,000 articles
In case you missed it, we breached 15,000 articles today. Go us! Also, we've almost got 1,000 celebrities. —Scott (talk) 02:28, 16 August 2007 (UTC)
Episode 4135
Did anyone else's PBS station not show the first new one today? We get SS out here in LA at 7 AM, but today they showed 4127! If they don't show a new one tomorrow, then that means that they changed the time, since they also show one at 12, but that's usually a rerun. Oh well, we also have 2 other stations out here, so I'll see what they're doing. The page looks good! You guys are fast! -- Ken (talk) 04:47, 14 August 2007 (UTC)
Okay, it looks like the other LA PBS station did start yesterday, but the one I always watch hasn't started yet. And the OC station started today, so they're going to be a day behind. But I guess they're doing that so people that are flipping around won't see the same show three times a day, since the shows are all on at different times. I'm just glad one station in the LA market is day-and-date with all of you guys! I was beginning to feel like I did when I realized that there were no consistent Muppet Show dates! -- Ken (talk) 02:18, 15 August 2007 (UTC)
Of Muppets and Reprints
I normally don't want to spread rumors, but I was so excited today that I had to share it. I went to my local music store to order the yellow 1992 SS songbook, and also see what else is in print, and the store's computer showed an entry for Of Muppets and Men! I asked the lady what that was doing there, and she said that the music publisher Hal Leonard also owns a company that distributes all kinds of performing arts books. Well, maybe I should have tried to order that too, but I didn't want to pay full price, so I figured I'd look around when I got home. Well, I can't find anything on a new edition anywhere, and I've looked everywhere I can think of. So I'm going to go back next week when my order comes in, and I'm going to see if they have any more information. If this is true, this book will be back in print for the first time in 25 years! I'll keep you posted! -- Ken (talk) 04:42, 12 August 2007 (UTC)
Sorry, guys, I knew I shouldn't have said anything. I went back, and the store's computer showed the entry as being "permanently out of print", whatever that means. I should have known when Amazon and even the alleged publisher's site didn't show anything. Sorry if I got anyone's hopes up. Oh well, back to saving my money for a used copy! -- Ken (talk) 04:47, 14 August 2007 (UTC)
Main Page picture
I just want to remind folks to vote for the Main Page picture. Voting has dropped off a bit lately, and it's fun when people help to choose which picture goes on the front page. -- Danny (talk) 11:33, 9 August 2007 (UTC)
Wow!
I just got back from vacation, and I see that we're 75 away from 15,000! That's great! I'll do what I can to help! -- Ken (talk) 13:48, 8 August 2007 (UTC)
Online?
I was looking at our front page, and I was wondering. Does it sound better to say, "Muppet Wiki is an online collaborative encyclopedia", or is that too obvious? -- Ken (talk) 04:39, 21 July 2007 (UTC)
Changing links to redirects to pipelinks
Hi gang. Is there some compelling reason of which I'm not aware to change links to redirects to be pipelinked? (Example: if [[foo]] redirects to [[bar]], changing [[foo]] to [[bar|foo]].) Is it just to avoid the "Redirected from foo" text underneath the title? It seems like a lot of work (even with the bot) and a lot of watchlist clutter for little benefit. Powers 21:24, 18 July 2007 (UTC)
I've been fixing them because it makes the statistics on Special:Mostlinked work better. -- Danny (talk) 21:31, 18 July 2007 (UTC)
Sesame Street Episode Guide Milestone
Something I'd like to mention: Since I plugged in the final hole a few minutes ago, all of Sesame Street's Season 37 has been added to the episode guide. Thanks to Brian and others we also have the complete Unpaved series, nearly half of season 33, and a smattering of other episodes, but this is the first time an entire season has been represented in the fully-illustrated format. --Andrew T. 16:38, 18 July 2007 (UTC)
And on a related note, Wendy found the cover for My Record, which means that not only do we now have a picture of every album cover on Sesame Street Records from 1974 to 1984 (the entire run of the label), but we also have at least one album cover for every official Sesame Street record album from 1970 to 1984! Yay for Wendy, and everybody else who has added cover pictures! -- Ken (talk) 04:32, 21 July 2007 (UTC)
CTW Archives sources
Hi folks: I've been posting a lot of info from the CTW archives about early Sesame episodes, and I haven't really been explicit about my sources. So I posted some information about what I've found, and how other people can access it, on the Sesame Street Episodes talk page. I still have a couple more sources to add, which I'll post in a little bit.
If anybody has questions about the CTW archives info that's been posted by me or others, please let me know. We should be specific where we can about where the info comes from, giving box and folder numbers if it's possible, so that other people can check our sources if they want to.
I wish I could scan everything that we've found and post it all on the wiki, but it's literally thousands of pages of photocopies, so it's not feasible. But the archives are open to the public, so anybody can go and check them out, and I'll try to give box and folder numbers to make your search easier. I would definitely recommend it to any Muppet Wiki contributor; it's an unbelievable resource. -- Danny (talk) 15:10, 18 July 2007 (UTC)
Another magazine mention
Reason Magazine published an interview with Jimmy Wales in the June 2007 issue -- and Muppet Wiki got a nice juicy plug right in the middle of it:
"
Consider, for instance, the astonishing growth and readership at the Wikia site devoted to Muppets. At a little over one year old, the Muppet Wiki has 13,700 articles. Every single one is about Muppets. Interested in an in-depth look at the use of gorilla suits in the Muppet movies? No problem. Just type in "gorilla suits" and enjoy a well-illustrated article that documents, among other things, the names of actors who have worn an ape outfit for Jim Henson. There is a timeline of all things Muppet-related. An entry on China details Big Bird's reception in the People's Republic. The site is astonishingly comprehensive and, perhaps more impressive, comprehensible to a Muppet novice.
"

Pretty nice, yeah? The two articles mentioned are Andrew's work, so that's a big pat on the back to him. Yay! -- Danny (talk) 20:02, 13 July 2007 (UTC)
Wow, that's probably our juiciest nod, yet -- and major props to Andrew! We should quote the whole paragraph at Muppet Wiki (website). —Scott (talk) 20:50, 13 July 2007 (UTC)
Congratulations to the admins, especially to Danny and Andrew...*slaps them each a high-five* --Ingeborg 02:20, 14 July 2007 (UTC)
Muppet Show Guest Bios
Should there be a standard way of presenting the bios of people who were Muppet Show guest stars? I was looking at a few of them tonight, and I noticed things are really different from page to page. Some people have an essay, and some people have what looks like a resume with years and phrases. How do other people feel about it? -- Ken (talk) 06:05, 7 July 2007 (UTC)
I don't necessarily think that there should be a standard format for those pages; I just think that every page should be good. What "good" looks like may vary from page to page.
The one thing that I think should be consistent is that the Muppet involvement should be highlighted right away, in the first sentence if possible. I've seen some celeb/actor pages where I've had to skim through a couple times just to see what the connection was. Now that I think of it, I might create a box for that... -- Danny (talk) 16:27, 7 July 2007 (UTC)
This is a good question, since it really affects our approach to actor/celeb profiles in general, not just Muppet Show guests. I agree with Danny that a standard format isn't necessarily needed. *But*, there's too many variants right now, which don't make for good pages. Remnants of the early days of the Wiki, for example, there's still pages with the choppy lists and sometimes no complete sentences at all for *anything*, just "Appeared on Muppet Show. Received Blank and Blank Award. Died" lurking about. And while I agree about highlighting the Muppet connection (though I'd argued in the past with Peter about it, who sometimes felt a full career bio should come first and then the Muppet/Henson stuff), it's sometimes hard to balance that while trying to provide some background on the person, especially when the person was famous enough at the time but is now obscure. So I think the first sentence, especially in those cases, should at least have some definition of what the person is famous for, at least in broad terms [dancer, musician, movie star] with maybe one outstanding credit there (especially for folks like, say, Bruce Forsyth, who without checking, I couldn't have said *what* he did, or certain athletes).
It especially gets hard when folks have multiple Muppet connections or Creature Shop movies, which is one reason I've been enjoying the "Character Galleries" for those: one can see a full array of what parts they played, and an image for each. While we have so many boxes as is, it does occur to me that a basic data sidebar, maybe like the movie boxes, might help, at a glance just listing what Muppet/Sesame/Creature Shop productions they appeared in, with any other specifics or quotes left to the article. It would be worthwhile to canvass some other views on this one, though.
Anyway, I think Avery Schreiber is a decent example of a good, if not great page. First sentence is a short definition of who he was and sets up context for his first Muppet connection, Our Place, and from there we get The Muppet Show, and then the lengthy career bio. Michael Hordern, though I could probably expand on it, also works on that level. Then we get Pearl Bailey, which seems like a perfect example of what Danny was talking about (when her sole guest star credit could easily be mentioned up front). And then Bob Hope and Julie Andrews, both of whom have enough Muppet relevance to make truly great pages, are terrible right now, choppy combinations of texts and lists and vague leaps in terms of career. Hope's is only slightly better in that it seperates the Muppet appearances, but the general bio is awful (Emma just plunked in that single Broadway credit, which is horribly out of place). Partially because of an assumption that both are famous enough that we don't need to say too much, but I don't think they're really any good as pages right now. A suggestion, which I may get to myself, might be to approach those pages, especially those with a complex Muppet history, in the way we have things like China or the Earth, a look at that person from the Muppet lens. Start off with a basic short explanation of why they were famous enough to work with the Muppets, maybe chronologically note how the Muppet work fit in to other aspects of that person's career and life, and then after all that, any additional credits or notes can be added. Again, just a few thoughts. -- Andrew Leal (talk) 17:12, 7 July 2007 (UTC)
A P.S. on the box idea. One drawback which comes to mind immediately is it could lengthen pages or cause minor formatting problems when pages have a lot of pictures. Also, if we do go that route, I'd think it should be avoided if there's only one Muppet-relevant credit, which can easily be upfronted as discussed. -- Andrew Leal (talk) 17:20, 7 July 2007 (UTC)
Yeah, I know that people who have done a lot will have a more detailed bio, and they may need to look different. But I was mostly thinking about people like Petula Clark or Leo Sayer, who appeared on the show once, and that's it. I like the essay format, and I don't like those choppy ones either, with years and phrases, but I didn't know if you guys had a preferred format, before I started changing everything. -- Ken (talk) 17:49, 7 July 2007 (UTC)
I think it makes sense to introduce who the person is with a brief synopsis of what they've done in their career, and then go on to say what their Henson/Muppet involvement is. For most people, that should be enough. There are other cases where we might want to expand their biography a bit, but not much. that's Wikipedia's job.
Generally I'd agree that really in-depth biographies for celebs are Wikipedia's job, since for us that honor is reserved for Muppeteers, Sesame cast members, and others who Wikipedia might overlook , like character actors. But then there's pages like Dennis Quaid, so brief that at first glance while the name and face may be familiar, it's not even entirely clear to the casual reader why the person is famous (especially since, in Quaid's case, his Muppets Tonight appearance played on his past movies). I just did some considerable work on Bob Hope, though it could probably still use some more polish, and I think that approach is enirely preferable to the spotty list; a meaty page without copying Wikipedia. It makes clearer many of Hope's trademarks, but places it within the context of his Muppet collaboration, ala China (probably additional credits could be stuck at the end if desired, but I like the way it reads this way). Other celebrity repeaters could probably benefit from the same treatment. -- Andrew Leal (talk) 04:02, 13 July 2007 (UTC)
That Bob Hope page is fantastic, and I think it's a great model for what celeb pages should be. The length and level of detail is completely appropriate, because all of the "Hope facts" are tied to his interactions with the Muppets. For example, the discussion of his tribute specials is relevant because of the Muppets' appearances. The article shows Hope and the Muppets as a regular presence in each other's careers in a very effective way. I think we should nominate it for Quality status, and use it as a model for future pages. -- Danny (talk) 19:45, 13 July 2007 (UTC)
Size is everything
I recently put a page together for the Central Wikia site listing the ten biggest wikis on Wikia, in terms of page count. Check it out... -- Danny (talk) 14:21, 6 July 2007 (UTC)
I was surprised to see WoW Wiki above Memory Alpha, but it makes sense after realizing that the WoW Wiki includes articles on individual in-game items. =) I am a bit surprised that Memories Alpha and Beta together still don't match Wookieepedia. (Wookieepedia is naturally larger than Memory Alpha because of differing views on what constitutes canon.) Powers 14:07, 7 July 2007 (UTC)
frequently used templates
Folks may have noticed that there are some templates linked at the bottom of the edit window on each page now. I've seen some having trouble getting all the variables correct when they forget to copy and paste the code from the template page, so I thought this would help out. I've had them linked in Opera's stickynotes for a while so I don't have to go to the template every time to copy and paste, so I thought others who don't have Opera could benefit from the same. —Scott (talk) 23:04, 5 July 2007 (UTC)
3-month experiment
Does anybody know when our 3-month experiment for making people sign in is over? Have we gotten any word about how we're doing? -- Ken (talk) 04:16, 4 July 2007 (UTC)
The three months are up next Monday, July 9th. I'll have to talk to the tech folks to know for sure, but my sense is that it's been really successful. There have been lots of new people -- and best of all, lots of people signing in just to do a couple edits. (That's the thing that people always say is the problem -- that somebody wouldn't bother to sign in just to make one edit. I think we've proven that they will.)
So I'll talk to the folks next week, and see what the results look like. As far as this wiki is concerned, there's no problem at all, and there won't be any change. In fact, if we didn't mention it to anybody, they'd probably forget all about it, and we'd just go on like this forever. The real point of the experiment at this point is to see if I can start expanding it to other wikis on Wikia, and hopefully making it an option that any wiki can use. -- Danny (talk) 23:22, 5 July 2007 (UTC)
Ad blocker interference detected!
Wikia is a free-to-use site that makes money from advertising. We have a modified experience for viewers using ad blockers

Wikia is not accessible if you've made further modifications. Remove the custom ad blocker rule(s) and the page will load as expected.