Archiving discussions from Current events.
Song Template Update
Okay, I know I chimed in that there didn't need to be any additions to the song template, but I really need to revoke that statement. What does everyone think about adding both the publisher of the music and whether it is ASCAP or BMI. Any thoughts? --Nate Radionate 00:46, 20 March 2006 (UTC)
I personally think that might be a bit much. Not to mention a lot of work updating the articles already using the template. -- Scott Scarecroe 01:01, 20 March 2006 (UTC)
I guess the question would be, why would a reader be interested in knowing that? What would they do with that information? -- Danny Toughpigs 01:32, 20 March 2006 (UTC)
Well ASCAP and BMI would be more royality related, and I guess wouldn't have to be included. But the publisher in my opinion is the same as including the publisher and ISBN number for books. To answer Danny's question it might help someone locate sheet music for the song they have found on the wiki. And for that reason I think it should be included. It wouldn't be too hard to update the songs where the templates have been used already. Just a lot of copy and pasting, which is pretty much what I did on a lot of songs earlier when I added the templates the first pass thru. --Nate Radionate 03:33, 21 March 2006 (UTC)
Thing is, which publisher? For one thing, and maybe Scott would know more, is sheet music as easily registered ala ISBN numbers for purchase? More importantly, for the old songs later redone by the Muppets, which have gone through different hands sometimes, which publisher does one list, just the most recent ones? I can see maybe adding a line about sheet music availability if its a very popular or easily available song or whatever, but otherwise? What about samplers, like those Easy Recorder kits which had assorted Muppet sheet music scored just for the recorder? I see what you're saying, but it strikes me as a complex matter perhaps better dealt with through merchandise pages than via template alterations. --Andrew, Aleal 03:38, 21 March 2006 (UTC)
No, I think I understand what Nate means. Isn't there a thing listed on the records that says, like, "Somebody Come and Play (JoRap Music)"? That's not a real example, but it's something like that. -- Danny Toughpigs 03:41, 21 March 2006 (UTC)
Yes. Here's an example: The Witch is In The House is published by Fuzzy Muppet Songs under ASCAP and Mad Muppet Melodies for BMI while Naptime (The Muppets Wizard of Oz) is only published by Mad Muppet Melodies for BMI. Happy Feet is published by Warner Brothers Music Corp, The Muppet Show Theme is published by Muppet Music Inc., Bein' Green by Green Fox Music Inc., Jonico Muisc Inc. and so on and so forth. --Nate Radionate 04:58, 21 March 2006 (UTC)
Just an FYI: There are over 320 pages using the song template which would need to be updated if new fields were added to the template. Fields are dynamic, but only if they're entered and left blank when used on an article. -- Scott Scarecroe 05:04, 21 March 2006 (UTC)
Well, Nate seems pretty revved up about it, and he's offering to do all the work. If it was more work for me, then I'd say no, but if Nate's into it, then I wouldn't object. -- Danny Toughpigs 05:17, 21 March 2006 (UTC)
Work? It's not work. It's the Wiki and it's fun!!! I already went thru all the celebrities twice putting in piddle junk like the wiki links and what not. Then I made a sweep thru Muppet Songs, Sesame Street Songs, etc. and put the templates in a good chunk of those. So I'm not going to gripe about it. Might take me a day or two, but I'm up for it if someone more saavy can fix the template. I've not even begun to try and master creating those yet (if I even am allowed to. I haven't a clue!) --Nate Radionate 21:55, 21 March 2006 (UTC)
Well, if you want to fix it all yourself, then we might as well fiddle. You're certainly allowed to mess with a template, but it does take practice. Basically, though, it's a good idea to just study the code used and just experiment on the sandbox (that's how I leanred, and I'm *still* learning, though Scott explained dynamic fields to me). So let's be clear. You want "publisher=", which is easy, but what about the ASCAP or BMI? If you still want to include that, how the heck should it be labeled? I.e. "blank=BMI"? And any other thoughts? Since it's easier to make additions and fix them now if you plan to redo them all then to go through this again. --Andrew, Aleal 22:04, 21 March 2006 (UTC)
Let me have awhile to think about it. I'm about to be gone from a computer until tomorrow most likely. I'm thinking BMI and ASCAP aren't really relevant here. So Publisher is a must addition. I really can't think of anything else though. But I call a time out until tomorrow on it. If that's acceptible. :) --Nate Radionate 22:10, 21 March 2006 (UTC)
Hey, I won't have time to really mess with it until Thursday evening anyway, so sure. --Andrew, Aleal 22:16, 21 March 2006 (UTC)
Sesame Encyclopedia
I asked Warrick if it would be okay for us to take the pictures and info from his site, The Sesame Street Encyclopedia. He said that was cool, as long as we link back to the Encyclopedia on those pages. So there's a lot of great stuff there that we can use now! Thanks, Warrick! -- Danny Toughpigs 21:59, 19 March 2006 (UTC)
That's cool! It'll be good to add lots more!Warrick 22:21, 19 March 2006 (UTC)
Anything Muppet Renaming
Not to brush aside the voting issues, but for the record, the Tall Orange Anything Muppet has been renamed Pumpkin, in accordance with the official designation from a 1979 CTW character guide, found by Scott, and illustrated on the page. See Talk:Pumpkin for the discussion. Gradually, an attempt will be made to correct the designation on pages, and I believe Scott has some other official designations to add, so more changes may come. Just a heads up so we're all on the same page. --Andrew, Aleal 20:21, 19 March 2006 (UTC)
Main Page Redesign: Revote (Nominations and Voting)
I think we are all in agreement that we should vote on this again. So I started a page for the revote (Vote: Main Page Redesign Revote). Voting has not opened yet, but nominations have. I already nominated what seems like the popular voting options (hopefully someone will come along second them). If you have anymore ballot options add them now (and get someone to second you). I think that once we have a list of nominations (that are seconded) we should open the vote up. Hopefully after that we will have a clear and fair decision made on the issue. Check out: Vote: Main Page Redesign Revote – BradFraggle 04:00, 17 March 2006 (UTC)
I like the revisions. It builds on Brad's framework but is more specific, especially about things like the percentages. It may require more than one vote in some situations, but I think it will help keep the community from fighting in a really close vote.
However, I think nominations and voting should only be allowed between Monday and Friday, since some people aren't as readily available on weekends.
So, let's keep this discussion open for a couple of days or even a week until we think we have a solid enough policy before we use it to vote on anything. We can obviously always change it later if it's not working.--Pantalones 21:13, 17 March 2006 (UTC)
Main Page Redesign vote: A split decision
I closed the vote on Vote: Main Page Redesign. The vote page said: "Voting... will go on until there's a clear decision. If there's a strong division, we'll close the vote and discuss it further." I think the results warrant more discussion.
The two options were Main Page 2 colors and Main Page 4 colors, and more than a third of the votes were cast for "I hate them both". The write-in votes went back and forth a little, with a few people either changing their write-in or suggesting multiple options. It's impossible to come up with a clean breakdown of the votes, but here's a quick and dirty interpretation, for the sake of discussion:
7 votes for Main Page 4 colors
4 votes for Main Page 2 colors
2 votes for Main Page 1 color off-white (an alternative that I posted as the vote was going on)
2 votes for keeping the page as it is
Main Page 4 colors got the most votes, but 7 out of 17 votes isn't exactly a mandate. So at this point, I think we should discuss how to resolve the question. Peter and I were talking this afternoon about how mixed the vote was, so we tried out some alternatives -- Main Page 1 color off-white, Main Page 1 color cream, Main Page no color and Main Page 1 color green. One possibility is to talk some more, narrow the field down again, see if we can come up with a broad agreement about the options, and do another vote. There are other possibilities, including going with the page that got the most votes. What do you guys think? -- Danny Toughpigs 01:46, 16 March 2006 (UTC)
I'm up for another vote. I really loathed the two that were chosen to be voted on. Passionately. We don't need flashy colors jumping out on the main page. The information is what's important. Hopefully presented in a neat and accessible manner. Constructively, there were just too many other better options coming up during the voting process to make for a successful outcome. Main Page 1 color off-white makes the most sense given that objective. -- Scott Scarecroe 02:33, 16 March 2006 (UTC)
In the past voting I voted for the four-colors. I was not opposed to having two colors or just one color per say, but I just dislike the only two-color suggestion. (The cream and purple combo just rubbed me the wrong way - especially that "cream" yellow). I do think we need to change the main page's design from what it currently is to make the page "pop" more and stand out as "the main page!" Currently at a glance the main page looks just like every other article on the wiki. It is nothing special but it should be. It needs to say "welcome, this is the main page of our wiki; this page is special, different and somewhat important!" But at the same time it can't be sense-overload, distracting and tasteless. I like the proposed design layout and form, but finding the right color (or lack of color) combos is a harder task (especially with everyone's personal preferences). Out of all the earlier suggestions I like the 4-color version - all the proposed colors are nice look nice together. But I am really starting to like the new Main Page 1 color off-white as it seems more in line with this wiki's style. Its nice and simple. And it goes with every season, mainpage picture, and personal preference. Yet it still makes the page "pop" and is user friendly. If the vote was up again I would go with the new off-white design. I think we should discuss it again, nominate design suggestions, re-vote and hope one to get a clear majority (like 51%+). – BradFraggle 02:55, 16 March 2006 (UTC)
It seems like Main Page 1 color off-white is a popular choice -- I like it too. I voted for the 2 color, Brad voted for 4 color, and Scott voted for hating them both, so the off-white is stealing votes from all three categories. I propose putting up another vote -- the off-white and the 4 color, with no third option this time. Does anyone have a different idea? -- Danny Toughpigs 04:37, 16 March 2006 (UTC)
I was just thinking that some kind of voting procedure for things like this (or any other group decisions) on the wiki might be helpful. Such as when an issue arises we have discussion of the issue until we reach a point for voting (most times things are resolved without needing a formal vote). If a vote is needed, and if the decision warrants it, a nomination period for voting options should be open for a period for people to add their candidate to the vote page (many votes may not need nominations for ballot options, but ones like this might). And than after the vote page is all ready and nominations closed, we open up the voting. I also think that upfront we should also set a "polls close" time, and what constitute a "win" (just the most votes? a certain percentage of votes? Is there a minimum number of voters needed to be considered a valid vote? What?). All the rules guiding the certain vote should be laid out ahead of time and followed. I think a procedure like that may help with voting situations in the future, keeping it clear, simple and fair for everyone. – BradFraggle 04:45, 16 March 2006 (UTC)
That's a good point -- we're sort of figuring out this process as we go. This is the second vote we've done, and the first one was really easy, with obvious results. This one is difficult to figure out. -- Danny Toughpigs 13:21, 16 March 2006 (UTC)
That is a good point. The voting process for this was very unclear to me. I was confused by what was nominated and who did the nominating. There should also be a clear understanding to everyone as to how long the vote will run. Brad, you have some good ideas on the subject, would you be willing to write up a policy on a voting procedure? -- Scott Scarecroe 14:40, 16 March 2006 (UTC)
Yeah, I think it's a good idea to have a policy about it. The Dinosaurs vote was so easy, I thought they would all be like that.
If it helps, I'll explain how the process went. We had a discussion on Talk:Main Page for about three days, from Monday to Wednesday, trying out different designs. It was mostly Brad, Peter, Andrew and me, posting stuff and building on each other's ideas. It seemed like we had some general agreement between the four of us about the direction we were going in. Late on Wednesday, I was talking to Peter on IM, and asked how he thought we could get an actual decision made about it. We decided to try out a vote, and we picked the two versions that seemed to have the most support. Except for the final bit of that conversation, everything that happened was on the talk page.
Obviously, there were a lot of people who hadn't participated in the redesign conversation -- and we went back and forth with so many different versions that I knew it was hard for people to keep up with it. That's why I put up the "I hate them both" option, so that people who hadn't been part of the conversation could suggest other ideas. I hadn't expected so many people to vote for "I hate them both", but now that I see it, I'm really glad it was there -- it showed that there were some strong concerns about the direction we were going, and it gave us the opportunity to pull back and rethink.
If I'd thought to specify a time that the polls would close, I probably would have said 24 hours. As it happened, the vote was open for about 28 hours. I kept the polls open for a while because I wanted to make sure that all the active contributors got a chance to vote. About halfway through, I posted on the talk page of all of the active folks who hadn't voted yet, asking them to come and vote.
When I closed the vote, I posted here, asking for more ideas and opinions about it. I'm actually a little surprised that there hasn't been much discussion here yet. I don't know what to think about that. It makes me worry that people are disappointed or upset, but I don't know what to do. It seems like you guys (Scott and Brad) aren't happy with the way the process went. Do you feel like I jumped the gun on some of these steps? -- Danny Toughpigs 20:35, 16 March 2006 (UTC)

I'd say discussion of the vote should continue here, but further discussions about the redesign should go back to Talk:Main Page. --Erik Ebrowne 20:56, 16 March 2006 (UTC)

Yeah, I knew there was a redesign conversation going on, but it was so quickly moving with several alternates popping up, I didn't have a chance to keep up with it. Then, before I knew it, a vote was being called for when I didn't know there had been a nomination process. If we put this to a vote again, we should all get a chance to nominate and vote on everyone's choices. -- Scott Scarecroe 20:58, 16 March 2006 (UTC)

So, how about every registered user gets one nomination and every nomination needs a second from a registered user? And only registered users get to vote.--Pantalones 21:03, 16 March 2006 (UTC)

Discussions can be ongoing. I've found that often it is necessary to go for several days until it is clear that all people's viewpoints have been fully developed, and even then people will come back and add another bit. Fortunately, there is always more time on a wiki, and room for more changes. Laurence --GreenReaper(talk) 21:40, 16 March 2006 (UTC)
I did a fast first pass on a Muppet Wiki Vote Page policy based on what people have been suggesting here. Feel free to add to it and clean it up. -- BradFraggle 00:46, 17 March 2006 (UTC)
Hey, that's really good. Very thorough. I wonder if it might be a bit long though. Anyone? -- Scott Scarecroe 01:23, 17 March 2006 (UTC)
Wow, I just got back, and things really kept moving on this! I like the vote page policy. It's a bit wordy, but more is better than not enough to my mind. As for the voting results themselves, I'd have voted for the four colors or the off-white. I don't care for the two color combination as it stands, and it seems most variations on that scheme suffer from one or the other color dominating too much. So, do we start a new voting page, or rather a nomination page, or just toss out our ideas here? It might be too soon even for that, though, as a lot of the suggestions for variations do't actually exist yet, so there needs to be time for more experimentation, and perhaps a clearer statement that for now, pretty much all experimentation and creation of new pages (short of one person creating 10 versions on separate pages, perhaps) is encouraged, for demonstration and voting/nomination purposes, as long as nothing is implemented on the actual main page prior to the results of a second vote. --Andrew, Aleal 03:48, 17 March 2006 (UTC)
I did a rewrite on the Muppet Wiki Vote Page policy, and clarified some things, like how to determine results. What do people think? -- Danny Toughpigs 21:01, 17 March 2006 (UTC)
Walk-around characters
I think it would be fun to have a page for each of the puppet/costumes that have been used to represent Muppet and Sesame characters in the theme parks and stage shows. I have pictures from Days of Swine and Roses and other Disney World walk-arounds, and it would be fun to see the Sesame Street Live and Sesame Place characters too.
My question is: What do I call those pages, and what category do they go in? We have a Stage Show Characters category, which could be used for Sesame Street Live and the Disney World shows. If it was entirely up to me, I'd put the theme park walk-around characters in there too, but I'm not sure everybody would agree with that. Also, do you call the article "Cookie Monster (walk-around)"? "Cookie Monster (stage show)"? Or what?
I'm gonna start making some pages, just cause I feel like doing it right now, but I'll be happy to change the titles and categories whenever we figure out how to do it. -- Danny Toughpigs 17:32, 18 March 2006 (UTC)
I think it should be Miss Piggy (full body). We don't need separate pages for Miss Piggy (Swine and Roses) and Miss Piggy (Here Come the Muppets), Miss Piggy (Disney World Walk-Arounds), Miss Piggy (The Muppet Show On Tour), Miss Piggy (The Muppet Show On Tour: 2nd Edition) and so on and so on. Just one page with a listing of the different costumes should be enough. I would call it Miss Piggy (stage show) except that doesn't cover walk-arounds. -- Scott Scarecroe 18:47, 18 March 2006 (UTC)
I dunno, I kind of like the idea of having all those different pages. Why not? It doesn't hurt anybody. -- Danny Toughpigs 19:35, 18 March 2006 (UTC)
I dunno, it just kinda seems like creating a different page for Kermit the character who's dad is also Fozzie's dad that Kermit the actor performs in Great Muppet Caper. -- Scott Scarecroe 19:51, 18 March 2006 (UTC)
You know better than to say something like that around here! :) -- Danny Toughpigs 21:02, 18 March 2006 (UTC)
I would love to create pages for the separate Kermits who appear in each movie, but we had discussion about that somewhere. I think we decided that Gonzo from Muppet Treasure Island and Gonzo the Great didn't need separate pages. But if we're up for it, I'm all over a separate page! -- Scott Scarecroe 22:56, 18 March 2006 (UTC)
I'm all about this too, as I also have pictures of a bunch of the stage show characters from Sesame Street Live, Muppets Babies Live, and The Muppet Show on Tour. I love the idea!! --Nate Radionate 02:07, 19 March 2006 (UTC)
Excellent! Bring 'em on, baby. -- Danny Toughpigs 02:27, 19 March 2006 (UTC)
Text separator
I'm trying to figure out how to do something here, and unfortunately, I don't know what the thing I'm trying to do is called. So here's the best I can do.
I want to have a little design that we can use to separate blocks of text. On the quote pages, we need something to separate the quotes, but the full line that we're using looks rotten. (See Quotes: The Muppet Movie for an example.) We could also use a separator on pages like Pigs in Space, where it would be nice to visually separate the blocks of text in that list.
So what I'd like is a little line that could be in the center of the page, with like a little curlicue or something on it to make it a design. I'm posting a really lame homemade example so you know what I'm talking about: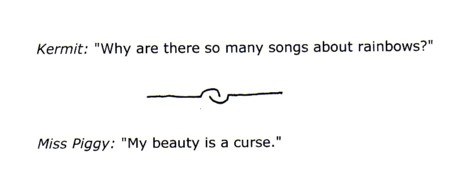 Does anybody know what this is called, or how we could make one? I don't think it's part of the wiki software, so it's probably something we'd have to import as an image. Can anyone help? -- Danny Toughpigs 17:46, 17 March 2006 (UTC)
How's this for a first draft?

-- Scott Scarecroe 18:54, 17 March 2006 (UTC)
PS: In HTML, it's called a Horizontal Rule. -- Scott Scarecroe 19:00, 17 March 2006 (UTC)
Cool, I'm glad to know what it's called now! And thanks for coming up with a version. It doesn't necessarily have to have that shape; I just wanted to give the general idea of what I was looking for. I'm gonna look around and see if I can find any online.
Hey, I figured out how to make one! I found a web tutorial page with the codes.
This'll do a plain one -- <center><hr width=10% size=2></center> -- that looks like this:
---
We could make that a template. It would be nice if we could have something that looks better, but that's a lot better than the rule that goes all the way across. -- Danny Toughpigs 19:54, 17 March 2006 (UTC)
I was going to suggest that, but I figured that's what you thought looked bad. I'm proud of you for learning more HTML though -- Scott Scarecroe 20:19, 17 March 2006 (UTC)
No, that's fine with me. I just didn't like the one that went all the way across. And yeah, I know how to do this now, but I didn't actually learn any HTML. I held my breath the whole time! -- Danny Toughpigs 20:59, 17 March 2006 (UTC)
So I tried it out on Quotes: The Muppet Movie. Do you think that looks okay? -- Danny Toughpigs 21:19, 17 March 2006 (UTC)
For me, I think it may be just a bit much space, but otherwise it looks pretty good. Agent0042 04:47, 18 March 2006 (UTC)
Yeah, it is too much space. It still doesn't look right. It's better, but it's not right yet. -- Danny Toughpigs 05:04, 18 March 2006 (UTC)
Muppet and Sesame Albums article titles
When we first started the wiki, we put (LP) and (CD) on all of the article titles for Muppet and Sesame Albums. I don't remember the rationale for it at the time, but now it seems messy to me. It makes sense to have them for instances where there's an LP and a CD that are different -- for example, C is for Cookie (LP) has a different track listing than C is for Cookie (CD), and they're really different albums. But we've already got articles like Born To Add (LP/CD) that include both releases on the same page, and an album like Muppet Hits doesn't really need the (CD) tag. What do people think about taking those off, except in cases like C is for Cookie, where they're needed to distinguish between two different albums with the same name? -- Danny Toughpigs 15:02, 15 March 2006 (UTC)
I vote for taking them off. Unless you have to distinguish between, for example, the song and the character. Or the song, CD, and Video release (Put Down The Duckie). --Nate Radionate 15:49, 15 March 2006 (UTC)

I vote that we take them off any album that isn't a disambiguation. Soundtracks can still have this tag. --Minor muppetz 00:53, 16 March 2006 (UTC)

Okay, there doesn't seem to be any disagreement to this, so let's take the tags off. -- Danny Toughpigs 01:28, 16 March 2006 (UTC)
Vote for the Main Page redesign
Following the discussion on Talk:Main Page, we've come up with a redesign, and now we're voting for which colors to use. Join in on Vote: Main Page Redesign! -- Danny Toughpigs 21:14, 14 March 2006 (UTC)
Sesame Street Book Series
I started making lists of Sesame Street Book Series and putting them in one category. In my opinion, "Random House PICTUREBACK Books" and "Step Into Reading" series are lists of items which belong in the "Sesame Street Books" category. I don't think we need separate categories for "Sesame Street Book Club" and "Little Golden Books" when they're already in the "Sesame Street Books" or "Muppet Babies Books" categories. If other people do, then the lists in Sesame Street Book Series should become categories a well. -- Scott Scarecroe 18:08, 12 March 2006 (UTC)
I think it makes sense to have the SSBooks category have one type of item. It's a category of Books, so each item in the category is a book. Lists of book series is a different type of article.
My basic principle is that categories are a navigation tool. If I'm reading an article, I should be able to click on the category and browse through other examples of that type. So for any given category, we should be able to imagine how a reader would use that category, and we should make sure that the category is consistent and easy to use.
I made the Little Golden Books category because I thought it would be a useful collection of articles. People dig the LGBs, so it's useful to be able to see in one category what all the LGBs are. I think the same is true for Sesame Street Book Club. They're subsets of the Books category, the same way that Muppet Monsters is a useful subset of Muppet Characters.
If you want to create categories for "PICTUREBACK Books" and "Step Into Reading" books, then that's cool. Like you said, it would make those consistent with the LGBs and Book Club books. -- Danny Toughpigs 18:24, 12 March 2006 (UTC)

It doesn't matter to me so long as we're consistent. I'm going to go ahead and make categories for My Sesame Street Home Video (label), the Sesame Street Kids' Guide to Life series, Playhouse Video, Muppet Sing Alongs and Play-Along Video as well. -- Scott Scarecroe 21:47, 13 March 2006 (UTC)

Cool. -- Danny Toughpigs 22:18, 13 March 2006 (UTC)
Main Page redesign
Andrew advised me that I should make a note of my suggested redesign of the Main Page - here is the discussion. --GreenReaper(talk) 22:54, 11 March 2006 (UTC)
Song Template
Nate suggested this awhile back, but there is now a rough attempt at a Song Template. So far, it's been used in "Two Lost Souls". So suggestions for field changes and experimentation welcome! --Andrew, Aleal 19:23, 11 March 2006 (UTC)
Might be a dumb question, but if there is a page created for the lyricist or composer, will it automatically link? Or do we need to link it? --NateRadionate 19:50, 11 March 2006 (UTC)

It's in the template page description. Like the books template, you have to link it. This makes it easier to add more than one name, and in some cases, it might be debatable whether linking is even needed, if the composer only wrote one song for a 1926 musical which was used in one Muppet sketch, though I wouldn't be surprised if you were to create pages for all of them, Nate. Though you disappointed me on William Shakespeare! --Andrew, Aleal 19:53, 11 March 2006 (UTC)

Oh give me time my friend. I'm all over Shakespeare, but I got a little distracted with work and buying a new car the last two weeks, so the Wiki took the hit from my free time. Just you watch and see!!! --Nate Radionate 20:17, 11 March 2006 (UTC)

By the way, I gave the template a thumbs up, and went ahead and applied it to most songs I could in the Muppet Songs catagory. I'll hit Sesame Street up tonight if I'm bored. --Nate Radionate 01:04, 14 March 2006 (UTC)
Kermitage Character Guide
On talk pages for certain characters and "Name That Puppet", I've seen some discussion about whether the Kermitage character guide is an adequate source or not... I say, it's not. I made it myself about four years ago, as a sort of crazy fan project to keep myself busy, long before there was a Wiki. Mike and Mar asked me if they could use it for Kermitage, and Mike added the photos; the reason why not every character is represented (and my list got edited) is because some characters were too difficult to get high quality photos of. Anyways, fans learn a lot in four years, and if I were in charge of the Kermitage character guide, there's about fifteen dozen incorrect performer names, episode references, character names and trivia that I would love to correct myself on! -- Jog 11:56, 9 March 2006 (UTC) Jog
I didn't know you made that! I was under the impression that they got stuff from official Henson files. I'm glad you said that -- I'd wondered about some of the mistakes. Still, it was a great job for four years ago! And hooray for the wiki, where we can correct old mistakes. -- Danny Toughpigs 13:34, 9 March 2006 (UTC)
Addressing the Reader
I've seen a bunch of articles addressing the reader with "you" or "we", and they kind of rubs me the wrong way. This is sopused to be neutral and addressing the audience or including the writer as part of the audience seems odd. I've been changing the wording to remove the we's and you's as I came across it, but I saw a lot more today, and decided to bring it up to the community to discus and be aware of. I personally thing the you/we language should not be used in the Wiki (except in direct quotes, member discussions, or unforeseen exceptions). But below are some examples of what I'm talking about that I ran across today, and below them are just a simple revisions on how the you/we can be avoided.
"He was redesigned in Season 4, gaining white eyes, eyelids, and eyelashes, making him the Mr. Snuffleupagus we know today." (Mr. Snuffleupagus)
gaining white eyes, eyelids, and eyelashes, making him resemble the Mr. Snuffleupagus used today
she is only ever shown from behind
This is the only time Yorick's hands are seen
"…he showcases his happy feet, even though we never see his feet during this dance number" (Happy Feet)
he showcases his happy feet, even though his feet are never shown during this dance number
He can be seen sitting in the foreground"
upon close inspection, he can be seen him mugging and reacting to practically every line of dialogue
How do others feel about this whole audience addressing writing style on the Wiki? Should "we" and "you" not be used, or am I just over reacting and be anal? – BradFraggle 07:06, 8 March 2006 (UTC)
I agree with you completely, and I've tried to re-write those whenever possible. Usually, something like "viewers can see" or "one may notice" or something like that strikes me as a sufficient substitute, or a rewrite, as you've done in your examples, i.e. "upon closer inspection" or "blank and blank is visible." --Andrew, Aleal 14:07, 8 March 2006 (UTC)
I agree too. I'm glad you fixed all those! It's a fact of wiki life that people are going to be adding to pages who don't necessarily have a lot of writing experience. We want to encourage people to add information, even if it's not that polished. So then we come along and polish it later, like you have! -- Danny Toughpigs 14:33, 8 March 2006 (UTC)
If this is a common occurance from regular contributors, it wouldn't be a bad idea to bring it up on their talk page. This has become a concern for certain users not italiciizing and not capitalizing the word Muppet. -- Scott Scarecroe 19:39, 8 March 2006 (UTC)
I may be a bit guilty of it on some of the information I've added for Bear in the Big Blue House and if so, I apologize, as I do know better. Of course, I could, and might, argue a little that Bear is one of those audience interaction shows where by concept the viewer is considered a part of the show. Therefore, terms such as "us" or "we" could be considered appropriate. I guess what I may be trying to say is that to the degree that the program encourages viewer interaction with the show, it may sometimes be okay. But I agree it's a fine line. Agent0042 00:36, 9 March 2006 (UTC)

I disagree, though I understand your point. I reworded Bear for that reason. I admit, "Bear thinks you smell good" is an amusing sentence, but feels out of place in an encyclopedia. An alternative would be to use quotes, i.e. "Bear frequently greets television viewers with an appreciative 'You smell good'." The viewer and the encyclopedia reader are not always one and the same and should not be conflated or addressed in the same way (I lack cable, so I've seen maybe 15 minutes of Bear back in 1997, so I don't know if he likes my scent or thinks I need a new deoderant). Big Bag also often addressed the viewers directly, many book-and-tapes have the "You can read along with us" element, Sesame Street has the traditional welcome to the viewer and the "Brought to you today" closing, and even The Muppet Show has the "We'll see you next time." It's a slippery slope, and can be easily avoided by either just using "the viewers," something like Brad suggested, or quoting the direct addresses by Bear or others when and as appropriate. --Andrew, Aleal 00:49, 9 March 2006 (UTC)

Right, I'll keep that in mind. And sometimes some of the information I post is copied directly from what I write for TV.com, so I'll make sure to pay more attention to such issues when transferring it over. Agent0042 03:12, 9 March 2006 (UTC)

I reworded the bit of trivia regarding Mr. Snuffleupagus' change in appearance, though I didn't say that he was rebuilt in season four to be the Snuffleupagus we know today, because I figure he's probably been rebuilt since then. --Minor muppetz 00:24, 10 March 2006 (UTC)
Date links
Hey everybody: The Timeline pages are in good shape now, so feel free to start linking to them -- any year mentioned in an article can be a link! -- Danny Toughpigs 17:14, 7 March 2006 (UTC)
I noticed the timelines yesterday when I was browsing through the recent changes. Neat stuff. I'll keep them in mind. Agent0042 00:10, 8 March 2006 (UTC)
Ever consider day links? i.e. "this day in Muppet history", Muppet birthdays, etc. -- user:zanimum
Muppet
Don't forget to capitalize it! -- Scarecroe 19:37, 6 March 2006 (UTC)
DVD Template
I started a template for DVDs. I put it on The Muppet Show: Season One, The Muppet Movie and Where It All Began as a test. Since fields are dynamic and whatnot more fields can be added to it if their any suggestions or ideas for fields or format. Anyone got any ideas before I go around adding it and cleaning up all the DVD pages to include it? -- BradFraggle 17:43, 4 March 2006 (UTC)
Hmmm. How about languages? As a changing field rather than permanent like Scott did with the books, as we add more international merchandise, and since some overseas DVDs include English and the language of that country, but that's just a random idea. I like the template, though, especially the Region and disc number sections. --Andrew, Aleal 17:47, 4 March 2006 (UTC)

I was just thinking that for the TV-Shows on DVDs it might be cool to have a number of episodes or something. -- BradFraggle 18:25, 4 March 2006 (UTC)

I like that. Maybe a brief note, for non-season sets, which seasons are spanned, since indvidual releases sometimes jump around? Though that might be obvious if there's an episode listing in the entry, but it may be good info to have handy at a glance. --Andrew, Aleal 18:53, 4 March 2006 (UTC)
Book template expansion
Okay, so I want to expand the Book Template to include page numbers and photographer credits. Fields are dynamic now, so if a book doesn't have info for the number of pages it has, it won't show up in the article. However, without a blank entry for "pages=" on all the articles that use the template, it won't work right. So I was going to go through all 188 pages that use it and add the extra fields. But I don't want to do that until I know we don't have any other fields we want added. Scott, Scarecroe 17:32, 2 March 2006 (UTC)
Well, they may need a separate template for themselves if it's easier, but many of the non-fiction books, like The Art of the Muppets, or even Miss Piggy's Guide to Life, have rather long credit lists, which almost invariably include at least one editor, and often an art director in addition to individual photographers or artists. I think Sesame Street Treasury and the like may have had project editors and such as well. --Andrew, Aleal 17:36, 2 March 2006 (UTC)
Ad blocker interference detected!
Wikia is a free-to-use site that makes money from advertising. We have a modified experience for viewers using ad blockers

Wikia is not accessible if you've made further modifications. Remove the custom ad blocker rule(s) and the page will load as expected.