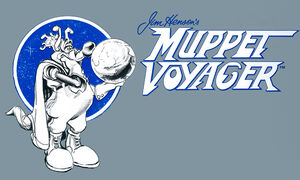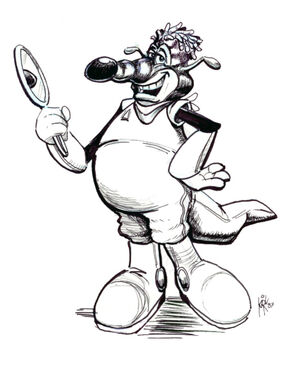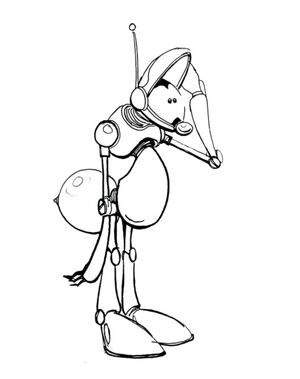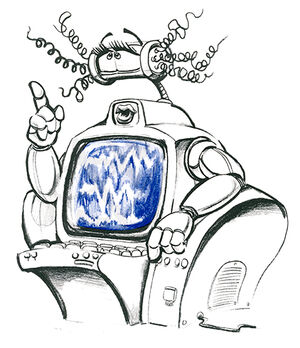 A 1988 article in Channels, a magazine for the television industry, mentioned an international Muppet project: "There are children in the world who have never heard of the Muppets, in China, Africa, India and the Soviet Union, and Henson is excited about reaching audiences in those countries. One project in development, Muppet Voyager, could serve as a vehicle for reaching some of them. It would shoot in a different country every week."[1]
Henson wrote the proposal for IBM Europe while in France during the first weekend of March 1986.[2] Character designs for Muppet Voyager were completed by Kirk Thatcher in 1987.
According to the Henson Company archivist:
"

Jim [Henson] felt it would be possible to create a series underlining the one-world concept. By taking the perspective of creatures looking at earth from the outside, viewers around the globe would be instilled with the idea that there are more similarities than differences among the inhabitants of the varied places of our world. To achieve this, Jim and his team proposed a series where each episode would feature the Muppet Voyagers visiting a different country and reporting back the customs and cultures to their home planet. Having last visited in the age of the dinosaurs, the Voyagers found much to share. Each episode was to be created as a co-production with a local production company and broadcaster, much like the international versions of Sesame Street. Muppet Voyager would require, as the proposal noted, "...a world-wide network of co-producers." The Henson coordination and interior scenes shoots would be London-based, while the location sections would be shot in each participating country.

Jim and his team saw the Muppet Voyagers, led by Commander Horseflash, as an intergalactic documentary film crew, transmitting their findings back home at the end of each show. While they could see a difference between a human and a car, for example, they could not distinguish between different nationalities or races. Their experience and point of view would show that our planet is small and that, "We're all in this together." And as noted by the creative team in their pitch to IBM, even the production process would have demonstrated that we "..can work together to create positive international programming.[3]"
A sketch from the Archives (right) features a concept for a robot character with the following description:
"

MIRM: THE ON-BOARD COMPUTER
Mirm, like her Mirm and her Mirm before her, is physically attached tot he space-dinghy. Here she sits, directing expeditions and collecting and collating data. Mirm is efficient, energetic, academic, logical to a fault and loves to analyze data more than anything else in the universe.[4]

"
Sources
Ad blocker interference detected!
Wikia is a free-to-use site that makes money from advertising. We have a modified experience for viewers using ad blockers

Wikia is not accessible if you've made further modifications. Remove the custom ad blocker rule(s) and the page will load as expected.