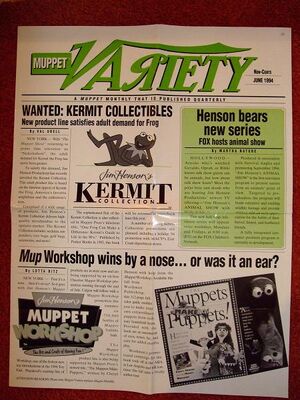 Muppet Variety was the "in-house" newsletter for Jim Henson Productions. Muppet Variety, "A Muppet Monthly published Quarterly", replaced the Muppet Monthly newsletter in June 1994.
Muppet Variety contained information on new productions, merchandise, promotions and TV programs currently on air.
The style of the newletter was a take-off of the industry magazine, Variety.
Ad blocker interference detected!
Wikia is a free-to-use site that makes money from advertising. We have a modified experience for viewers using ad blockers

Wikia is not accessible if you've made further modifications. Remove the custom ad blocker rule(s) and the page will load as expected.