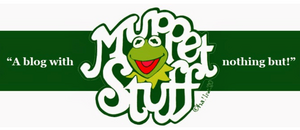 Muppet Stuff is a Muppet fan website. Launched on April 24, 2012 by Chris Stulz for Muppet fans looking for information about Muppet and Jim Henson related merchandise. The site hosts articles about upcoming products, news stories, product and production reviews, and videos from Chris's collection dubbed "The Muppet Stuff Museum."
The blog's title and slogan "A blog with nothing but!" references the Muppet Stuff stores, while also using the store's logo.
External links
Ad blocker interference detected!
Wikia is a free-to-use site that makes money from advertising. We have a modified experience for viewers using ad blockers

Wikia is not accessible if you've made further modifications. Remove the custom ad blocker rule(s) and the page will load as expected.