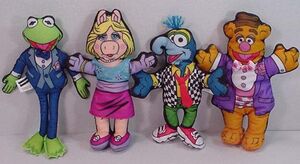 In 1998, Blockbuster video stores offered 4 Muppet fabric dolls. These pillow-style dolls are dressed up for opening night. The set includes Kermit in a blue tuxedo, Miss Piggy in a removable tank top and mini-skirt, Gonzo in a black and white checkered jacket and red tie, and Fozzie in a purple coat with a pink polka-dot bow tie and cummerbund.
Ad blocker interference detected!
Wikia is a free-to-use site that makes money from advertising. We have a modified experience for viewers using ad blockers

Wikia is not accessible if you've made further modifications. Remove the custom ad blocker rule(s) and the page will load as expected.