A set of six PVC figures featuring the Muppets as characters from Star Wars was released at the Walt Disney World theme park for their annual Star Wars Weekends in July 2008. The set was also sold at the Disneyland Resort. The set includes the following:
A set of Disney pins based on the designs of these figures was released in 2010, and also include Link Hogthrob as Han Solo, Dr. Bunsen Honeydew as R2-D2, Sam the Eagle as Ben Kenobi, and Animal as a Tusken Raider.
Trivia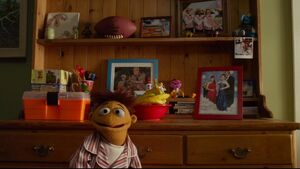 See also
Ad blocker interference detected!
Wikia is a free-to-use site that makes money from advertising. We have a modified experience for viewers using ad blockers

Wikia is not accessible if you've made further modifications. Remove the custom ad blocker rule(s) and the page will load as expected.