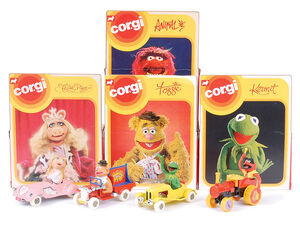 In 1979, Corgi International produced a series of four Muppet Show die-cast vehicles, featuring Kermit the Frog, Miss Piggy, Fozzie Bear and Animal.
Corgi reissued the series using slightly different molds in 2002.
Multiple lots of or including these toys have sold at auction at Christie's.
In 2000, Corgi produced a second set of eight Muppet die-cast cars for a promotion called "Muppets on Wheels" at Little Chef restaurants in the UK.
1979 cars
Ad blocker interference detected!
Wikia is a free-to-use site that makes money from advertising. We have a modified experience for viewers using ad blockers

Wikia is not accessible if you've made further modifications. Remove the custom ad blocker rule(s) and the page will load as expected.