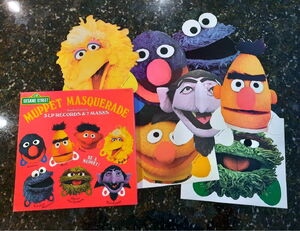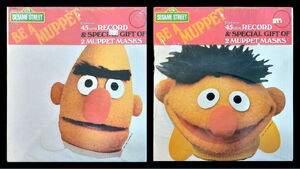 Muppet Masquerade is a 3-LP set of Sesame Street songs from the first nine years of the show. The set also includes cardboard masks of Ernie, Bert, Big Bird, Grover, Oscar the Grouch, Count von Count and Cookie Monster. Each character gets a side's worth of songs (except for Ernie and Bert, who share Side One of Record One). The listener can put on the masks and, as the front cover suggests, "Be a Muppet!"
Record One
Side Two, Count von Count
Record Two
Side One, Big Bird
Side Two, Oscar the Grouch
Record Three
Side One, Cookie Monster
Side Two, Grover
See also
Ad blocker interference detected!
Wikia is a free-to-use site that makes money from advertising. We have a modified experience for viewers using ad blockers

Wikia is not accessible if you've made further modifications. Remove the custom ad blocker rule(s) and the page will load as expected.