Ad blocker interference detected!
Wikia is a free-to-use site that makes money from advertising. We have a modified experience for viewers using ad blockers

Wikia is not accessible if you've made further modifications. Remove the custom ad blocker rule(s) and the page will load as expected.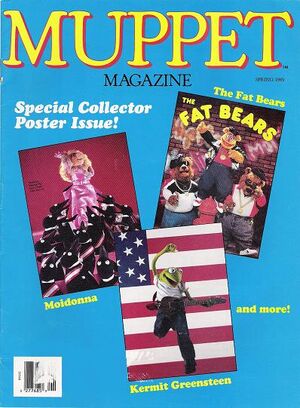 Issue #26: Spring 1989 (Final Issue)
Cover: "Special Collector Poster Issue!" (Kermit as Kermit Greensteen, Miss Piggy as Moidonna, Fozzie Bear and Bears as The Fat Bears)
Kermit and Piggy in "Nerdy Dancing"
Kermit as "Crocodile Kermie"
Fozzie and Bears as "The Fat Bears"
Kermit in "He-Frog and the Muppets of the Universe"
Kermit as "Kermit Greensteen"
Instead of receiving a Summer issue of Muppet Magazine, subscriptions were filled out with issues of ALF Magazine, and notification came only from a wrapper over the Summer issue of Alf Magazine.