Ad blocker interference detected!
Wikia is a free-to-use site that makes money from advertising. We have a modified experience for viewers using ad blockers

Wikia is not accessible if you've made further modifications. Remove the custom ad blocker rule(s) and the page will load as expected.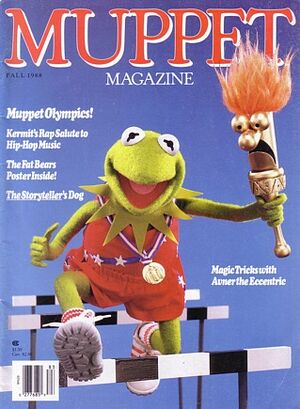 Issue #24: Fall 1988
Cover: "Muppet Olympics!" (Kermit, Beaker as the Olympic torch)
"Grandmaster Frog's Salute to Hip-Hop": Kermit raps a tribute to hip-hop
"Avner the Eccentric presents Cafeteria Table Tricks": Fozzie Bear interviews clown Avner the Eccentric
"The Muppet Mailbag," "Miss Piggy's Advice," "Gonzo's Weirder Than Me," "Ask Dr. Honeydew," "Rowlf On Books," "Coming Attractions," "Floyd's Record Rap"