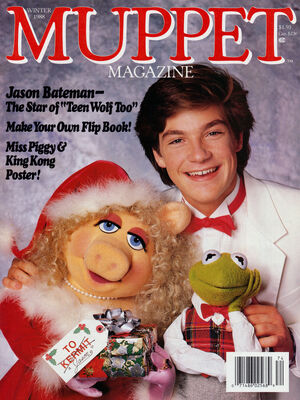 Issue #21: Winter 1988
Cover: "Jason Bateman -- The Star of Teen Wolf Too" (Jason Bateman, Kermit, Miss Piggy)
"Clowning Around with Bill Irwin": Kermit interviews Bill Irwin
"Miss Piggy in Hollywood: Behind-the-Scenes at the Universal Studios Tour"
"The Origin of the Olympics": Three-page comic strip
"Jason Bateman & Fozzie in Bear Wolf Too!": Fozzie interviews Jason Bateman
"Origin of the Olympics!": Comic featuring the Muppets' verision of how the Olympic Games began.
"Mondo Muppet": Relatives
"The Muppet Mailbag," "Miss Piggy's Advice," "Gonzo's Weirder Than Me," "Ask Dr. Honeydew," "Rowlf On Books," "Coming Attractions," "Floyd's Record Rap," "Zoot's Salute," "Scientifically Speaking with Dr. Bunsen Honeydew"
Ad blocker interference detected!
Wikia is a free-to-use site that makes money from advertising. We have a modified experience for viewers using ad blockers

Wikia is not accessible if you've made further modifications. Remove the custom ad blocker rule(s) and the page will load as expected.