Ad blocker interference detected!
Wikia is a free-to-use site that makes money from advertising. We have a modified experience for viewers using ad blockers

Wikia is not accessible if you've made further modifications. Remove the custom ad blocker rule(s) and the page will load as expected.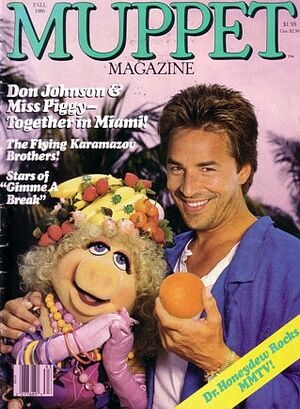 Muppet Magazine Volume 4, Number 4 (Fall 1986)
Muppet Round-Ups
Floyd's Record Rap as told to Marianne Meyer
Sting, the Bangles, R.E.M., General Public, Bruce Springsteen, Clarence Clemons, Chaka Khan, Talking Heads, Kool and the Gang, Paul McCartney, John Denver, John Fogerty, The Beach Boys, Gladys Knight, Spyro Gyra, Steps Ahead, Big Country
Coming Attractions with Janice as told to Pat Berry
An American Tail, Hyper Sapien, Where the River Runs Black, Ratboy, Song of the South, Together We Stand, Taking the Town, ALF, The Real Ghost-busters, Wildfire, Galaxy High, Teen Wolf, Pee-Wee's Playhouse, Kid Colter, Annie Oakley
Rowlf On Books as told to David Granger
The Mirrorstone, Yikes! Ten Tales of Funny Terror, Alfred Hitchcock's Solve-Them-Yourself Mysteries, The Dream Book, To Space and Back, The Dragon Halloween Party, Happy Birthday!, The Dinosaur Is the Biggest Animal That Ever Lived... and Other Wrong Ideas You Thought Were True, You Can't Sneeze with Your Eyes Open and Other Freaky Facts About the Human Body, The Amazing Power of Ashur Fine
Articles
Kermit and Piggy hang out with Don Johnson of Miami Vice
Dr. Teeth writes about Bunsen's poster spoof of John Cougar Mellencamp's Scarecrow album
In this Muppet comic, Rowlf, Kermit, Piggy and Fozzie go to a Halloween party in the swamp. Spoofs Little Shop of Horrors, Frankenstein, Dracula, The Wolfman, The Mummy and The Wizard of Oz
Bunsen fields questions about jelly shoes, sticking fingers in your nose, and bathroom fungus
"It's The Flying Karamazov Brothers!!!" by The Great Gonzo as told to Jim Lewis
Gonzo goofs around with the Flying Karamazov Brothers
Fozzie chats with Gimme a Break stars Joey and Matthew Lawrence
Mondo Muppet
Volume 4, Number 4
Dinosaurs! written by Betsy Loredo
paleontology, fossils and dino diets
Rarely Sighted Muppets
a radio part
Gonzo's Great Moments In Pre-History
Gonzo hatches from a dinosaur egg, looks at a dinosaur and says, "Mommy?"
The Inquiring Muppet
Janice, Fozzie, Bunsen and Dr. Strangepork answer the question, "Why are dinosaurs extinct?"
Gonzo's Weirder Than Me: Volume 16 written by Betsy Loredo
"Dino" in the 1963 Macy's Thanksgiving Day Parade, Fred Flintstone at work
Speaking Scientifically with Dr. Bunsen Honeydew
an interview with Dino Guy, Dr. Michael Novacek
Miss Piggy's Advice
as told to Louise Gikow