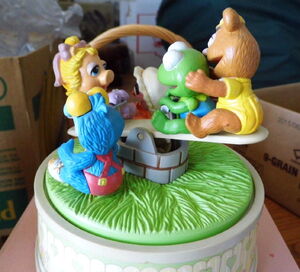 The Enesco Corporation is known for its detailed animated music boxes. In 1984, they released a wind-up music box featuring the Muppet Babies.
The music box plays the song "Playmates", and features simple animation. Baby Piggy sits on one side of the teeter totter while Baby Kermit and Baby Fozzie sit along the other, while Baby Animal rolls a ball to Baby Gonzo, who then rolls it back.
Enesco also produced simpler music boxes, featuring Baby Kermit and Baby Piggy:
Ad blocker interference detected!
Wikia is a free-to-use site that makes money from advertising. We have a modified experience for viewers using ad blockers

Wikia is not accessible if you've made further modifications. Remove the custom ad blocker rule(s) and the page will load as expected.