McDonald's made a set of three "Holiday Huggable" Muppet Babies plush toys in 1988 that were available for an extra fee with the purchase of a Happy Meal. The animated Muppet Babies characters appeared briefly in the commercial.
The 1998 price guide Fast Food Toys by Gail Pope and Keith Hammond lists the set as "Muppet Babies Christmas Carol".
Spanish Version
A second set has appeared on the collectors market. These are dated 1994 and are identified as being manufactured for McDonalds. All tags and identifcation are in Spanish and identify them as being licensed in Mexico to Mexican McDonalds. Mexican fans have identified it as a campaign during the time, though no promotional materials have been found so far.[1] The tags are similar to the 1988 versions only in Spanish.  Each plush came in a plastic bag as well.[2]
The three plush which are known to have been part of this promotion are Baby Kermit, Baby Fozzie, and Baby Gonzo. The Kermit and Fozzie differ from the earlier two plush slightly. Fozzie is manufactured from a much lighter brown fabric, appearing almost faded. He also has a different scarf and earmuffs instead of a hat. Kermit's eyes are slightly smaller then the first version.  The dolls are all similar in size and construction to the first set.
Notes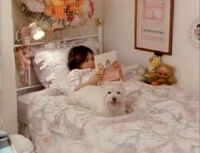 The Baby Fozzie plush makes an appearance in a Sesame Street film insert about a little girl and her dog, Puck. (EKA: Episode 2859)
References
↑ http://dunkaroosandglitter.tumblr.com/post/62790290771/baby-xmas-gonzo-solved-gonhmr-posted-this-reply
Ad blocker interference detected!
Wikia is a free-to-use site that makes money from advertising. We have a modified experience for viewers using ad blockers

Wikia is not accessible if you've made further modifications. Remove the custom ad blocker rule(s) and the page will load as expected.