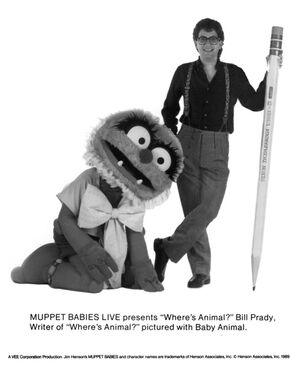 Muppet Babies: Where's Animal? was the third live stage show based on Muppet Babies, produced by VEE Corporation in 1988. It was written by Bill Prady, who had previously consulted on prior Muppet Babies live shows.
In the show, the Muppet Babies decide to play hide-and-seek, and lose Baby Animal. The other Babies look for their missing friend everywhere, from the nursery to the attic to Ali Baba's cave. Throughout the show, Animal rides his tricycle across the stage while the other Muppets are looking the other way, causing the children in the audience to yell out that they can see him.
The songs included "Cotton Candy" and "The Teddy Bears' Picnic", and Baby Piggy's rendition of Madonna's "Material Girl".
The show ran for 90 minutes, with a 15-minute intermission.
Sources
"Muppets keep tykes clapping", Jerry Vovcsko, Worcester Telegram & Gazette (Worcester, MA). January 27, 1989.
See also