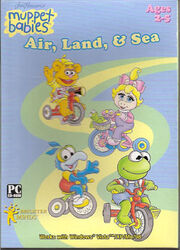 Muppet Babies: Air, Land and Sea is a Muppet Babies CD-ROM game for Windows computers. The game was developed by PC Treasures, Inc., Multimedia Entertainment, Jim Henson Interactive, Compedia and Brighter Minds in 2006. The Muppet Babies teaches users about different vehicles and then play a game to identify them while children can explore the vocabulary, concentration, confidence, visual skills, auditory skills, object recognition, creativity and hand-eye coordination are encouraged.
International versions
Ad blocker interference detected!
Wikia is a free-to-use site that makes money from advertising. We have a modified experience for viewers using ad blockers

Wikia is not accessible if you've made further modifications. Remove the custom ad blocker rule(s) and the page will load as expected.